Personal Information Removal guide For Intelius, Peoplesmart.com & My Life opt-out requests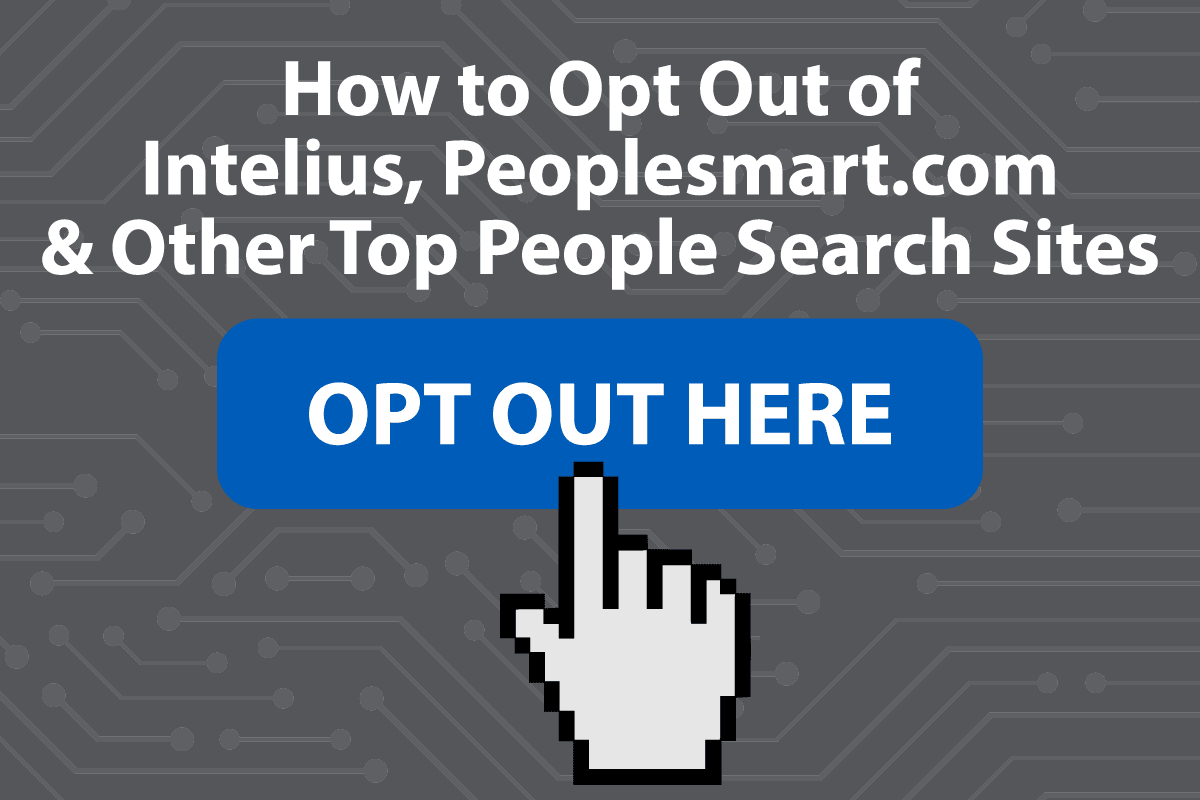 Need to complete the My Life opt out  and remove your info from Intelius, Peoplesmart.com and other data collection sites fast? We help you remove personal details and listings from more than 100 people-search sites across the web. Contact us today at 941-259-4554 to learn more.
We all have enormous amounts of personal payment information and personal identifying information on the Internet.
From personal information, to social media accounts and posts, news articles, property records, court docs, home addresses, criminal background history, and more, big parts of our lives are available on the web on people search websites – whether we like it or not.
And while a lot of that information is placed there willingly (think Facebook, LinkedIn, and other social sites), even more can be found in public data, providing hundreds of data brokers free rein to collect, aggregate and sell your sensitive data to anyone searching your name. These data brokers can collect public records and even criminal records. Additionally, a consumer reporting agency can also collect your personal information and provide reports to other companies.
But while other sites work nonstop to find and advertise your private information, all hope is not lost. In fact, you do have options for retaking control of your data, your personal privacy, and your family's online safety.
When you opt out, you tell these companies that you do not want them to use your private information for their gain. Your private information can no longer be used for commercial purposes which means more privacy for yourself and a lower likelihood of being picked up in search results online.
Here's a look at how to remove your info and opt out from Intelius, Peoplesmart.com, White Pages, and other top people search sites – and take a major step toward a safer, more positive online reputation.
First, what does opting out of people search sites mean?
Opting out of people search sites like Peoplesmart.com and Intelius is the process of scrubbing your personal info from each online platform, ensuring your name, address, and contact info is no longer available during searches of your name. Done over time, a proactive personal data removal strategy is essential to keeping your sensitive data out of view and protecting your and family members's personal privacy.
There are hundreds of data-search companies now selling your personal info online, though each data broker has a unique procedure for deleting your personal information. Understanding and following each site's removal process carefully is the best way to eliminate the risk highly visible personal data poses for your privacy and safety.
Opting out from data collection has several other benefits to be aware of, including a reduction in junk mail you receive to your physical and email addresses. 
Learn more about the effects of having your information on the web in our article about the Britt McHenry Scandal.
Is there anything I should do before opting out of people search?
Yes. While opting out of people search is an important step in protecting your privacy, there are a number of reputation management best practices you can engage in beforehand to limit your exposure and ensure your info is under tighter wraps:
1. Limit the info you put on social media profiles
There's no rule saying you have to fill out the entire profile on any social profile. Personal data like your email, phone and home address should be excluded from profiles whenever possible.
2. Change your privacy settings
Most social, content and forum sites allow you to adjust privacy settings and control profile visibility. Take advantage of privacy controls whenever they're available   Facebook, for example, asks, "Do you want search engines outside of Facebook to link to your profile?" Select no.
3. Remove your records (when possible)
This isn't always practical, but if you ever have an opportunity to remove arrest, court records, or property records from the records archives, take it. People search sites can't find what isn't there.
Residents of certain states may have additional protections available to them. For example, the California Consumer Privacy Act (CCPA) allows residents to request removal of sensitive personal information from websites, including retailers and data brokers. 
Once you've done everything possible to limit access to important private data, you're better prepared to dive into personal info removal, opt your name out of people search and build the personal online brand you deserve.
How to opt out of Intelius, Peoplesmart.com and people search sites across the web
As mentioned earlier, each data aggregator has a different process for opting your info off the site. Learning each is key to ensuring your data removal is successful.
Here are the current opt out processes for the top 13 people search engines on the web, including steps for:
Persopo opt out

Clustrmaps opt out

Beenverified opt out
1. Intelius opt out
Intellius people search platform is one of the more popular data brokers on the web. To remove yourself from Intelius:
Visit the Intelius opt-out page.
Enter your name and location. Hit 'Search.'
Select the listing that matches your personal information.
Enter your email address.
Write down your reference number (usually 7 digits).
Wait for a confirmation email.
This brief video may offer a little more insight into how to remove your info from Intelius: once your Intelius removal request has been submitted, listing removal may take up to 72 hours. If you receive confirmation but your listing still appears on the site, try the process again or go to the Intelius Help page.
2. Peoplesmart.com Opt Out
Opting out of Peoplesmart.com may be a little confusing, as you will be redirected to a different site near the start of the process.
Don't be deterred! This is perfectly normal and part of the People Smart removal.
To begin Peoplesmart opt out:
Visit the Peoplesmart opt out page.
Click on 'Manage Your Listing' at the top right of the page.
A new tab will pop up. Click 'Do Not Sell My Info.'
Enter your name and state in the fields provided. Hit 'Search.'
Choose the Peoplesmart.com listing that best matches your info.
Enter your email and click 'Send Verification Email.'
Check your email for a confirmation message (this may take a few minutes to show).
Click 'Verify Opt-Out.'
Removal of your Peoplesmart.com listing may take 1-2 days. Opting out will remove your info from all BeenVerified people search affiliates.
If removal is unsuccessful, send an email to [email protected].
3. WhitePages Opt Out
Like the others, WhitePages opting out is not very intuitive. To begin the process:
Enter your name and location (city & state).
There may be several matches. Identify the right one, and click on 'View Details'.
When you've chosen the listing that best matches your personal info, copy the URL from the field at the top of your browser.
Go to the Whitepages.com opt out page.
Paste the copied URL into the field and click 'Opt Out.'
You'll be asked, "Is this the person you want to remove?" Click 'Remove Me.'
The next page presents a pulldown list, beneath "Please help us understand why you want your information removed." Choose one of the options and hit 'Submit.'
Under 'Verify your identity with a phone call,' enter your phone number and click 'Call Now To Verify.'
You will then receive a four-digit verification code, followed by a call from the Whitepages robot. Provide the code during the call.
If each step is done correctly, you will receive a 'Success!' message on your screen. Most Whitepages removals take about 24 hours to complete.
For a better look at the Whitepages opt out process, check out our Whitepages.com removal blog.
4. Spokeo opt out
Deleting your info from Spokeo is similar to Whitepages removal, but not as extensive:
Enter your name or contact information into the search bar.
When you've located the right results, right-click on 'See Results' and select 'Copy link address.'
Visit the Spokeo opt out page.
Paste the URL into the field and enter your email address.
Check your email for confirmation.
Click the link to complete Spokeo removal.
Completing opt out of Spokeo generally takes 2-3 days. Visit the Spokeo Help Page if your attempt is unsuccessful.
5. My Life opt out
A popular data broker, Mylife creates "public reputation scores" from wide-ranging public records data collected from across the web. It's also one of the more difficult people search sites to remove your personal information from. You might be wondering how to perform a My life com removal process.
To complete a My life opt out procedure:
Visit Mylife.com and click 'Join Now' at the top right of the screen.
Enter a name (not your real name) and your email. Click 'Join For Free.'
Search your profile and select the listing that matches your info.
Copy link address of your listing URL.
Send an email (yes, really) to

[email protected]

politely requesting removal of your listing. Include the copied URL somewhere in your message

to remove from mylife com.

Check your inbox for a confirmation email (this usually shows up in a few minutes).
To remove info from MyLife may take anywhere between 7-10 days to complete your request, much longer than requests made of other data brokers online.
Contact MyLife Customer Service
If it's past the 10-day mark and your info is still up, contact MyLife customer service directly at 888-704-1900 to get more information on My Life opt out requests.
For more info on your personal reputation score and how to improve yours, click here.  
6. Instant checkmate opt out
Opting out of instant checkmate is a fairly simple process.
To start:
Enter your name, city and state. Hit 'Search.'
Choose the result that matches your info and click 'Remove This Record.'
Enter your email address in the field provided.
Click 'Send Confirmation Email.'
Check your inbox and complete your request by following the 'Confirm Opt-Out' link.
Instant Checkmate usually takes up to two days to process your removal.
7. Radaris opt out
The Radaris opt out method is one of the easiest to complete, though it takes about 48 hours for your listing to be removed.
To remove information from Radaris:
Go to Radaris and search your profile (name and location).
Click on the 'Full Profile' tab next to the right listing.
Copy the listing URL.
Visit the Radaris opt out page and paste the URL.
Enter your name and email in the appropriate fields. Click 'Send Request.'
Open the confirmation email and click on the link.
As with all removal requests, be sure to jot down any tracking or request number provided. In the case of Radaris, you can use this number to check the status of your removal.
8. Peoplefinders opt out
Peoplefinders crawls public records and social profiles to aggregate your info. They use this data to supply reports to any users searching your name in the site.
Scrubbing your info from Peoplefinders can be done in a few easy steps:
Enter your name and location into the Peoplefinders search bar at the top of the page.
Right-click 'View Details' next to the profile matching your personal info.
Copy the link address.
Go back to the Peoplefinders opt out page.
Paste the URL into field 1.
Enter your email and hit 'Send Request.'
Check your inbox for a confirmation email.
Follow the link provided.
Contact Peoplefinders Customer Service
Opting out of Peoplefinders generally takes up to 48 hours after confirmation. If your request is unsuccessful, call or contact a Peoplefinders.com customer service representative at 800-718-8997.
9. Spyfly opt out
Spyfly billed as a background check site, purporting to offer "full background reports" to users in a matter of minutes.
To delete your info from Spyfly:
Search your name and state at https://www.spyfly.com/.
Locate your profile and make note of exactly how your personal info appears.
Scroll to the bottom of the page.
Enter your name, current & previous addresses and email address in the fields provided.
Check your inbox for a confirmation email. Once received, reply to that email with the info your first and last name, age, current address and any previous addresses as they appear in your listing.
Wait for another email confirming SpyFly is processing your request.
Note: Your Spyfly.com opt out request is usually completed about 24 hours after the final email.
10. Pipl opt out
Last but certainly not least on our opt-out how-to list is Pipl. Pipl is not only one of the hardest to get your personal data removed from; it's also one of the slowest.
You may request removal of your Pipl listing by:
Filling out the request form (name, email & message), and
Checking your inbox periodically for an answer.
Unfortunately, getting your info deleted from Pipl is often a hit-or-miss proposition, depending mostly on when or even if your request is considered. While successful Pipl removal isn't out of the question, it's hard to guarantee in any sense that your listing will be removed from the site.
11. Persopo opt out
Persopo is another public record database – including information on address history, birth dates, criminal records etc.
The process to remove your personal information from Persopo is straightforward:
Visit the Persopo page at

https:www.persopo.com
By following this opt out process, you should be able to receive a response within 10 to 20 business days on whether your opt out request to remove your profile has been approved. 
12. Clustrmaps.com opt out
Clustrmaps is where you can learn about anybody or any company in the United States.
To remove yourself from Clustrmaps, here are the steps:
Visit the Clustrmaps page

Search for your address, scroll down to "See Also" and locate your address

Click on "Details" and copy the URL of your record

Fill in the opt out form here

https://clustrmaps.com/bl/opt-out
You should have your information removed immediately.
13. Beenverified opt out
Last but certainly not least on our opt-out how-to list is Beenverified. Since it is one of the biggest data broker sites online, most people will be wondering: how do I remove myself from Beenverified first? Thankfully, the www beenverified.com opt-out process is rather straightforward, and there is no need to go to a Been Verified opt out link.
To opt out of the Beenverified website:
Go to the Beenverified website

Scroll to the bottom of the page and click on "Do not sell my personal information"

Enter your details and scroll until you find your record

Proceed to submit to opt out of Been Verified
Give the server enough time to refresh (which will take approximately 24 hours) and you should see that your record is removed.
What's Next? Getting Your Info Out of the Search Bar
Opting out of the top people search sites is a good first step to protecting your online privacy.
That said, there are hundreds of data search engines operating across the web, each working nonstop to sell your sensitive info while putting your identify, your livelihood and your family at serious risk. Now that you've reviewed steps for the My Life opt out process and similar procedures for data broker sites, you may still have questions. 
So, what do you do next? How do you remove your info from hundreds of data sites and still build the online reputation that defends and defines your personal brand?
At Internet Reputation™, we provide complete privacy protection and removal solutions to remove your personal info from across the internet, ensuring your private data is secured and your family is safe around the clock.
Our team puts the power of reputation management in your hands, including the ability to monitor your brand, manage threats and build the digital resume you need to thrive online.
To learn more, call a Reputation Specialist anytime at 941-259-4554. 
Why should I opt out of Intelius?
Intelius selling people's personal information to third-party marketers without their consent. To save your sensitive info, opting out of Intelius will help protect your privacy online.
How often does Intelius update their data?
Intelius updates their data every day. They have a large team of researchers who are constantly updating the data.
How long does the opt out last?
The opt out period lasts for 21 days.
How can I remove my info from Intelius?
To remove your info and data from Intelius, try to opt out of the link. If failure, contact service to people search sites like peoplesmart.com, White Pages and MyLife fast.
Is it possible to opt out of  people's search sites?
Yes, it may be possible by contacting the site directly and asking to be removed from their database. You can also use a service like DeleteMe.
How can I opt out of People smart?
Using a service like Spokeo you can remove your information and opt out of People smart.
What are my privacy rights when using these sites?
The site's terms and conditions state that it may release personal information if it is required to do so by law.
What are the benefits of Intelius?
Intelius provides people with access to public records.
Why do you want WhitePages to Opt Out?
I want to opt out of WhitePages because I don't want my personal information to be shared with others.
How can I Opt Out of WhitePages?
You can contact WhitePages directly to request that your information be removed.
What happens when you opt out of Instant Checkmate?
If you choose to opt out of Instant Checkmate, your information will not be shared with any third party databases. Your record will be permanently removed from our system, and you will not be able to access any of the features that come with an Instant Checkmate subscription.
Why do people finders opt out?
People finders opt out due to  they don't want their personal information to be shared with other companies.
How do I opt out of Peoplefinders?
Peoplefinders is a website that allows people to find contact information for other people. If you do not want your information to be available on this website, you can opt out by visiting the website and clicking on the "opt out" link.
How do I know if I am on a Pipl list?
Try searching for your name on the Pipl website. If your name doesn't show up, that mean you're not on the list.
How can I opt out of Pipl email marketing?
To opt out of Pipl's email marketing, you can either follow the unsubscribe link at the bottom of each email, or you can contact Pipl directly and ask to be removed from their mailing list.
Why does Pipl ask for your email address?
Pipl asks for your email address in order to create a profile on Pipl. It is useful for finding people online, as the site indexes billions of public records and profiles from social media sites.
Permalink