How to Get a News Article Removed from the Internet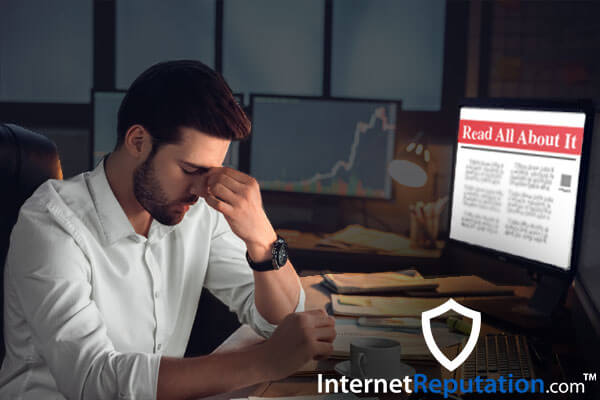 Learn how to remove negative news articles with our complete guide.
Contact our team at 941-259-4554 for more information about content removal strategies.
Before the information age, a negative article might have hurt your reputation for a month or two, only to slip out of sight and disappear like old news. But now, one bad news item can smear your good name forever, especially when it lands on Google's first-page search results.
And with employers, coworkers, first dates, and loved ones searching you online every day, that bad article could be doing serious damage to your reputation each minute it remains on the web.
So, what can you do about it? How can you remove negative news articles and stop that one negative news article from impacting your reputation?
Here's how that bad or damaging news article impacts your online presence, how long it stays online, what people search websites like My Life can impact you, and how to get a negative news article removed from the internet.
How do negative news articles or negative news stories on Google affect my reputation?
Negative news stories or a negative news article appearing on Google's first page can create major damage to your online reputation. Because local and national news sites are favored by Google, a negative online news publication or article featuring your name, just like negative newspaper articles in print get popular in your area, are likely to rank highly in search results.
Now a question arises: why does a negative news article rank up in Google search results?
The Simple answer to negative news articles getting more air than other content is that it gives them greater visibility and much more traffic than anything else making up your digital footprint. Apart from that other several reasons for trending a negative news story on major search engines are as follows:
1 News stories are trending and timely
2 People give more attention to negative information
3 Negative stories are easy to sell
4 Bad press releases
5 Associated Articles from the internet increase topic density
Therefore, nowadays negative news articles from google get a lot more air and people search than negative newspaper articles used to get and unfortunately, negative articles are hard to remove.
If you want to completely remove news articles you'll need to speak directly with the news publications and have some solid evidence that those news publications have false information.
Left to its own devices, negative online news stories can affect your personal brand by:
1. Creating negative associations with your name for anyone searching you online.
2. Damaging your credibility among employers, hiring managers, college admissions officers, and more.
3. Hurting your ability to build trust and collaborate with coworkers.
4. Negative online news stories appearing on the first few pages can leave a bad first impression on first dates and make it hard to connect with others.
5. Hurting lifelong relationships with friends and family.
And without an online reputation management (ORM) strategy for removing negative news articles from Google, that bad news will cut a little deeper into your personal reputation every day.
The longer that bad article sits in search pages, the harder it is to budge.
And every day it remains online, the more attention it gets in:
Comment sections. This is

where people can validate that bad news and drag your name even deeper through the mud.

Follow-up news articles, blogs and opinion pieces.

Follow-up news is where that bad conversation stays alive.

Social media sites. Social platforms like Facebook and Twitter are where

your story really takes off, getting shared and spread by users around the world.

Search engines

, which push the article up even further in rankings and increase its visibility and authority.

Personal circles

, where friends, relatives, and coworkers share what they've found and point each other toward your negative result.
Together, these elements create a vicious cycle that gives bad news an outsized impact on your online reputation. And without a solid plan for managing your online brand, you'll feel the fallout of that negative article for months or even years to come.
How long do newspaper articles stay online?
Most newspaper articles stay on the web and in search engine results forever. This is usually because:
News sites and journalists don't have to remove news items from the internet unless the article is misleading, unverified, false or

libelous

.

Publications have no reason to remove a bad news article if that item is getting views. That's because more views mean more ad money for the publisher.

News articles are usually

shared and reposted

on other sites across the web. So, even if the post is removed from the original source, it's likely still on the internet somewhere.
What's more: each news organization or site has its own step-by-step process for requesting bad article removal. This can make removing even the most dishonest or misleading article nearly impossible.
How do I get a news article removed from the internet?
In most cases, getting a news article removed from Google is extremely hard. This is because newspapers have little-to-no reason to remove a harmful item unless it contains false information or violates your privacy.
But that doesn't mean you can't or shouldn't try.
To remove a negative news article from the internet and Google's homepage:
Contact the Owner
While very few news organizations will remove articles by request, a publisher will give your request more weight if you can prove the article is false, plagiarized or violates your privacy.
Head to the website's FAQ and Contact sections, check for existing removal policies and contact them with your request.
Keep in mind that most publishers won't respond or will refuse to remove the content. Some may even charge a hefty fee for removal.
Contact Google
If contacting the owner is unsuccessful, ask Google directly to remove the negative link from search results. Google doesn't remove much, but they will consider it when your request lines up with their removal policies.
There's no harm in asking Google to remove a link affecting your personal brand. Just don't count on a positive response.
Hire an Attorney
Hiring an attorney to help remove to remove negative newspaper articles or content from the web can be a costly affair. But in some cases, it's the only way to get bad articles removed for good.
If there's a legit reason why the post shouldn't be online, an attorney might be able to fight for removal or negotiate a deal on your behalf.
What is the best way to remove negative news articles from the web?
If removal proves impossible, your best solution is online reputation management (ORM). An SEO-powered ORM campaign can help push negative news articles out of search results for the long term. It can also begin the process of building a healthier, more positive online presence.
An effective ORM campaign works to clean up your first page Google results, including the bad news, comments and reviews impacting your reputation the most. With ORM, negative news articles disappear from top search results and are replaced with more positive content and optimized assets that put you in control.
ORM is your best bet for dealing with bad news on the web. When removing negative articles from Google becomes impossible, online reputation management company services and content suppression are exactly what you need to thrive online.
Online Reputation Management Q&A
Q: How does online reputation management erase negative news from search?
A: A robust online reputation management strategy attacks bad news from multiple angles. This includes the creation of SEO-optimized content that moves up in search and nudges negative info out of sight. By putting more positive items in first-page results, ORM deletes the impact of bad news and builds a positive image you can be proud of.
Q: How long does it take to push a bad article down in Google?
A: The time it takes to suppress negative news articles depends on the site and how long it's been online. Because news sites tend to have high authority in search pages, getting news stories off of page 1 can take anywhere from three months to one year or longer. 
Q: Does ORM work with negative items other than news articles?
A: Yes! Effective ORM strategies can help clean up your Google search results no matter what's hurting your online image.
Remove negative news articles from search today
If a bad news article is hurting your ability to get a job, get into college, connect with old friends, or attract new customers, we can help.
InternetReputation.com specializes in reputation management solutions that remove and suppress negative news from Google.
We also help build an online presence that gets results and enables success. Our customized ORM services help remove the sting of bad news online and create a Google search resume that paves the way toward a better future.
Our experts use the latest in SEO methods and ORM technology to build an online profile you can be proud of, helping you put your best foot forward on the internet.
If you want to learn more about ORM and need professional help/removal service for completely removing negative news articles from Google search, call 941-259-4554 today. 
Permalink