Intelius Opt Out and Why It Matters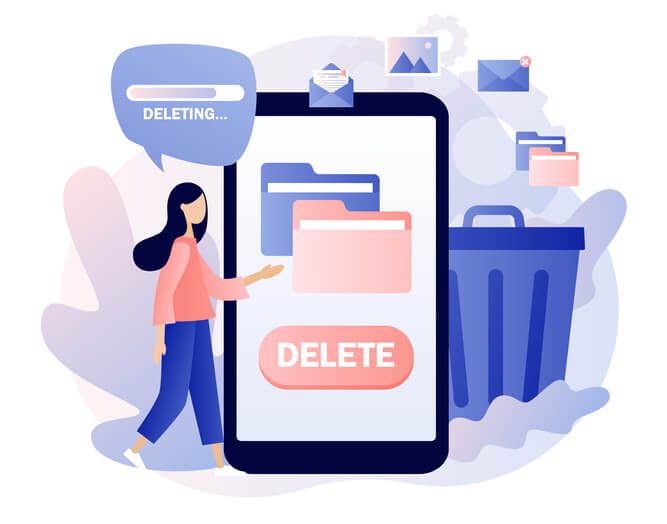 The Better Business Bureau warns that it is extremely important to protect your online reputation because that reputation is more easily accessible to others. This is why it is so important for ordinary people to learn about the Intelius opt out process and why you should engage.
The bottom line is that when it comes to reputation management in the digital age, what you don't know CAN hurt you.
What is Intelius?
Just like any other data broker site (e.g., Whitepages, Nuwber, MyLife), Intelius bills itself as a reverse look-up sight for phone numbers. However, they offer much more information about people than many people prefer to be readily available for anyone to peruse.
In addition to reverse phone number lookups, the company offers the following services:
Background checks.
People searches.
Property searches.
Information services.
The problem is that they offer background checks based on snippets of information and provide detailed reports that include:
Home addresses.
Phone numbers.
Criminal background checks.
Intelius is not a consumer credit reporting agency. That means it is unlawful for people to use the information from Intelius for activities covered by the Fair Credit Reporting Act (FCRA).
While it is illegal to use information from Intelius as part of an employment or tenant screening, or to determine eligibility for insurance or credit. There are plenty of other reasons people use this information and not all of them are positive reasons.
Just remember that when it comes to Intelius, you are the product. Your personal and private information is what they are selling to others. They may not place a price on selling your individual information, but they do sell a service that allows random strangers access to your information whether you want them to have that information or not.
Opting out is the only way to go with services like these.
Where Does Intelius Gather Their Information?
Since most people aren't going around filling out forms online agreeing to sell their information, you may wonder where this information is coming from. Oddly enough, you are providing some of the information organizations, like Intelius, gather through social media profiles and posts.
Additional information is gleaned through public records. The Freedom of Information Act makes these records accessible to practically anyone who is willing to go to the effort to get it. This includes:
Birth information.
Marriage and divorce records.
Civil and criminal court proceedings, judgments, and convictions.
Education records.
What Intelius does is make it a matter of a few keystrokes to track down that information and more. What's even more disturbing about "services" like these, is that you have to go through the Intelius opt out process.
It should be that you have to give them permission to reveal this information about you. Instead, you have to ask them to remove your information from their service offerings. How's that for fairness in the Information Age?
For some people, the idea is that they have nothing to hide and shouldn't be worried about who has access to their information – or what information they have access to.
The problem with this logic is simple. Mistakes happen. What happens when someone who shares your name has a criminal record and their information is attached to your name in these searches?
There's a reason you're supposed to monitor your credit reports to make sure the information is accurate, up-to-date, and fairly reported. With new information brokers cropping up all the time on the World Wide Web, it's nearly impossible to keep up.
Incorrect information could be floating around the web about you for months or even years before you discover it exists – sullying your reputation in the process.
Why Should You Consider an 
Intelius Opt Out

?

Far too many people have forgotten the importance of privacy. Most people willingly share too much information while living out loud on social media. The truth remains, though, that the information you choose to share on social media is your information to share.

In fact, the odds are good that there is plenty you elect not to share on social media. That is, of course, your prerogative. You're in the driver's seat and you get to choose what information is shared about your personal life.
When someone shares something private about you on social media, the odds are good that you feel a sense of violation. As you should.

The problem with organizations like Intelius and other "people search directories" is that someone else is choosing for you the information that is and is not shared. It's a small glimpse into your life. On occasion, it is even a glimpse into someone else's life.

The real shame is that these organizations do not need your permission to share this information about you. Even worse, you need their permission to remove this information about YOU from their websites. How wrong is that?
It doesn't end there, however. Intelius is only one of many people search engines with new options opening up almost daily.

Information is one of the most valuable currencies today and large organizations that mine your data want information from banks, social media, grocery stores, credit card companies, and even pizza delivery services so they can learn as much as possible from the information and sell the rest.
Why Do People Want Personal Information About You?
People seek out others for a variety of reasons. For some, it's about connecting with long-lost high school or military friends. For others, it may be about reconnecting with an old flame.
Some adopted children seek to learn as much as possible about birth parents before deciding if they ultimately wish to meet. And, with the proliferation of online dating, some are just checking out someone they've met online before agreeing to meet in person.
Whether you have anything to hide or not, the fact that there is information about you on the World Wide Web that you do not control should be cause for concern.
Especially when some of these organizations seek to put a negative spin on the information they have in order to encourage information seekers to subscribe to their services.
After all, the sellers' interests are dedicated to selling the information. It just happens to be your information that is on the auction block. The same holds true for Intelius. This is why it is important for everyone to go through the Intelius opt out process or have someone else do it on your behalf.
How to Remove Your Information from Intelius
Once you've made the decision to remove your information from Intelius, there is a special Intelius opt out website you need to visit:
www.intelius.com/optout
Once there you must search for your listing. The odds are good that there will be many people who have the same first and last name as you. Look for the one that matches your location, former addresses, and age. Some may even have a photograph of you to aid in the process of identifying your listing.
Click "select and continue" once you've identified your listing.
You will need to enter your email address. This is where they will send your verification. We recommend using a "burner" email address for all these types of opt out efforts.
Why?
So, you don't get inundated with SPAM emails to your primary email account. Also, because you don't want to give them another single piece of accurate and useful information about yourself. Even something as simple as an email address you may give out dozens of times each day without a second thought.
Once you've completed the Intelius opt out process, you should receive email confirmation within three days. However, it may take up to one week, or perhaps even longer, before the search engines reflect these changes.
Here's the real kicker. Removing your information through the Intelius opt out website doesn't guarantee that your information is permanently removed. They may receive new information about you from their data sources and create a completely new profile based on this new information.
In other words, you must continuously monitor the website and may need to make multiple requests for removal.
Is a Reputation Management Firm Worth the Investment?
Obviously, we think so. However, we will admit that we are a little bit biased. If your reputation is important to you, though, it is worth having someone working to protect your image and reputation for you.
You have more important things to do than to keep up with the constant stream of new "people search" sites online and making sure that your information isn't included in them.
You could spend time every day working on removing your personal data and private information from the web only to have to start removing it all over again when the next search service comes along.
Who has that kind of time, energy, and strength of will?
InternetReputation.com offers a variety of services to help you manage your reputation, build your brand, protect your privacy, and more. Our services can help you regain control of the information available online about you.
Are you ready to take control of your name, image, and privacy back? Do you need help getting started? You've come to the right place.
With our services, you can remove your personal information from public listings, safeguard your personal and private information, and monitor the results to maintain your anonymity over time.
To remove your info from Intelius and other data collection sites, contact our Removal Team today!
Permalink