White Pages Opt Out: How To Remove Yourself from Whitepages.com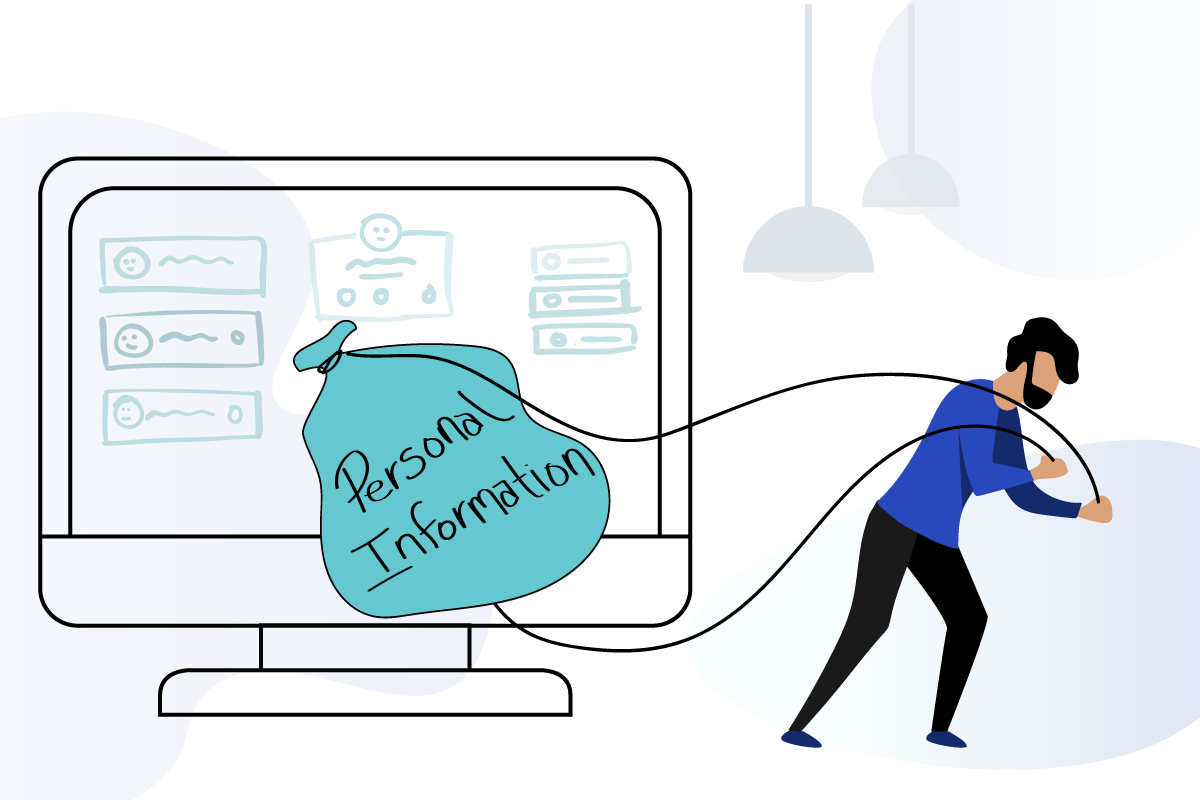 How do I find the White Pages Opt-Out Page? How do I remove my information from Whitepages, one of the best White Pages search engine? For quick and easy removal from Whitepages and more than 100 people-search engines across the web, we've got you covered.
Contact our Whitepages Removal Experts today at 941-259-4554!
Data search sites like Whitepages.com and My Life make it easy to find your personal information. They have white pages data entry professionals who put your full name, address information, phone number, email address, and other personal details up for grabs and are available to anyone for a small, one-time fee. You'd be surprised to find out how much of your personal information is available on data broker sites just by performing a simple search of your name and scrolling through the google search results.
Additionally, a consumer reporting agency can also have information about you, especially to companies who need information on your credit, employment, rental housing, etc.
When you consider all potential privacy issues, the sketchy third-party sources, and all that content about you available to the wrong person, you have to ask yourself whether data broker sites, such as Whitepages, are worth all the risk.
You should now have an understanding of why you need to remove yourself from these public lists. Hopefully, this advice will be enough to help you avoid being listed on the site or having your personal information sold to businesses that use it for data mining purposes with little regard for your privacy.
Removing your name and info from Whitepages is a good first step to protect your identity and peace of mind. But, completing the process on how to remove yourself from Whitepages and opt-out of your public records being listed on the site is a little challenging, especially if it is your first time hearing about white pages.
If you are interested in learning how we can help remove your name from Whitepages and dozens of other sites, call us today at 941-259-4554.
Why does Whitepages have my info?
Whitepages is a popular people search site containing millions of people's personal information, and some of that information is likely incorrect or outdated. The information these entities collect about you is then compiled into a profile that includes your name, address history, phone number(s), relatives, and even information about your neighbors.
Whitepages collects and sells your personal info – either through your online accounts or from other publicly available information.
There's an incredibly high demand for personal data.
Personal data is readily available from public records and other sources that are legally allowed to distribute public data.
Whitepages and data brokers like it use public records as their primary sources of information. If you've ever dealt with a government agency, transactional records were collected. Many state and federal government agencies are required to share these records as part of the public interest.
Millions of people search for personal info and view details every day, making the sale of your information highly profitable for Whitepages and other people search sites throughout the web. Some will even pay for a premium White Pages.com account if they require unlimited lookups.
Whitepages Lawsuit & Settlement
As you might have guessed, sites like Whitepages are often subject to litigation for aggregating and publishing personal information that they shouldn't.
In August 2022, Whitepages settled the class action lawsuit Butler et al v Whitepages Inc. for listing the addresses of residents from Illinois and Ohio.
We provide Whitepages opt-out services and help people like you remove unwanted internet content.
Learn more today by dialing 941-259-4554.
How does Whitepages get my info? What is Whitepages Opt-out page?
The Whitepages website is a searchable database that uses powerful data-collection technology to comb the web for your personal info. This tool crawls consumer info lists, third-party sites, social platforms, and more to collect your data and populate its database. Whitepages and other people search websites, use this info, pulled from multiple sources across the internet, to create your Whitepages listing. Your basic info is then made available to users who use these white pages finder services for free. These users can use your name to do a white pages name lookup.
Whitepages provides options to buy more detailed personal info for a one-time or monthly subscription fee. It also features a number of details on your personal listing, including your:
Full name (including maiden names and aliases)
Age
Home addresses (past and present)
Phone numbers
Email addresses
Spouse info (including divorce records)
Known relatives
Court and criminal records
Auto accident info
Business details
And more
While Whitepages certainly isn't the only place to find your personal info, it is one of the more popular people search sites on the web. In fact, the site receives tens of millions of unique visitors every month. They act as a basic people search and standard business search site.
Looking to remove yourself from Whitepages? Removing your records from White Pages helps eliminate a serious risk to your privacy almost immediately.
Note: your White Pages listing will likely display info located on other data aggregates, such as Ancestry.com. This can sometimes make information removal a little more complicated.
Why does Whitepages get such a bad rap?
Whitepages attract criticism for publicly sharing private personal data with the web. Millions of people are now listed on the Whitepages platform. As a result, ages, addresses, phone numbers, and more are freely available to anyone conducting a quick search.
What's more: Whitepages receives further criticism over not only for its free offering, but also the so-called 'Premium' service.
Of course, this comes as little surprise to the Whitepages and Whitepages Premium teams. Whitepages first unveiled its extended pay-to-access version in 2016. And by that point, the company had been sharing personal information for over two decades.
For cyber criminals, access to personal data makes the process of spoofing someone's identity that much easier. And, identity theft is on the rise, accounting for billions of dollars in annual losses — not to mention damage to the online reputations of its victims.
How do I remove my information from Whitepages? Where is the opt-out page of Whitepages?
If you're looking to remove yourself from Whitepages and delete your personal information it's only possible by submitting an opt-out removal request. While submitting an opt-out request for White Pages is fairly easy, it's important to follow each step carefully to avoid complications and make sure the right name and correct listing are deleted as quickly as possible.
Here are the steps to opt out from White Pages:
Search your name on Whitepages
Locate your listing
Copy the URL
Find the www.Whitepages.com opt-out form/support request page
Verify your info by confirming your verification email
Provide a reason for removal. When selecting a reason for removing your listing, simply select any reason in the drop down menu.
Enter your phone number
Provide your verification code; usually a four-digit code
Submit your removal request
Ever wondered "How do I remove my information from Whitepages?" Follow these steps to remove your personal data and protect yourself today:
1. Search your name
Go to Whitepages.com and search your name. Entering the right name is key to finding and removing the correct Whitepages listing.
2. Locate your information
Find the listing that best matches your personal information. Once located, click "View Details." Take extra care to choose the listing that's yours.
While it's not unusual for people to pick the wrong listing at first, the one that has the wrong phone number, for instance, doing so can add days or even weeks to the process. This gives online criminals even more time to find your data and use it to hurt you.
3. Copy the URL
Once you've chosen the right Whitepages profile, with the correct name, address, and phone number, highlight and copy the page URL.
4. Find the Whitepages.com opt-out form
Visit the Whitepages opt-out page. Enter your information to request Whitepages removal. (If you don't have the time, click here to let us remove your info.)
5. Paste your profile link
Paste the profile link you copied in Step 3 into the space provided. Once complete, click "Opt-out."
6. Verify your info
Whitepages will ask you to confirm your info. If your name and address match up, click on "Remove me" to go to the next step.
Again, being absolutely sure your info is correct is essential to getting your listing removed from White Pages. Failing to do so usually results in having to repeat the process.
7. Provide a reason for removal
Whitepages asks everyone to choose one of four reasons for removing their information:
My profile information is incorrect
Receiving spam calls and junk mailings
I am being harassed or stalked by someone
I just want to keep my information private
Select the reason that best fits your situation and click "Submit." Whitepages review your request as the next step.
8. Enter your phone number
Next, Whitepages requests a personal phone number to confirm your identity. After entering your number, check the small box and click "Call now to verify." You will then receive a robocall to complete the process.
Note: it's crucial to provide your real number AND be ready to answer the phone quickly. Calls come in fast once you click the prompt. If you give the wrong number or miss the call, you'll need to start the process over.
Trying to remove your listing, but hitting a wall instead? Learn what the right privacy protection service can do for you!
9. Provide your verification code
After you answer the call, the Whitepages robot will ask for a four-digit code, the verification code provided in Step 8. Once it confirms your code, the robot provides an estimate (usually 24 hours) on how long your opt-out will take.
Congratulations! Now that you've entered your code you've completed the opt-out process, your personal info will no longer appear on any free searches across the site.
But while your data will no longer be visible to everyday users, your name, address, and phone number will still be accessible to Whitepages Premium subscribers. The opt-out only applies to those not paying for the service. These premium subscribers are people paying a monthly fee to access your data at any time even if you've completed the opt-out form and successfully completed the opt-out process.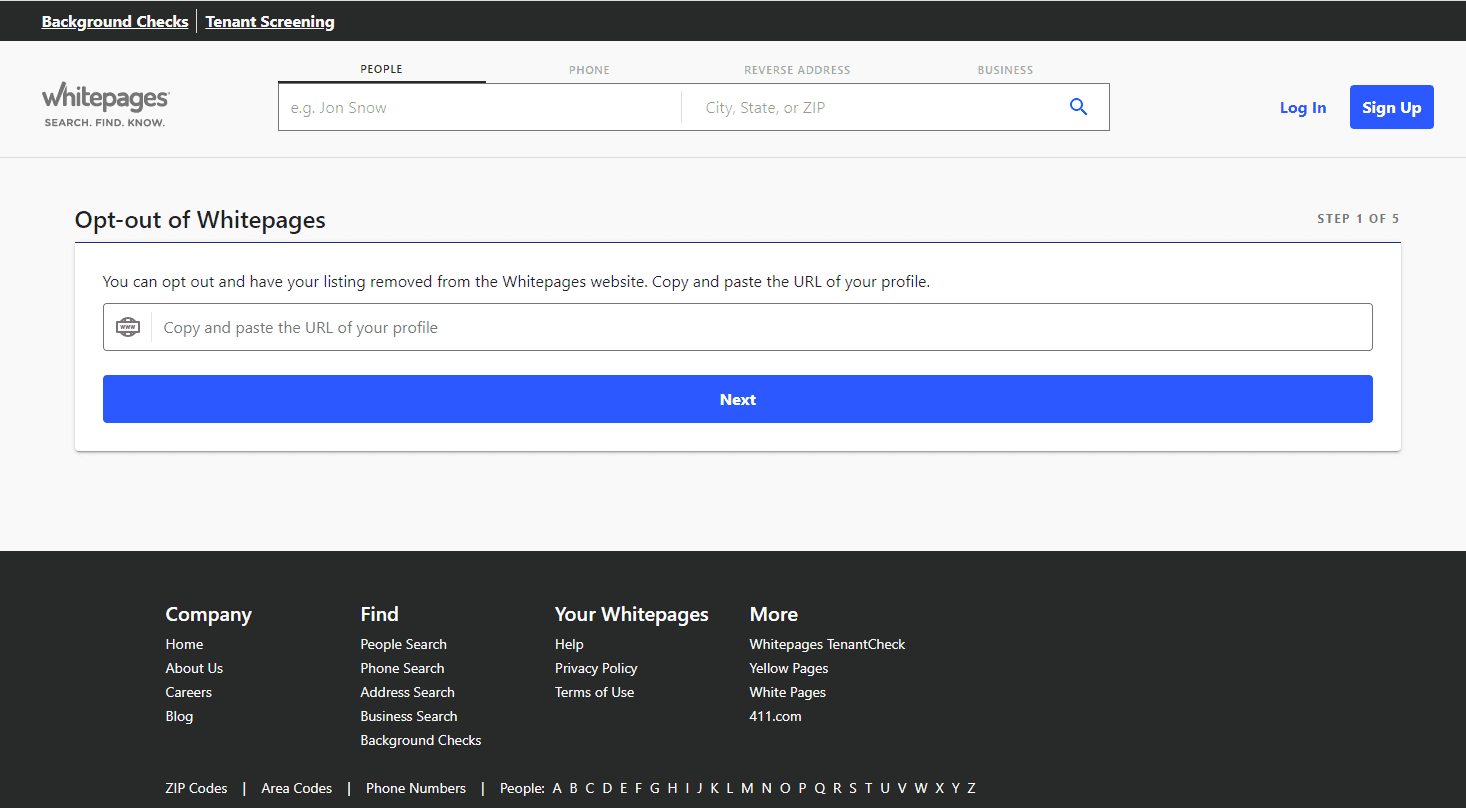 How does Whitepages Premium work?
As the company's exclusive paid-for service, Whitepages Premium gives users access to a vast trove of information. This data goes above and beyond anything listed on the free portion of the website.
Whitepages Premium is primarily aimed at businesses and organizations building in-depth profiles for customers and others across the web.
Still, many individuals also use the service, accessing highly personal and private information about almost anyone online.
Who can access Whitepages Premium's information?
Whitepages Premium has no way of knowing who uses their service. This means that legitimate businesses, nefarious individuals, and even criminals have the same access to data as everyone else.
The same is true of the Whitepages.com free offering, which is available to all web users. Similar services (BeenVerified, Spokeo, MyLife, Instant Checkmate, etc.) also provide individuals and businesses access to much of the same information.
But Whitepages Premium is of particular concern. This is simply due to the much deeper level of information it collects and sells every day.
Knowing this, it's little wonder that people now scramble for ways to remove themselves from Whitepages and Whitepages Premium.
How do I remove myself from Whitepages Premium?
Assuming that you request information removal from Whitepages.com's free listings, it makes sense to completely clear your name from its database.
And if you haven't yet removed yourself from Whitepages' main platform, it just takes a moment.
To its credit, Whitepages openly invites opt-out requests with its suppression request feature. Simply provide the necessary information to remove yourself from Whitepages.com's public directory.
Yet, at no point does the company explain that your data will continue to show up on Whitepages Premium.
There's also the matter of the next step. That's because removing yourself from Whitepages Premium actually takes some work.
Still, this should only take less than 10 minutes and can be completed in just two steps.
These steps include:
1. Pull up your information on Whitepages Premium
Unlike the main website, there's no suppression request feature on Whitepages Premium.
So, to begin the Whitepages Premium opt-out process, you should head straight to Whitepages.com. Previously located at Premium.Whitepages.com, Whitepages Premium may now be found through the main website.
Search yourself on Whitepages.com. You'll see a variety of listings, including options to 'View Details' and to 'View Full Report'.
If you already successfully removed yourself from Whitepages' free search, you should only see the 'Full Report' option. You'll notice this includes advice that Whitepages.com's in-depth, full reports are 'Powered by Whitepages Premium'.
Next, copy the 'View Full Report' link. If you're unsure how to do this, you can find advice on copying and pasting here.
2. Manually request Whitepages Premium opt-out
Once you copy the Whitepages Premium report URL, head to the Whitepages Help Center. At the top of the page, you'll see a link to 'Submit a request.'
Go to this page and submit a manual Whitepages Premium opt-out request. Then, follow the prompts to choose from a range of issues. In this instance, select 'I need to edit or remove a listing'.
On this page, provide your email address, subject, and description. Also, it's crucial to paste the 'View Full Report' link that you copied into the 'Listing URL' section before moving on.
This step is vital to avoid any ambiguity, especially as it relates to Whitepages Premium opt-out and not just basic Whitepages.com removal.
If you find more than one Whitepages Premium listing, you may complete Whitepages Premium opt-out for each URL. You must also select an option under the heading, 'Please help us understand why you want your information to be removed.'
Be sure to add a subject and description to each opt-out request. Here, clearly express that you want removal of your Whitepages Premium listing. Emphasize that you want to remove your 'Premium' listing.
Finally, hit 'Submit.' This will send your request to the Whitepages team.
3. Follow up to make sure your Whitepages Opt Out request is processed
Whitepages handles most 'Premium' opt-out requests within 48 hours. This is twice as long as it takes to process free-listing removals.
But now that you submitted a suppression request for the free listings, your info should be off Whitepages.com altogether.
I've deleted my personal information from Whitepages. What now?
Removing your info from White Pages is a great first step to protecting your privacy from data brokers. But just because your Whitepages listing is gone doesn't mean your personal data is in the clear since it is just a single data broker site amongst a sea of other sites, not by a long shot. You may still receive phone calls or other inquiries from the listings you had before they were removed.
Unfortunately, many major data sources do not offer an opt-out option, so your name may continue to appear in other places on the internet. Whitepages is just one of countless data brokers that make money selling your personal info. There are many other data broker sites, such as Spokeo, BeenVerified, 411 locate opt-out, and USphonebook.com opt-out processes that you have to go through to remove your personal information. The Been Verified opt-out link, for example, can be found on the BeenVerified website.
And because data brokers are third-party websites that rely on the fact that public records are available to anyone with an internet connection, there'll be no shortage of platforms gathering your data in the future.
Even social media sites are fair game; data brokers scrape and collect social platforms to piece together details. This means data brokers like Whitepages will continue to pop up in search and sell your info until you do something about it.
In other words, just because you've completed the Whitepages/Whitepages Premium opt-out process doesn't mean you've erased your personal info from the web. Other sites are still collecting and sharing your personal details.
How do I remove myself from people-search sites?
Most people-search platforms have their own process for opting out and removing your personal info. Following each site's instructions is key to deleting your personal data from search and erasing a very real threat to your privacy, safety, and online reputation.
Unfortunately, finding each site's opt-out process and completing each step correctly can be challenging. Even finding the page to begin the Whitepages opt out process can be a chore. This is because it's not in any site's interest to make the removal process easy.
What's more: getting your personal records removed isn't always a given. This can make opting out a frustrating task that leaves many throwing up their hands and giving up completely.
So, how do I remove my information from Whitepages for good? What do I need to erase my online identity from other similar websites?
Online monitoring and reputation management are the answer
With hundreds of people-search sites and numerous opt-out processes out there, deleting your personal information from the web can be quite a challenge.
And because personal listings are everywhere and so easy to find, the only effective way to really protect yourself and your family is by monitoring and managing your online reputation.
There is no charge for your information to be removed from the White Pages, but there are some third-party sites that claim to remove your information for a fee. We do not recommend using these services, as we cannot verify if they work as advertised.
The right tools and ORM strategy can help you overcome the challenges of personal data removal. They can also give you control over what friends, coworkers, bosses, and enemies find when searching your name on the web, ensuring private info stays private and your identity is in the right hands.
Privacy Monitoring
Ongoing monitoring of your name and info in Google allows you to stay a step ahead of personal listings online. With a watchful eye on your digital presence, you can take action before threats get worse and destroy your reputation.
Setting up a Google Alert for your name can provide an immediate advantage in the fight for your online privacy.

And the right monitoring and removal solutions can automate listing removals and keep private info from creeping onto Google's first page.
Reputation Management
Now that you have an answer to "how do I remove my information from Whitepages?" what's the next step? Don't get too excited — because you're not entirely off the grid. Your information is still on the database, but your name will no longer pop up in searches.
How do you ensure your critical personal data stays out of search results and doesn't threaten your privacy? it may be worth supplementing the opt-out process with a phone call to your local telecommunications provider and asking them to put in an extra request for your line.
Contact InternetReputation Today for Personal Info Removal Services
Limiting the impact and visibility of personal info on the web is key to protecting yourself and your family.
And because the web is so unpredictable, managing your reputation can be an effective way to keep that info under wraps and out of sight.
Our customized ORM campaigns utilize the latest in SEO and digital technology to give you control over your online presence. We work tirelessly to provide you ownership of your online presence while preventing harmful personal data from hurting you in Google search.
With the right plan for managing your online reputation, you can defend your online privacy from sites like Whitepages.com and write your own digital narrative, building the image you want to share with the world.
To learn more, visit us online or call an InternetReputation ORM specialist today at 941-259-4554.
Updated 11/2022
Permalink