NJParcels Opt Out: How to Remove Info from NJParcels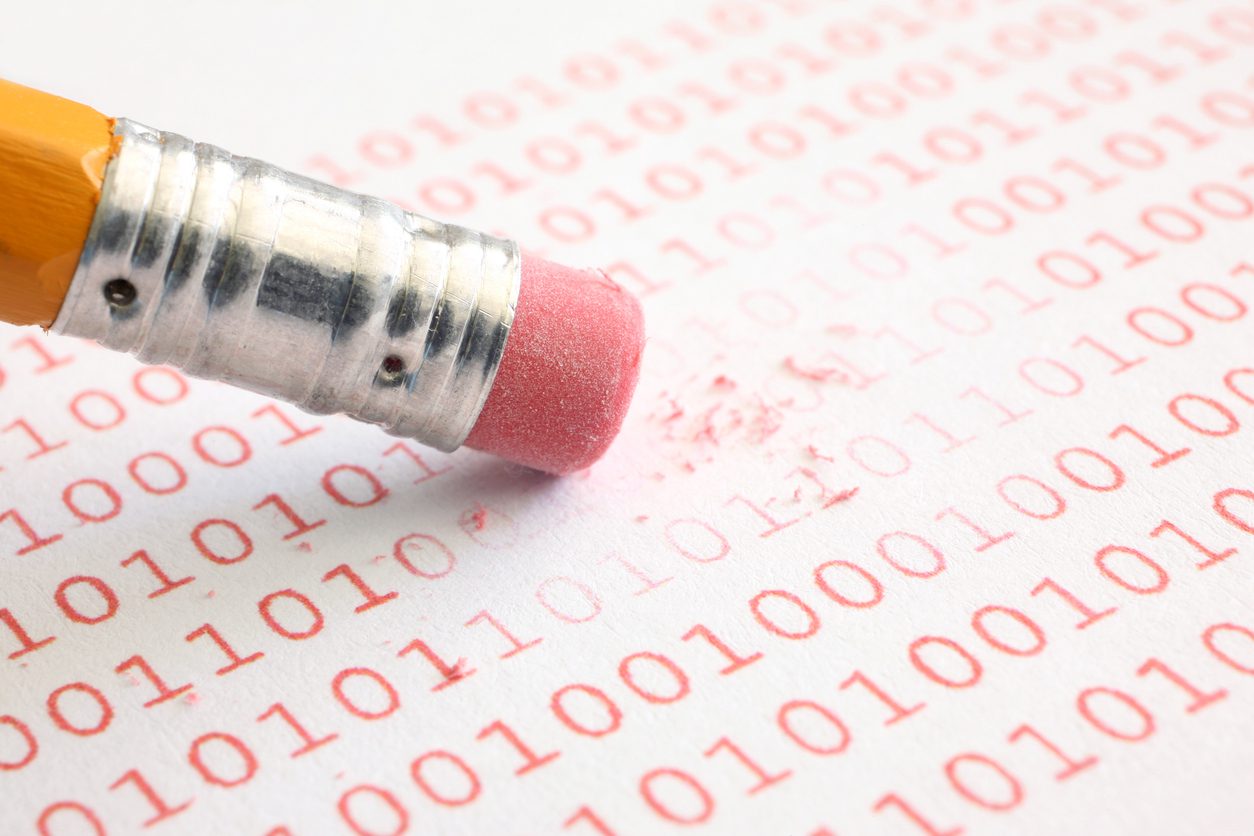 Learn how to complete NJParcels opt out requests with the redaction request form and our guide below.
In the digital age, we can never be too careful about the online information available to anyone with an internet connection.
You may be alarmed to learn that personal information — your property records, home address, phone numbers, and other details — can be quickly retrieved online.
NJParcels is only one of the hundreds of data brokers that share your private data in the digital environment. The availability of this personal information may put you and your family at risk.
Learn how to protect your online private data with a request to remove or delete your information. Our step-by-step NJParcels redaction request guide will show you how.
How Personal Information Online Puts You at Risk
As more and more business is conducted online, billions of pieces of personal information have become available with just a few clicks of a mouse.
Private data found online can include:
Marriage license information
Property records
Your home or business address
Telephone numbers
Email address
Real estate transactions
Social Security numbers
Criminal records, arrest reports, and mugshots
Why is having this information freely available so risky? The answer is cybercrime.
Cybercriminals use personal information to create fraudulent banking accounts. By taking individual bits of data like a property owner name, address, and contact details, criminals steal your identity. Once they do that, they can not only put your financial security at risk but can also damage your digital reputation.
Identity theft is a growing concern; in 2021 alone, nearly 3 million fraud reports were filed with the U.S. Federal Trade Commission (FTC), resulting in $5.9 billion in losses.
Another potential risk associated with private data is physical harm. If someone can look up your address, they know where you live and can visit you unannounced. If you or your family value your privacy, you know that getting this information removed can mean the difference between personal safety and financial or physical damage.
What is NJParcels?
NJParcels, found at NJParcels.com, is a data broker specializing in providing searchers with property records in the Garden State.
Users can search properties by address or by owner name.
The NJ Parcels search tools also allow users to specify the county or region of New Jersey in which to search Jersey properties. New Jersey residents who have made a real estate purchase, including home and commercial properties, will have their property records available through this site.
NJ Parcels claims to provide additional data to users, linking demographic information and location to the property owners. If a New Jersey resident owns several properties, these will be linked together in the database.
Each listing will include the parcel location, county, address, and purchase information. The listing may also include other details; when you search properties using the site, the listing reflects the completeness of the public record the information came from.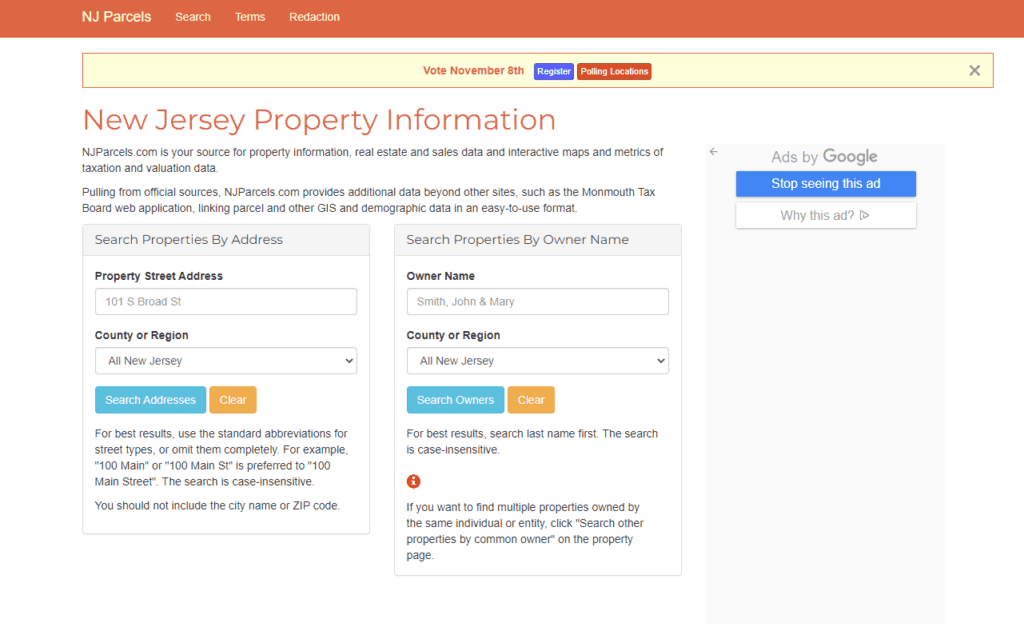 How Did NJParcels Get My Information?
NJ Parcels uses two primary sources to get the property records and personal information of New Jersey residents. These are:
Public Records
Most states require that government agencies collect information and make it available to the public via public records laws. Public records may include real estate transaction records, personal information, and many other forms of data. If you have ever dealt with a government agency in the state of New Jersey, your records are available online.
Data Brokers
NJ Parcels is known as a data broker or data aggregator.
NJ Parcels scrapes this information from public records databases as well as other data brokers collecting information from public sources, then shares it online. Property owners in New Jersey and all New Jersey properties are searchable using the NJ Parcels database.
NJParcels Opt-Out: The Redaction Request Form
New Jersey residents who have found their personal information online often find themselves at risk of identity theft, financial fraud, or personal attacks.
Thankfully, NJ Parcels and NJParcels.com allow property owners to opt out of New Jersey residents online data collection. Opt-out requests are typically reviewed within 72 hours. For the purposes of NJ Parcels, this is known as a redaction request.
Most data brokers allow people to opt out of data collection and sharing. Opt-out requests are effective in getting your data taken down from specific sites, but they must be filed with each site.
Because there are so many data brokers sharing your information, this process can be daunting.
Before you submit a redaction request form, there are two important considerations:
Redaction Information
On the NJ Parcels website, the following redaction information is presented just before users access the redaction request form:
"Through this page, you can request that your name be redacted from the public-facing web pages on this site. This action will remove your name from search engine listings that point to NJParcels.com; however, your information will continue to be available from their respective sources. Contacting us will not remove your information from the actual public record sources provided by municipal, county, and/or regional governments since we have no control over those entities."
Redaction Policy
NJ Parcels goes into further detail in their policy on redaction requests:

"We reserve the right to refuse redaction of ownership information. Refusal of a redaction request may be due to bulk or automated generation of redaction requests. We will evaluate the request within 72 hours. While ownership information will be redacted, the information may remain in caches or in search engine results until said caches are refreshed. As such, we are not responsible for removing records from search result listings after the redaction is in place."
Instructions for Making a Redaction Request on NJ Parcels
Ready to make a redaction request on NJ Parcels? This step-by-step guide will help you opt out quickly.
Navigate to the NJ Parcels redaction request form by clicking here.
Search properties until you find the specific listing you want to be redacted.
Include a valid email address.
Add your name to the redaction request form.
State a reason for a redaction request, such as concerns about privacy.
Mark the box acknowledging that you've read the redaction policy including with the redaction request form.
Hit the "submit request" button.
The opt out request will remain valid for a period of one year after you submit request for data deletion.
Contact InternetReputation Today
Limiting the impact and visibility of personal info on the web is key to protecting yourself and your family.
And because the web is so unpredictable, managing your reputation can be an effective way to keep that info under wraps and out of sight.
Our customized ORM campaigns utilize the latest in digital technology to give you control over your online presence. We work tirelessly to provide you ownership of your online presence while preventing harmful personal data from hurting you in Google search.
With the right plan for managing your online reputation, including powerful content removal solutions — you can defend your online privacy from sites like NJParcels.com and take control over what information is available about you on the web.
To learn more, contact us online or call our ORM specialists today at 941-259-4554.
Permalink