Apple Business Connect vs Google Business Profile: What's the Difference?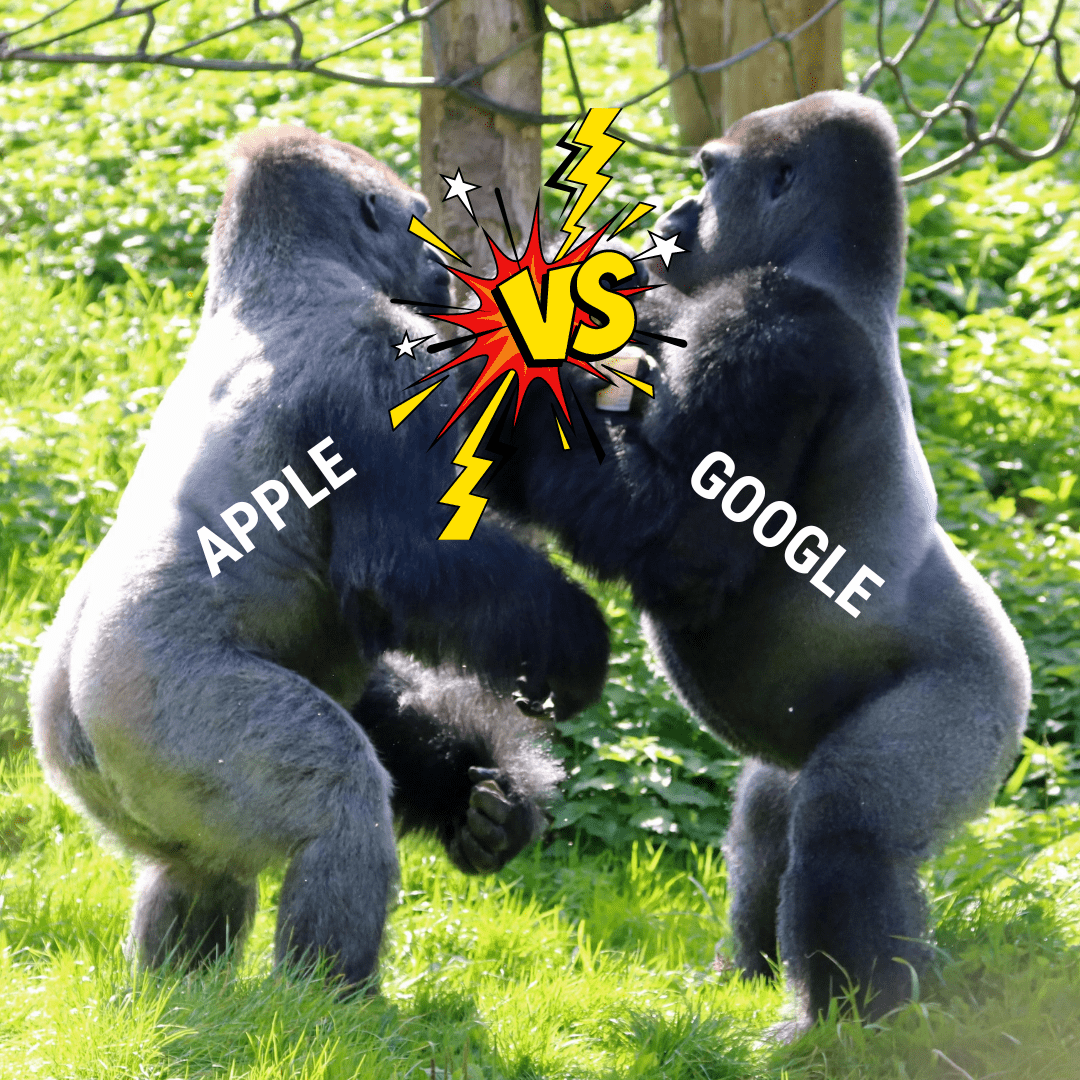 Two tech giants go head to head with Apple Business Connect vs Google Business Profile. What's the best choice for listing your business online?
Since it first launched in 2014, Google Business Profile has dominated the business world by allowing businesses to be found in online search results. A new player in this segment has emerged, with Apple announcing the introduction of Apple Business Connect.
Revolutionary new features are in store for users of the new business listing platform — but is Apple Business Connect right for your needs?
What does Apple's announcement mean for your business, and how does Apple Business Connect compare to Google Business Profile? In our guide, we'll provide all the details you'll need to make smart decisions about listing your business profile online.
Apple Business Connect: A Brief Overview
Apple Business Connect (ABC) is billed by Apple as a way to "put your business on the map." In this case, Apple Maps.
Apple Business connect is a free tool that allows businesses of all sizes to customize the way their information appears across Apple apps such as Apple Maps, Messages, Wallet, Siri, and more apps in the Apple ecosystem.
Apple Business Connect isn't exactly new, however. When it was first released, it was known as Apple Maps Connect. Apple created Business Connect as a direct competitor to Google My Business, which is now known as Google Business Profile. Even though GBP is more familiar to many business users, Apple Business Connect and the Business Connect API offer several innovations that may shuffle the hierarchy in business listing management.
Features of Apple Business Connect
On the Apple Business Connect website, the new service is billed as "Everything your customers need. At a glance."
The free tool offers Apple users a wide range of customizable features, including:
A Place Card where business owners can add photos, header images, business logos, and graphic elements. The Place Card has created an hours interface that shows operating hours at a glance and gives owners more control over holiday and weekend hour information.
Showcases, which is a new feature that helps small businesses present customers with announcements, such as limited-time seasonal menu items, product discounts, special promotions, and similar offers. Showcases are a great way of inviting customers to take advantage of promos that helps your business thrive.
Customer Action Buttons for making one-click actions like ordering food, making a reservation directly from Apple devices, booking a hotel, buying tickets, calling the business, and more.
An exciting feature for business owners is Insights, which is a tracking tool useful for managing listings as well as offering data to help owners understand what customers are searching for when landing on a given business listing, their basic preferences, and numerous other metrics that help business owners modify their profiles to suit the needs of online search users.
Google Business Profile: The Reigning Champion
Introduced in 2014 as Google My Business and rebranded as Google Business Profile in 2021, the free business listing service by Google is the product of evolutionary steps that started way back in 2004 with the launch of Google Local. Originally, the Google My Business platform was intended as a direct competitor to business directories like YellowPages.
Google Business Profile interfaces seamlessly with the full range of Google products and services, including Google Maps, Google Shopping, Google Search, and Ads. As a business ecosystem, this integration promises efficiency and visibility for business owners and search users alike.
As a free service, it is simple to claim a listing. Simply log into your Google account and make the claim. Then, add your business name, business address, and other critical details. Submit the information, then wait for verification. Google My Business has made this process as easy as possible for owners of small businesses and large corporations alike.
Millions of businesses use Google Business Profile; the platform has become so important in local search engine optimization (local SEO) that it is considered an essential ranking factor for local businesses. If your business hasn't claimed your Google Business profiles, you may be missing out on incredible search visibility when prospective customers use mobile devices to search for businesses near them.
Google Business Profile/Google My Business Features
Google Business Profile includes a vast array of tools and features for business owners. Once a Google Business Profile listing is claimed on the platform and verified, local business owners have access to:
New reviews and star ratings left by customers
Tools to respond to Google reviews
Tools for creating Google Ads
Posting tools for promoting special offers and promotional discounts
Google analytics and insights into customer behaviors
A dashboard for quickly editing Google Business listings to update pertinent business information like phone numbers, address or addresses, business description, business category, and more.
Business owners on the Google Business Profile platform can upload photos of their business locations and share updates or details with their customers. With the business information presented at users' fingertips — and by securing a place on Google Maps with the creation of a business profile — companies of every size and type experienced instant improvements in online search visibility.
Key Differences Between Apple Business Connect and Google Business Profile
Although the two business profile listing services may seem very similar on paper, these two services are quite different.
The main difference in the fight between Apple Business Connect vs Google Business Profile is in integration. Google has established itself as a dominant ecosystem with dozens of apps and platforms working together.
Apple, by contrast, has some — but not all — comparable integrations. For example, while Apple Maps is similar to Google Maps, ads are not yet integrated into it. Another glaring difference is that Apple does not yet have its own search engine; Google Search is the default search engine for Apple users. Because Google captures about 85% of the world's search market, it continues to stand as the "big kid on the block."
As Apple Business Connect matures, it is easy to envision the addition of new features, new functionality, and more seamless integration. Until then, however, Google Business Profile will continue to stand out as the leader in creating and managing business profiles in the digital environment.
The Google Search Environment: How Do Business Listings Influence Search Rankings?
Locally-oriented searches make up about 46% of all searches conducted on Google. This statistic alone illustrates how important local SEO is in creating visibility in search results.
Local SEO incorporates details that help prospective customers find you online. Adding information like physical location details, business hours, geographical service areas, and driving directions helps Google process user queries and ultimately delivers accurate information to users.
When those details are added — either through traditional local SEO strategies or by claiming a listing on Google Business Profile/Google My Business, business owners can stack the deck in their favor — supercharging their digital footprint by making it easier than ever before to get found in search results.
Google Maps vs. Apple Maps
Apple Maps is quite useful for users of the operating system. Users sometimes prefer the cleaner, more basic interface than that of Google's own Map app.
Unfortunately, because Apple does not yet have a standalone search engine, Google is the default for Apple users. When a person searches for something in their service area on an Apple device using Google, he or she is presented with search results, many of them linking to a Google Map listing.
This is a huge disadvantage of Apple Maps. Also, because ads are not yet integrated, business owners who wish to stand out in online searches by using ads are more likely to use Google's own Ad tools.
The key takeaway is this: as Apple's apps evolve, they will gain more and more market share. Until then, however, going against Google is an uphill battle.
Business Listing Management: Professional Help for Managing Your Profiles Online
As an extension to your digital marketing efforts, creating and maintaining business listings is an important part of doing business in the digital environment. Unfortunately, the process of managing your listings can be time-consuming, frustrating, and inefficient for many small business owners.
Agencies like InternetReputation provide cutting-edge business profile management solutions to commercial clients. In most cases, these management services are bundled with local SEO services, which typically include:
Website optimization for local businesses to stand out in local results.
Business profile development on major platforms like Apple Business Connect and Google My Business/Google Business Profile
Google Maps/Apple Maps optimization
InternetReputation can help you use your time more efficiently by taking over the day-to-day management needs for your online profiles. Talented local SEO teams can post updates, ensure accurate information across profiles, share special promotions, and include photos that bring your business profile to life.
Business Profile 101: Your Crash Course in Creating Great Listings for Online Use
People search for people and businesses around them every day. They may use mobile phones, desktop computers, or tablets to find the information they need. Providing access to that critical information is the goal of creating a business listing.
Now that we've gained an understanding of the differences between Apple Business Connect and Google Business Profile, it can be useful to share tips on creating business listings. These listings are sometimes referred to as local citations. Here are top tips for getting the most from your business profile online:
Your listings must include "NAP": Business Name, Business Address, Phone Number. This information must be consistent across the platforms you use to list your business.
A complete business description can help tell new customers who you are, what services or products you specialize in, and why they should choose you over a competitor. Be thorough — the more information you provide, the more clicks in local search you can expect.
When you claim your listing, you must use a physical address to verify ownership. Google Business Profile does not accept a post office box for ownership verification; it is unclear if Apple Business Connect has the same limitation.
Verify the accuracy of business information before you click finish on your listing app.
Choose your primary category carefully; Google Business Profile offers over 4000 categories to choose from. Accuracy in your category can help you achieve top rankings for your industry niche.
Update older or outdated listings with new information, and verify that this information matches all of your listings. The more up-to-date your listings are, the more clicks and more customers you are likely to get.
If you have a single location, use the physical location information for that business in your business profile. If you have multiple locations, be sure to share the address of each of those locations in your profile.
Reviews displayed on your profile can help — or hurt — your business. Manage those reviews carefully. Respond to every review, positive or negative. This helps build trust between you and your customers. Also, flag fake reviews or defamatory reviews for removal to protect your online reputation.
Ready to attract a steady stream of new customers to your locations? With Apple Business Connect and Google Business Profile, you can manage all the information people search for when looking for places to do business in a given service area.
Contact InternetReputation Today
InternetReputation is a leader in managing online reputations, including business profile creation and management solutions.
Our team of ORM experts knows what it takes to build a strong and visible brand, helping establish your company's online reputation as an exciting, engaging, and customer-focused destination. From eliminating bad reviews to improving visibility in Google search results, Google Maps, and social media, we work hard to deliver the results you need for your business to thrive.
To learn more about our business profile management services for businesses in any industry and location, contact our team today at 941-259-4554 for a free consultation with one of our representatives.
Permalink