Online Reputation Definition: What it Means and How it Can Help Your Business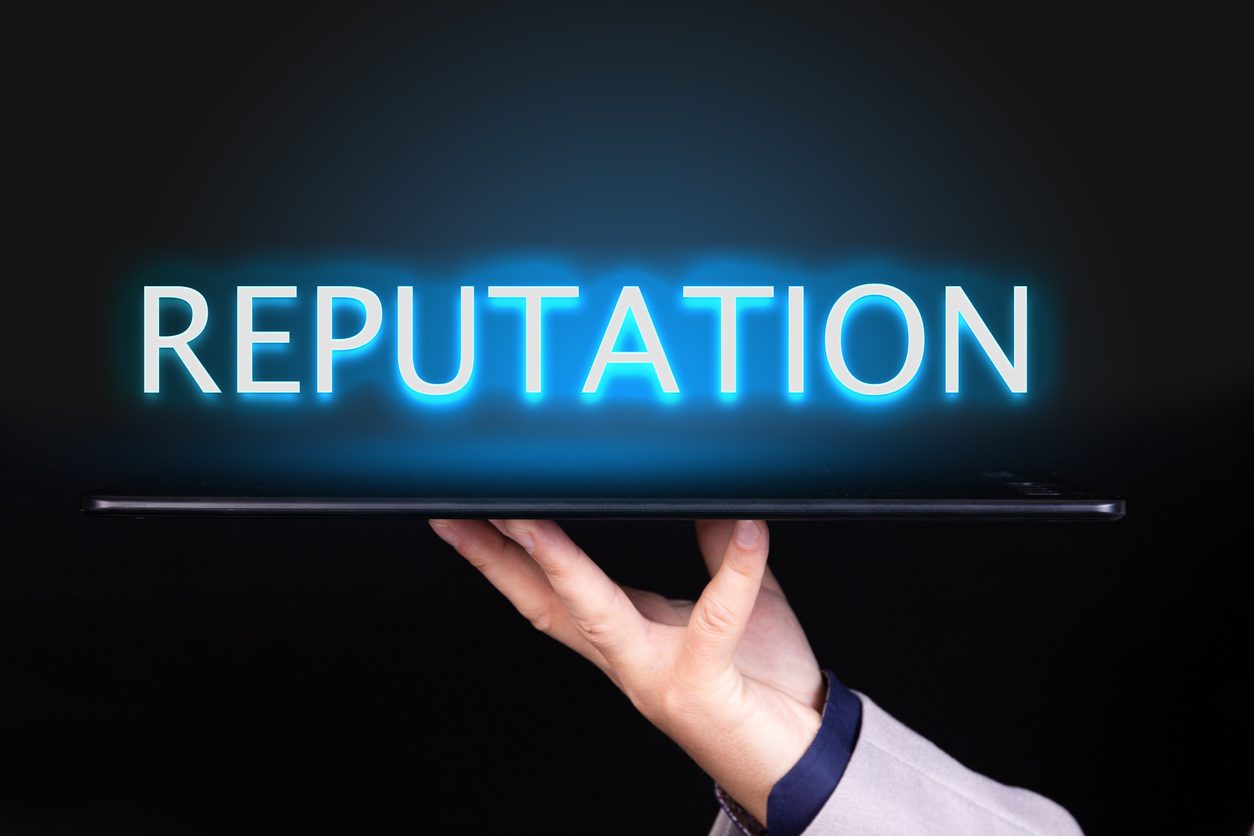 What is the online reputation definition, and what benefits can a great reputation provide to you and your business interests?
In the digital age, what people are saying about you online can have a profound impact on your ability to achieve your goals. Whether you are an individual or a business owner, your online reputation is the key to unlocking new opportunities — or the hurdle that keeps you from reaching success.
Just what is an online reputation, and how can you establish, build, or repair a positive reputation? How should we define online reputation management?
In this guide, we will define online reputation, explore the meaning of brand reputation, what goes into an online reputation, how a positive online reputation can benefit you or your business, and the services provided by business reputation management companies that allow you to stand out online.
Online Reputations Defined
An online reputation is defined as:
"The consensus public perception of an individual or company based on their digital presence."
Internet users have access to literally millions of pieces of information. When they are searching for a person or business, what that information contains can positively or negatively influence the next actions taken.
Face it: online conversations are happening whether you know it or not. These conversations can make or break your business.
Personal Perception
If you are applying for a job, school admittance, or a home/vehicle loan, chances are that someone is searching the internet for information about you. Even people you meet in person or online, such as on dating sites, are using Google to learn more about you.
Your personal perception — in other words, your positive online reputation — can open new doors. A poor reputation, however, can keep you from achieving your goals. A good online reputation is a gateway to getting into the school of your dreams or landing that great new job.
Brand Perception
Potential customers often turn to the internet during their purchasing journeys. They may use a wide variety of digital platforms like Google to learn about businesses in their area. What these people find online in search results often represents what they perceive as the core values of your business venture. Positive content, such as good feedback from the customer base, positive reviews, favorable press releases, and glowing mentions from other sources online help to build a brand perception that is positive.
On the other hand, unflattering comments, bad brand mentions, poor reviews, and negative news items can damage your brand image and online reputation. For brands struggling to achieve new business, a negative e reputation can stand in the way of business growth.
What Are the Benefits of a Positive Online Reputation?
Now that we understand what an online reputation is and how it can directly impact the behavior of others, what are the real benefits of a good online reputation?
A positive online reputation builds credibility in your market or between you and others you meet.
Your reputation builds brand awareness and a positive image.
For business owners, a great reputation boosts sales and customer traffic.
Good reputations attract top talent to your organization.
A favorable reputation improves search engine rankings, allowing you to stand out from the competition.
Most importantly, your digital reputation is a cost-effective means of extending your digital marketing strategies. After all, businesses with a good online reputation tend to outperform their competitors in terms of sales volume and revenue.
Can you afford to have a bad reputation? If the answer to that question is no, then read on for the ultimate solution.
What is Online Reputation Management?
Online reputation management (ORM) is the process of establishing, protecting, and repairing the public perception of a person or company in the digital environment. ORM professionals use a range of tools and strategies to position you in your best light. These strategies include:
Reputation analysis
Web property development from personal or business websites to social media accounts and more
Content creation from a simple blog post to industry white papers, image sharing profiles, and news articles
Public relations
Positive content promotion
Reputation monitoring
Pay-per-click (PPC) management
Wikipedia page creation
SEO and local SEO to stand out in search results
Branding
Social management (including social media marketing and maintaining social media channels)
Tracking and monitoring brand mentions (through platforms like Google alerts, etc.)
Google My Business/Google Business Profile management
Together, online reputation management strategies can help you, as an entrepreneur, create trust between you and others while growing your personal or professional brand. They can even restore reputations damaged by negative information in Google search results.
Whether you already have your own website or need help establishing a digital footprint, ORM provides the solutions you need to stand out from your competitors.
Critical Online Reputation Management Services
An online reputation management company provides a wide range of customized services to its clients. Because each client is different and may have unique needs or concerns, not all services are applicable to a reputation management campaign.
Still, there are several critical services that nearly every individual or business owner can benefit from. These include:
Review Management
In today's competitive digital environment, online reviews have come to the forefront in helping customers identify the companies they want to do business with.
How important are online reviews? Consider that over 90% of all consumers read reviews before making purchasing decisions. Also, 91% of consumers say that online reviews are as trustworthy as personal recommendations by friends and family.
Review management allows you to control your online reputation. This management includes strategies to:
Encourage customer reviews at point-of-purchase
Receive notifications whenever your business is reviewed
Flag fake reviews for removal
Share and promote positive reviews
Respond to and mitigate the effects of negative online reviews in a timely manner
Improve and protect your business reputation
Every positive review brings you closer to success, while each negative review can erode what you've worked so hard to achieve. Doesn't it make sense to incorporate review management into your reputation management toolkit?
Content Removal
As we learned in an earlier section, the quality and quantity of information in search results has an important influence on your digital reputation. Negative information, including negative reviews, negative comments, and unflattering news articles can damage your reputation.
Getting negative information removed can be a challenging, time-consuming, and frustrating process. To make the process easier than ever before, your team of reputation management professionals scours the web – – including social networks, news outlets, blogs, and review sites.
Armed with this information, they prepare a content removal strategy that employs every legal option available. From takedown requests to violations of terms of service (TOS) notices, court orders, and data opt-outs, reputation management professionals can stop negative information from appearing in web search results — helping you build and keep the good reputation that means so much to your business success.
Search Engine Optimization
Search engine optimization (SEO) plays an integral role in building and maintaining a positive online reputation. SEO is the set of tools and strategies that optimize web content for easy search discovery, allowing search engines to accurately categorize and index your web presence.
With 87% of shoppers starting their shopping journey with online research on Google or other search engines, SEO is a critical service that helps you reach potential customers easily.
People tend to react positively to the brands that appear at the top of search engine results. That's why improving SEO is still one of the top online reputation management trends in 2022.
Your content also influences your online reputation. So, mind your online reputation when improving SEO. This is so you can ensure you're producing quality while maximizing your keywords, internal linking, and backlinks from authoritative external sources.
Remember, an effective reputation management strategy ranks content that brings out your expertise. Optimize content to appear on top of search engines. Then, improve poor content to send appealing impressions to your followers.
Social Media Management
It is accepted wisdom that social media has become a dominant force in how individuals and businesses are perceived in the digital environment. Social media profiles have the potential to receive a lot of traffic, boosting brand reputation and visibility in a cost-effective manner. Managing social media mentions and content with social listening can help you get the most from these channels.
Management of social media is a proactive strategy that incorporates content sharing, content marketing, and social media monitoring. The monitoring aspect involves tracking every online conversation that mentions your brand or product. It entails watching brand mentions and engagements for timely responses — allowing you to spot emerging trends or reputational risks before they can cause harm to your brand reputation.
Social media tracking gives you instant notifications whenever people mention your brand. You can get real-time updates when people review, compliment, or criticize your brand with negative comments. This way, you can respond in time to protect your online reputation.
Reputation Monitoring
Just like social listening allows businesses to respond quickly to followers on platforms like Facebook, Twitter, and LinkedIn, reputation monitoring is an essential service that helps you maintain and protect a positive online reputation.
Monitoring uses automated tools to scour the web for mentions of your name on sites like Whitepages, your brand name, negative reviews on review sites, and articles on news sites that reflect positively or negatively on your reputation. In fact, this service is so important that without monitoring your brand image online, you are at the mercy of anyone who wishes to damage your internet reputation with negative information.
What Are Online Reputation Management Costs?
The average cost of online reputation management varies from brand to brand, depending on the expertise of the ORM agency and the services engaged. Therefore, there will be no single standard online reputation management cost that every business can benchmark against. However, you can check out our article on the reputation management cost for each type of service and get a ballpark range depending on which ones you are interested in engaging.
Contact InternetReputation Today
To learn more about the online reputation definition or to manage a reputation and build brand awareness, call InternetReputation today at 941-259-4554, or check out our blog for even more ways to manage brands and reputations.
Permalink