Doing It Yourself: How to Build Reputation and Repair Your Online Brand On Your Own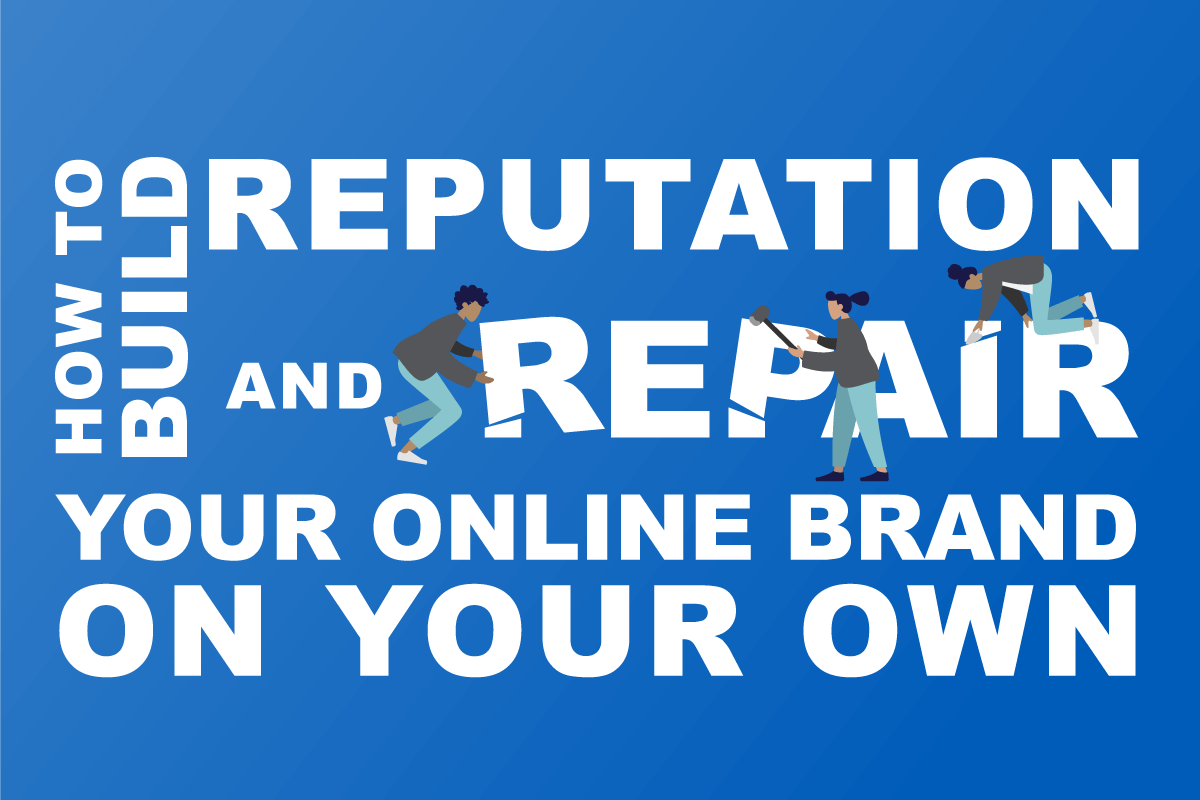 With the vast number of digital threats, identity thieves and bad news now floating across the web, doing what you can to protect your information and promote a positive online brand is more important than ever.
But when it comes to managing your digital reputation, it can be hard to know where to begin – especially when you're taking on the task of online reputation management (ORM) on your own.
For the ORM do-it-yourselfers out there, here's a brief look at how to build reputation, repair your image and turn your online presence into a foundation for success.
How to build an online reputation
Building an online reputation that makes a dynamite impression on hiring managers, coworkers and loved ones is a hands-on, step-by-step process. 
And for taking on digital reputation management on your own, it's essential to know where to get started and how to avoid potential missteps along the way.
Step #1:  Get to know who you are
What sort of impression are you making on the web? Which items make up your online footprint, and how are each of those helping or hurting your personal brand?
Identifying each post, profile and search result tied to your name is a critical first step in managing your online reputation. Sorting through these elements allows you to piece together your online puzzle and set a starting point for your long-term reputation management strategy.
As you comb through the assets comprising your online image, don't forget to make a list of:
Each result that pops up during searches of your name, particularly on Google's first page.

All mentions of sensitive personal info on

data aggregates

Mentions you've received (good and bad) in articles, blogs and comment sections around the web

Any blog profiles you maintain or update on a regular basis

All social profiles you own and manage, including on Facebook, Twitter,

TikTok

, LinkedIn and more

All reviews and directory listings mentioning your brand (if you run a business)
Once you know what you're made of online, you can start to build reputation cred and carve out the presence you need to thrive.
Step #2: Assess, and remove what you can
Now that you've collected the bits and pieces making up your online image, it's time to separate the items you want on the web from the so-called undesirables: those negative articles, social feeds and unflattering mentions your reputation could probably do without.
With bad news isolated, you can develop a plan-of-action for removing each item or, at the very least, minimizing their image-draining impact.
Removing items you own
At some point, we've all posted something we wish we could take back. 
Fortunately, the items you've put up are often where you have the most control. And removing that regrettable image, comment, review, blog or social post is usually no more difficult than the click of a mouse.
Set aside what you own and visit the platform you used to put it online. Once you've logged in to your account, identify the post creating havoc for your digital rep and delete that nuisance for good.
Removing third-party posts
Removing your own items is relatively straightforward. But deleting negative news articles and mentions from third-party sites isn't always so simple, presenting its own set of challenges depending on where and how long each unflattering post has been online.
Social posts

– Getting negative posts removed from

Facebook

, Twitter or

Instagram

can often be done one of two ways: 1) reporting posts in violation of the site's Terms of Service (TOS), and 2) requesting removal (politely) from the posters themselves. 

Images

– Having unflattering third-party images removed from the web also depends on who posted them and where, though a kind message or communication can sometimes do the trick. 

Blogs

– Because blogs are most often managed by individuals or

webmasters

, removing a bad blog mention is typically possible only through polite messaging or properly identifying and reporting a TOS violation

.

Links

– Links appearing in search can be devastating for your online rep, but removing negative URLs from Google search is sometimes possible through Google's URL removal process.

News articles

–

News items are often among the hardest to remove

from the web. More often than not, articles will only be removed or changed if you can prove the existence of inaccurate info or libel.
Again, removing negative content from the web to repair your image and build reputation isn't always easy or possible. 
And if or when your removal efforts seem to hit a brick wall, the next step in mitigating negative content is to push it out of search altogether.
Step #3: Push bad content out of sight
When removal comes up short, the next item on your online reputation checklist is finding a way to get bad news out of sight. 
And content suppression is often the best solution for pushing harmful mentions out of search results and breathing new life into your online resume.
What is content suppression?
In a nutshell, content suppression involves any effort to eliminate bad items from Google search. Usually a multi-layered, long-term ORM strategy, suppression campaigns combine elements of SEO (search engine optimization), profile creation, content creation, and asset updating to replace negative mentions with positive assets on Google's first page.
An effective content suppression strategy is crucial to improve, build and grow a positive reputation on the web. It's also key to establishing the positive, personal brand image you need to succeed.
Suppressing bad content begins by
Optimizing existing online profiles. Ensuring each social, asset and content publishing profile you own is accurate and up-to-date helps establish the digital firewall you need to stop and mitigate further attacks to your digital reputation. 
Creating new online profiles

. Creating and optimizing accounts across new platforms is key to growing your footprint in search and supporting existing assets and profiles that define your online image. 

Creating and publishing new content

. Following

SEO Best Practices

to schedule, create and post new content is a powerful way to grow your brand and take ownership of your online reputation. 
With a good content management and suppression strategy in the works, you're not only eliminating online harm; you're primed to restore and build reputation strength, credibility, trust and personal brand potential—and cultivate the relationships that enable and advance your career.
Step #4: Track your progress and adjust when needed
Even with your DIY digital reputation management strategy in full swing, it's nevertheless important to keep things in front of you. Good ORM is both a proactive and ongoing process, making it critical to maintain a close eye on your progress and adjust your campaign whenever new developments pop out of the woodwork.
Build an ORM calendar
Maintaining a reputation management calendar is a great way to schedule updates, set task reminders and ensure you're putting in the legwork needed to keep your campaign working toward your goals.
Keep your files organized
Google Docs and Excel spreadsheets can work in a pinch when it comes to organizing online profiles, passwords and content central to your online reputation management checklist.
Monitor and reevaluate regularly
Setting up a Google Alert for your name can help you stay ahead of new mentions and threats to your brand, while weekly and monthly reassessments of your campaign can help ensure you're staying on track.
Step #5: Take a trip to Reputation Station
From managing online profiles to optimizing new content, building and protecting your online reputation is no easy feat. And without the right tools, technology and support at your side, controlling your brand and keeping the conversation on point can sometimes feel like a losing battle. 
But with the innovative new Reputation Station, you have the power of DIY reputation management in the palm of your hands—an easy-to-use digital portal for repairing your image, updating your online profiles and shaping your digital footprint from any device at any time!From the customized Reputation Station Dashboard, you can monitor and manage the progress of your personal brand at your convenience, creating, updating and scheduling vital ORM tasks when it works best for you. 
With Internet Reputation's one-of-a-kind do-it-yourself platform, you have a variety of user-friendly features at your fingertips, including:
A customizable dashboard to monitor

your reputation score

and health of online profiles across the web.

An easy-to-use task management calendar to schedule updates, create reminders and manage tasks critical to your campaign.

A profile management toolbox for creating new profiles, posting new content and boosting

brand authority

on major online platforms.

Best practice guidelines for maximizing your presence on social, content platforms, discussion forms and business directories.

Cloud-based storage

for organizing and managing assets defining your personal brand assets. 

Templates to optimize and post content that sharpens your online resume and gives you control of personal search results.
A full a-la-carte menu for ordering optimized content and services to supplement your ORM campaign, including images, infographics, social updates, blogs, and more.
Building Your Reputation Has Never Been Easier!
Reputation Station is your one-stop-shop for everything ORM, providing a revolutionary new way to build reputation and take control of your online brand. Whether you're launching a career or running a new business, our state-of-the-art DIY platform gives you the tools, technology and flexibility to protect and define your personal brand on your terms.
Our DIY reputation management solution allows you to:
Access important reputation services without giving up control over personal blog, content and social accounts.

Organize your campaign and track progress from one convenient online location

Stop, start and update your campaign on the schedule that works for you. 

Add or delete ORM services as you need them

Manage and update online assets 24/7

Consult with an industry-leading reputation management team on your schedule

Choose what you want to control and what to leave to the pros
Whatever your reputation needs, Reputation Station makes it easier than ever to put yourself in the driver's seat and achieve your online goals. Our DIY solution provides a level of utility, flexibility, ease and convenience you won't find anywhere else on the market today, giving you the tools to build reputation and protect your brand in ways you never thought possible.
The Next Step
Ready to take control of your online reputation?
With Reputation Station, you have the power to protect yourself from threats and enhance your reputation without going it alone. Supported the expertise of an award-winning reputation management team, Reputation Station offers the perfect platform to launch your ORM campaign and elevate your online profile to the next level.
To get started, sign up for your free Reputation Station account today or call 941-259-4554.
Learn more about the cutting-edge Reputation Station tool and #DIYreputationmanagement on our Facebook and Twitter. 
Try Reputation Station for FREE!
Reputation Station puts the power of online reputation management in your hands.

Use the form to sign up for your FREE TRIAL of our cutting-edge DIY dashboard!
Permalink