Why is Online Reputation Important?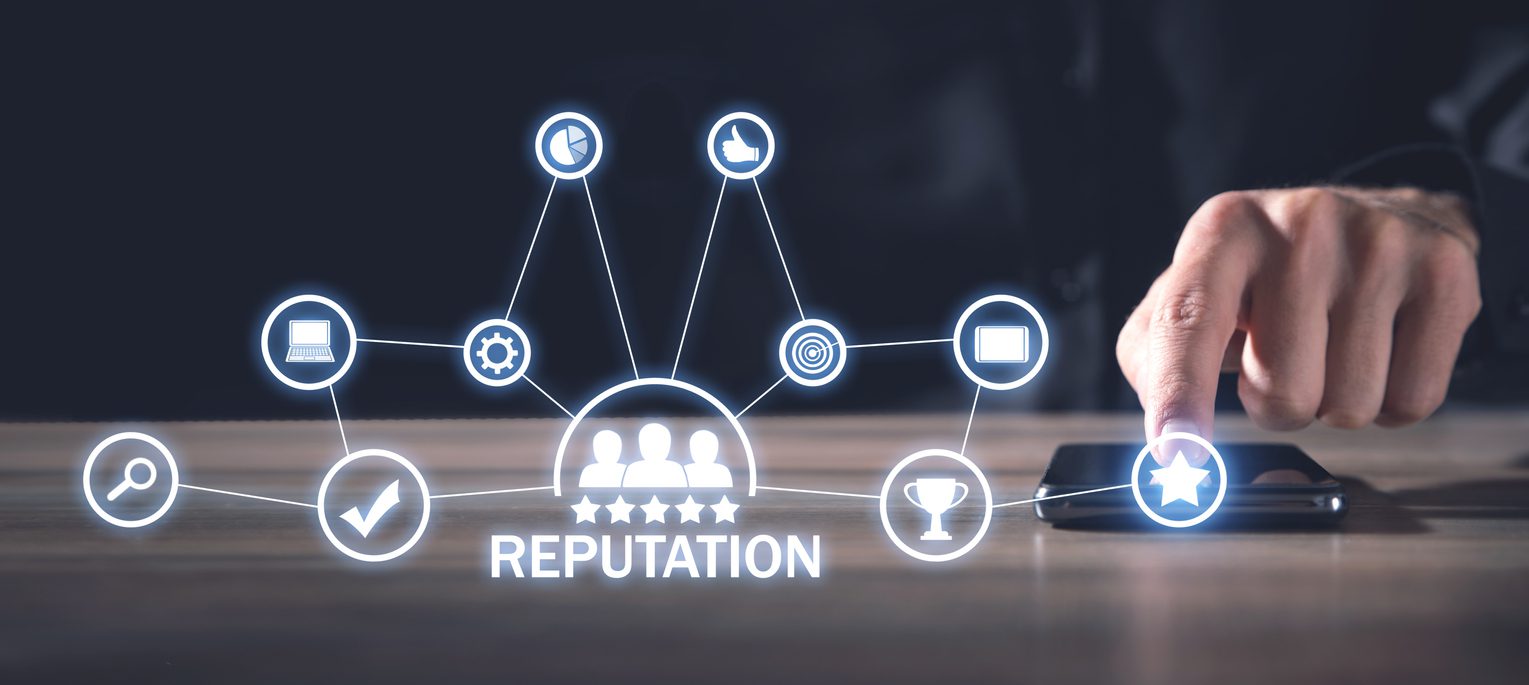 Is your online reputation important? In this guide, we will explore the key factors that help you stand out in competitive marketplaces and why your long-term success depends on a solid reputation.
It is no secret that the digital environment has become an integral part of our everyday lives. We use the web to learn about people and businesses around us, often turning to search engines like Google and online review sites to find the details we need.
The information that comes up in web searches can have a powerful influence on the behavior of others. This information serves to create your online reputation.
A good online reputation helps you to explore new personal and business opportunities. A negative online reputation, by contrast, can keep you from achieving your goals.
Let's take a deep dive into what online reputation means, then explore how online reputation management can help shape the digital narrative, positioning you for continued success in your personal and professional lives.
What is Your Online Reputation?
Online reputation is defined as:
"The consensus public perception of an individual or company based on its digital presence."
In other words, the information available about you in the digital environment has the effect of shaping perceptions about you. This information can include:
Customer feedback in the form of positive reviews and negative reviews posted by customers.
Online content in news media.
Mentions on social sites and conversations among social media users.
A business listing in an industry directory.
Information in search results can lead to a good reputation, or it can negatively affect your company's reputation.
The Power of a Positive Online Reputation
A good reputation leads to new opportunities in your personal and professional lives.
Think about that statement for a moment. What sort of power does your online reputation hold?
Your Business's Online Reputation
As a business owner, you face many challenges in your industry. Standing out from your competitors is one of the most important contributing factors to building your business.
A good online reputation is a catalyst by which you create trust between your company and your customers. Your positive reputation leads to more customers as it reinforces relationships with your current customers.
The reputation of your business is largely dependent on the quality and quantity of online reviews. Today's consumer is likely to read online reviews, and what those reviews share in terms of customer experience can have influences on what happens next. Today, people trust online reviews as much or more than word-of-mouth recommendations from friends and family.
Every positive review "moves the needle", and if a potential customer reads those reviews, he or she is more likely to do business with you. Every negative review, on the other hand, can result in customer losses and an erosion of trust between you and your customer base.
Your Personal Reputation
You may think that a good online reputation is only for companies, but individuals can also gain significant benefits from a visible and strong digital reputation.
When you apply for a job, a loan, or school admittance, chances are that people are using Google and social media accounts to conduct informal background checks on you. Even if you are trying to connect with someone new on a dating site, the information in search results about you can influence the behavior of others.
In each of the cases above, a good online reputation can open new doors of opportunity — helping you get that job, enter into a new relationship, or be accepted into the school of your dreams. A good reputation is your key to success, while a negative one can keep you from achieving the goals you've set out for yourself.
How Can a Bad Reputation Harm You?
If you advertise your business online or simply want to stand out in job applications or industry expertise, your reputation is critical.
A business's reputation influences customer purchasing behaviors; a poor reputation may result in lost revenue, fewer customers, and a downturn in business growth. Your business's online reputation may be harmed by negative online reviews, bad press, or the unflattering images or crises that hurt public perceptions of your brand.
Individuals with a bad reputation may miss out on new job opportunities or miss out on getting a home or vehicle loan. Most companies won't hire a person with a negative reputation after discovering unflattering information in search results.
Can you afford to miss out on new opportunities? Do you want to build and support a good reputation? The solution is online reputation management.
Let's take a look at what online reputation management is and how a reputation management strategy is developed to help you stand out in the digital environment.
What is Online Reputation Management?
Online reputation management (ORM) is a diverse set of practices and tools used to shape public perceptions about people and companies. It is a form of digital marketing that allows businesses and individuals to build brand awareness, improve rankings in search results, and foster trust between themselves and others in the digital environment.
An online reputation management strategy may consist of numerous practices, including:
Review management
Wikipedia page solutions
Web property development
Content creation and publishing
Crisis management
Public relations
Content promotion
Negative information removal
Search engine optimization (SEO)/Local SEO
Social media management
Branding
Every reputation management campaign is different, and not every person or business will need the same tools in order to build and maintain a positive reputation. If you operate a business online or simply want to foster your personal or professional brand, reputation management is a powerful tool.
Essential Components of an Online Reputation Management Strategy
As shown in the section above, reputation management is comprised of numerous tools and strategies. While all have their place in a reputation management campaign, several of these strategies stand out as the most important for building trust and awareness of your brand image in the digital environment.
Essential components of online reputation management include:
Search Engine Optimization (SEO)
Search engines use complex algorithms to accurately categorize and index web content. SEO is the practice of ensuring great visibility in the search environment, helping your website and web properties stand out even in competitive markets.
In fact, in order to create and maintain a strong business reputation, SEO is one of the essential online reputation management strategies. It is so important that failing to include this powerful solution into your online reputation management plan can result in poor visibility among potential customers, meaning you are missing out on new business opportunities.
SEO uses both on- and off-page factors to influence search rankings. Much of SEO is based on targeted keywords and key phrases, but also includes internal linking, backlinking, page loading speed optimization, and many other tools.
Reputation Repair
Reputation repair services, specifically, focus on restoring a firm with a poor reputation score due to negative comments, negative feedback, or other types of negative content.
If a distorted or damaged reputation is something that your company is experiencing, reputation repair may be the solution that you need. Part of repairing your brand's online reputation is to review, check, and analyze your reputation. Online reputation management services teams use powerful social listening tools and search strategies to carefully gather the data needed to influence the decision-making process for repairing your reputation.
This repair service, however, goes beyond analyzing your bad reputation score and moves toward solving the problem. Your partner firm may do any of the following in order to repair your reputation score:
Reputation analysis
Content suppression or removal
Content creation
Reputation monitoring
Because these ORM firms specialize in this exact field, they are experts in how this works and are able to control certain factors that lead to positive improvements. For one, they may replace your negative reviews with new content and news media that can allow for a positive online reputation to flourish.
Review Management
In today's digital environment, people turn to the web to learn about businesses. In fact, about 90% of all consumers will evaluate Google search results before making purchasing decisions. In their searches, ratings and reviews of companies have powerful influences on these decisions. Positive ratings and reviews create a framework of trust, while negative reviews can keep people from frequenting your business altogether.
Did you know that customer feedback in the form of online reviews is trusted as much or more than personal recommendations? Positive online reviews stimulate business growth, helping you to create loyal customers through engagement and feedback.
In simple terms, managing online reviews is a critical tactic to preserve your business's reputation. From attracting customers to creating brand ambassadors, review management works to build consumers' trust across all review sites like Google, Yelp, TrustPilot, and the Better Business Bureau.
Review management consists of three major tools: review responses, review generation, and review monitoring. ORM professionals can help you craft a review response strategy and help you bring in more positive reviews. By monitoring your profiles on each review site, you can spot the fake, negative, and defamatory reviews that run the risk of harming what you've worked so hard to achieve — a great online reputation.
Social Media Management
Once you make an observation of your online status it is time to establish your online presence and appearance on review sites and business listings.
One of the best ways to boost your online presence is through social media platforms. You will need to go and search for most professional social media outlets and start creating profiles. Instagram, Facebook, Twitter, and Pinterest are just some of the many social media platforms that you can use to advertise and additionally inform your consumers and potential customers.
It is fine if you don't have a plan to use some of the accounts, however, you will need to open those accounts and take them under your control. It is very important to hold the original username so you can at least prevent others from taking it and potentially harming your brand reputation.
Public Relations (PR)
A business's success depends on a wide variety of digital marketing practices. Public relations (PR) is a proven tool to engage with existing customers as well as potential new customers online.
PR builds an individual's or company's online image by promoting online content — your company blogs as well as user-generated content — on news media outlets, social media, and traditional advertising channels. PR is also used as a crisis response tool, helping to shape the online narrative if a disaster should strike your company. Your brand's response can be crafted to inform key stakeholders, share details of new products and services, and build engagement with your customer base.
Contact InternetReputation Today
If you are an individual or business owner, our reputation management solutions are available to meet your needs. Our experts have the tools and experience to leverage our services in meeting your goals.
If you are interested in checking, boosting, and managing your online reputation, contact InternetReputation today at 941-259-4554 or visit our blog to learn how you can be more effective in building a positive image in the digital environment. 
Permalink