Fitness Reputation Management for Gyms & Personal Trainers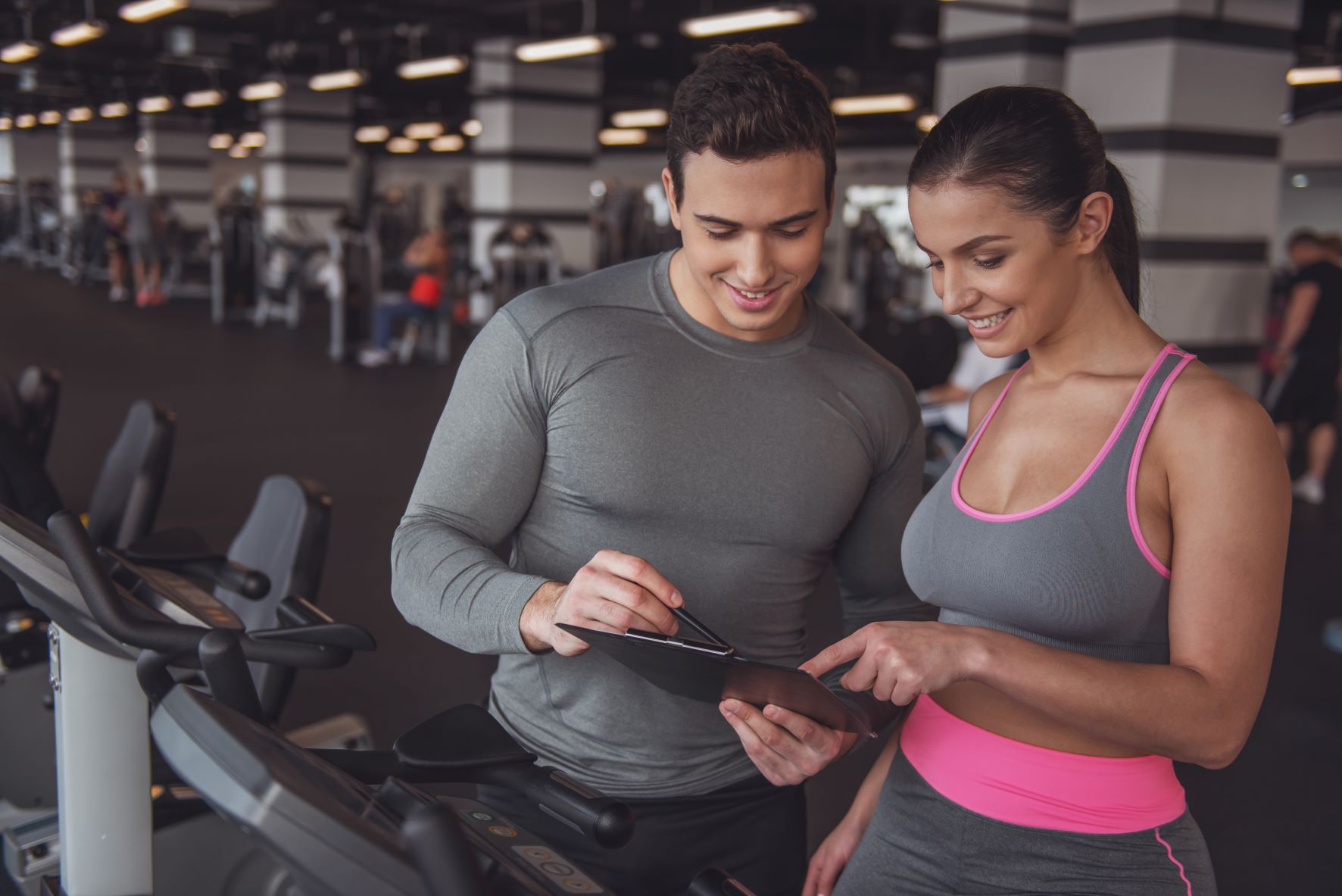 Fitness reputation management is a powerful tool that can supercharge fitness businesses of every size and type. Learn how in our complete guide to developing a reputation management strategy for gyms or fitness centers.
If you own a business in the fitness industry, you know that your reputation is a valuable asset. Gym owners and personal trainers can attract new members and expand their marketing efforts with a strong reputation.
What is fitness reputation management, and how can a fitness center, gym, or personal training facility leverage reputation management tools to position itself for business growth? Our complete guide to reputation management for gyms and fitness centers will show you how.
What is Reputation Management for the Fitness Industry, and Why Do You Need it?
An online reputation is defined as:
"the consensus public opinion about an individual, business, or organization. A positive online reputation can help you to achieve your personal and professional goals, while a negative online reputation can hinder your opportunities for growth."
Online reputation management (ORM), then, is the set of tools and strategies used to influence public perceptions about a business. ORM can be used to build a positive reputation, protect a reputation, or repair a reputation damaged by negative reviews, negative customer feedback, or unflattering news.
For fitness businesses, reputation management is designed to attract potential customers, solidify your brand, improve visibility in search results, and counter negative reviews or any negative customer experience shared online.
If you want to grow your business — even in competitive markets — online reputation management is an essential tool. With this strategy in place, you can create a strong and visible digital footprint.
What are the Basics of Online Reputation Management?
Most people research a business online before making decisions about whether or not to patronize that company. Research shows that Google search results have a profound influence on the next steps in the consumer purchasing journey.
What do search results say about your gym business? Are happy members sharing their experiences with positive feedback, or are customers saying unflattering things about you and your facility?
If you want to improve how your business is perceived in the digital environment — or are facing negative feedback from unsatisfied customers — then developing an online reputation management strategy can pave the way to success for your operation.
Some of the most common components of online reputation management include:
Review Management
Reputation Repair
Reputation Monitoring
Google Ads Management
Search engine optimization (SEO) and Local SEO
Public Relations
Branding
Crisis Management
Google Business Profile/Local Citations Management
Content Removal
Every fitness business is different, and each will have unique needs and goals. A talented online reputation management agency using the latest reputation management software will design a strategy that suits your needs perfectly.
Review Management: An Essential Component of a Fitness Reputation Management Strategy
The vast majority of consumers read online reviews about a business before picking up the phone or setting foot in your gym. What do those online reviews — on Google or numerous other review sites — say about your fitness center?
Every positive review helps build a strong reputation, while every negative review undermines what you've worked so hard to build. Reviews are perhaps the most influential components of an online reputation; and addressing these reviews should be your first concern.
Just how influential are online reviews? 94% of all consumers say that online reviews are valued as much or more than personal recommendations made by friends and family members.
Still not convinced that your review profile can make or break your business? Consider these statistics:
Positive Reviews
93% of consumers in a brief feedback survey indicated that good reviews influenced their choice of gym or fitness center.
Good reviews lead to higher revenue; on average, gym visitors spend about 31% more on a business with glowing reviews and testimonials left by members.
Great customer feedback helps fitness businesses stand out more in online searches; search engines favor businesses with great review profiles and 5-star ratings in search rankings.
Negative Reviews
Only 13% of consumers will consider doing business with a company with 1- or 2-star ratings on Google reviews or Yelp.
94% of potential guests indicate that bad reviews or negative comments have convinced them to avoid a business altogether. A single scathing customer review can begin to damage the business reputation you've worked so hard to build.
One negative review can result in as much as a 22% loss in your customer base. If three or more poor reviews appear in search results, the potential for lost clients jumps to nearly 60%.
Star ratings influence revenue streams; every decrease in your gym's rating results in 5-9% lost revenue.
Digital reviews serve as "social proof" of the quality of your fitness business. With a great review profile, you're positioning yourself for increased revenue and a steady stream of new members. If negative reviews are part of the picture, you've got to take steps to undo the damage they can cause to your online reputation.
4 Parts of a Review Management Strategy
As shown in the sections above, reviews left by customers can make or break your fitness business. Because these reviews are critical, review management is perhaps the most important part of your online reputation management strategy.
What is review management, and how can it be used to improve your reputation on Google and review sites or other platforms like Yelp, Trustpilot, and YellowPages? There are four main parts of a review management plan:
Response Management: Respond to Your Gym's Reviews and Impress Your Clients With Genuine Online Communication
Whether someone leaves a good review or shares a bad experience online, that person simply wants to be heard. When you respond to online reviews, you're telling your customers that you appreciate their feedback. Every review management plan must incorporate a review response strategy.
Responding to online reviews helps you to build trust between your business and your customers. It also tells customers that you value their feedback with the goal of improving your service and amenities. Finally, when you respond to reviews, you're putting a human face on your brand; responding can soothe ruffled feathers, encourage more reviews from satisfied members, and improve how your fitness business is perceived in the digital environment.
Manage and Analyze Fitness Reputation Reviews Online
Do you keep track of what people are saying about your business online? If not, you may be missing out on actionable intelligence.
Review monitoring is a proactive approach to identifying the bad experiences or feedback resulting from failures in service delivery or other issues. In essence, this monitoring serves as a learning tool, helping you to improve the customer service aspects of your business before your average rating suffers from negative reviews posted by dissatisfied customers. As such, it is a valuable part of your review management toolkit.
Collecting Online Reviews
Consumers trust reviews, and the more reviews a fitness business has, the more trust it can create. Remember that online reviews are as important as personal recommendations — or even more important.
New customers read online reviews before deciding to frequent local businesses; it makes sense to encourage as many more reviews as possible. Review generation is the practice of collecting positive reviews from consumers using various strategies like member experience surveys, point-of-sale questionnaires, and other practices.
The goal is to improve brand awareness and reinforce customer loyalty for your company. Companies that want great reviews must deliver superior service to ensure a positive customer experience, which often results in the positive reviews you need to stand out from your competitors.
Review Removal
It is all but inevitable that you will get negative feedback or negative reviews at some point. In other words, not every online review is going to be positive. It is how you deal with this negative feedback that sets you apart from your competitors in the fitness industry.
Your business is at the mercy of your clients, who may or may not share their genuine experiences with others online. If those clients were to post fake, defamatory, or misleading reviews, your reputation can wind up severely damaged.
Review removal works to eliminate unflattering reviews from review sites like Yelp, Trustpilot, and Google reviews. Online reputation management professionals use reputation management software to identify false and unfavorable reviews. Then, the ORM team works directly with review sites to flag and remove these reviews that are putting your reputation at risk.
Deleting negative reviews simply because you disagree with them or selectively flagging only those reviews that include negative comments is not part of the review management ecosystem. Since both of those practices are discouraged by Google and review sites like Yelp, your ORM team will focus only on reviews that are clearly false or misleading.
The Role of Search Engine Optimization (SEO) and Local SEO in Reputation Management for Your Fitness Business
Think about your own experiences when seeking information about a business in your area. Chances are you turned to the Google search engine for answers. The truth is that most potential customers of your fitness business are doing the same thing — seeking details about gyms and fitness centers nearby.
What if your business does not appear at the top of search results? What if your gym isn't even on the first page of Google? The answer to those concerns is search engine optimization, or SEO.
SEO
SEO is the set of principles and practices that optimize your website and other digital properties for maximum visibility in online searches. These can include on-page factors and off-page strategies to help your fitness business stand out in search. In a sense, SEO is like an extension to your marketing efforts, helping people find you ahead of your competitors.
Local SEO
A growing number of potential customers use Google or other platforms like Bing or Yahoo to make locally-oriented searches. In fact, about 46% of all searches processed by Google have local intent.
Prospective clients want gyms and fitness centers convenient to their locations, so local SEO works to improve visibility in locally-oriented search results. If you want your fitness business to succeed, you must incorporate SEO into your marketing, website, and brand-building efforts.
How Fitness Reputation Management Improves Client Retention and Increases Your Sales
How can fitness reputation management benefit your fitness business? Consider these powerful benefits of having a reputation management strategy working in your favor:
A positive reputation builds credibility.
It boosts sales; every positive online review can boost your revenue by 5-9%.
It builds a strong and visible brand image.
Reputation management is cost-effective as a marketing tool, providing a great return on your investment.
Clients are more likely to stay with a business that gets great reviews, improving retention rates.
The same applies to employees; most people want to work with a company that has a positive reputation.
Fitness reputation management can help you manage crises, unflattering member experience feedback, and economic downturns by maintaining your company as a trustworthy partner.
These are only a few of the many benefits when you use reputation management software and ORM professionals to protect your brand. With ORM, your gym is ready to stand out as a leader in your area, bringing new members right to your front door.
Contact InternetReputation Today
InternetReputation is a leader in managing online reputations, including fitness reputation management and monitoring services that help your gym or fitness facility stand out in competitive marketplaces.
Our team of ORM experts knows what it takes to build a strong and visible brand, helping establish your gym's online reputation as one of trust and credibility. From eliminating bad reviews to improving visibility in Google search results, Google Maps, and social media, we work hard to deliver the results you need for your fitness business to thrive.
To learn more about our reputation management services for gyms, fitness centers, personal trainers, and health clubs, contact our team today at 941-259-4554 for a free consultation with one of our representatives.
Permalink