SageStream Opt Out: Removing Your Data from SageStream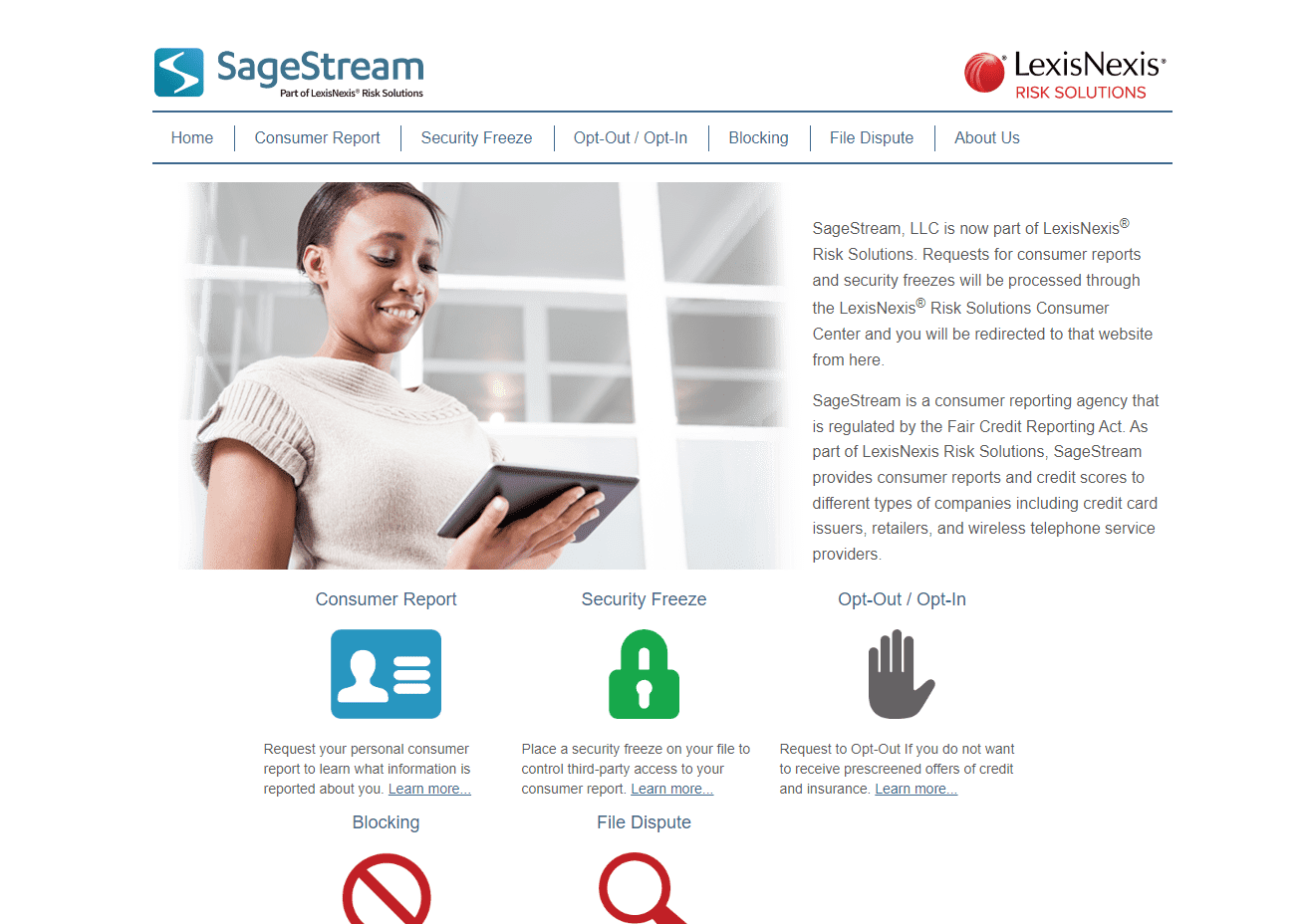 Learn step-by-step instructions for the SageStream opt-out process with our guide below.
In the digital age, consumer credit companies and financial institutions use powerful online tools to learn about their customers.
One of the most popular tools is SageStream, which provides credit scores and consumer reports to credit card issuers, wireless telephone service providers, retailers, and utility companies.
If you don't want your personal information shared without your authorization — or want to keep your financial history and credit ratings out of the hands of criminals, you can choose to opt out of data collection.
In our guide below, learn what SageStream is and how to complete the SageStream opt-out process. This process deletes the details SageStream collects and will permanently remove you from the credit reporting database.
SageStream: A Leader in Consumer Reporting Companies
SageStream is a credit reporting agency that helps banks and retailers determine consumers' creditworthiness.
Once its own company, SageStream merged with LexisNexis Risk Solutions to provide cutting-edge credit decisioning services while enhancing protections against identity theft.
SageStream offers five major services:
Consumer Reports
Security Freezes
Opt-in/Opt-out
Information Blocking
File Disputes
On the SageStream website, "Requests for consumer reports and security freezes will be processed through the LexisNexis® Risk Solutions Consumer Center."
Like all credit reporting agencies, including large credit scoring companies like Equifax, TransUnion, and Experian, SageStream is bound by specific regulations that govern their information collection practices and what companies can do with that information. We'll cover the primary regulation in the next section.
The Fair Credit Reporting Act
Originally enacted in 1970, the Fair Credit Reporting Act (FCRA) was created to promote the accuracy, fairness, and privacy of consumer information collected and shared by credit reporting agencies.
Because SageSream is covered under the FCRA, it must provide consumers with certain rights. While specific legal protections vary by state, on the federal level consumers have the right to:
Be told if your consumer report file has been used against you.
Know what is contained in the consumer report.
Ask for a credit score with your credit report.
Dispute incomplete or inaccurate information on your legal forms.
Give consent for your credit report to be provided to prospective and current employers.
When you apply for a security freeze on your report or credit file through SageStream/LexisNexis, you can protect against spam fraud. It is important to note that security freezes requested from LexisNexis do not freeze your credit file on the other major credit reporting agencies like Experian and TransUnion; a security freeze must be requested from each agency. You can also request a copy of your consumer report or dispute information in your credit file or other legal documents.
SageStream Opt Out Process: How to Opt Out of SageStream
After learning about Sage Stream and what information it shares with companies you might obtain credit from, you may wish to conduct a permanent opt-out. Thankfully, the Sage Stream opt-out process is relatively straightforward.
First, visit the Opt-in/Opt-Out page on the Sage Stream website by clicking https://www.sagestreamllc.com/opt-out-opt-in/index.html.
Next, read the instructions on the above page, then click the link labeled "Opt-Out Election Form." You can navigate directly to the form by clicking https://forms.sagestreamllc.com/#/opt-self.
Complete the fields on the opt-out form such as your full name, address, Social Security number, and additional information requested.
At the bottom of the online SageStream form, there are two following options: opt-in or opt-out permanently. Select the second option if you want to permanently opt out of Sage Stream.
Check the Captcha box, then click the Submit button.
If, at a later date, you wish to opt back in, the same form can be used to add your current address or other details back into the database. Eventually, you'll begin to receive credit offers once again.
Additional Opt-Out Information
Sage Stream has made it easy to opt out from the information collection; you can also request securely by mail or telephone.
To opt out by mail, print out the Opt-Out Election Form and mail it to:
LexisNexis Risk Solutions Consumer Center
PO Box 105108
Atlanta, GA 30348-5108
According to the SageStream opt-0ut page, your written request must include the following information:
Your first name, middle name, last name (include Jr., Sr., III, etc.)
Your current address including ZIP code
Your current telephone number with area code
Your Social Security number
Your date of birth (month, day, year)
Indicate if your request is to Opt-Out or to Opt-In
Your signature on your written request
You may also call the LexisNexis toll-free number at 888-395-0277 to request to opt out. You may have to submit documents to verify your identity before your request is processed.
Why You Should Opt Out of SageStream
When you make a written request to opt out of SageStream or permanently opt out using the Sagestream opt out form, you're taking a big step toward protecting your digital privacy.
You've probably experienced unsolicited offers from credit card companies or banks. Receiving unsolicited offers is both annoying and risky. These financial institutions prescreen lists compiled by SageStream to determine your creditworthiness. Unfortunately, preapproved offers can be used by criminals to spoof your identity. If they apply for credit or loans in your name, your credit rating and online reputation can be damaged severely.
If you're tired of such prescreen lists and want your address removed from mailing lists, opting out is your best option. With a few clicks of the mouse or an online Sagestream form and your electronic signature, you gain control of your personal details. This helps to protect you against identity theft while eliminating your address from prescreen lists and credit offers.
SageStream Removal by InternetReputation
Personal information, including your credit report, legal documents, and other personally-identifying details are readily available on the web.
And because the web is so unpredictable, managing your reputation can be an effective way to keep that info under wraps and out of sight.
Unfortunately, opting out of data collection sites like SageStream can be a time-consuming and frustrating process. We can help. We'll handle the process to opt out of SageStream for you, allowing you to focus on maintaining your digital reputation.
Our customized ORM campaigns utilize the latest in SEO and digital technology to give you control over your online presence.
With the right plan for managing your online reputation, you can defend your online privacy from sites like SageStream and LexisNexis Risk Solutions while controlling your online reputation and public perceptions.
Call an InternetReputation data removal specialist today at 941-259-4554 or contact us online to learn more.
Permalink