CheckPeople Opt Out: Remove Yourself from CheckPeople.com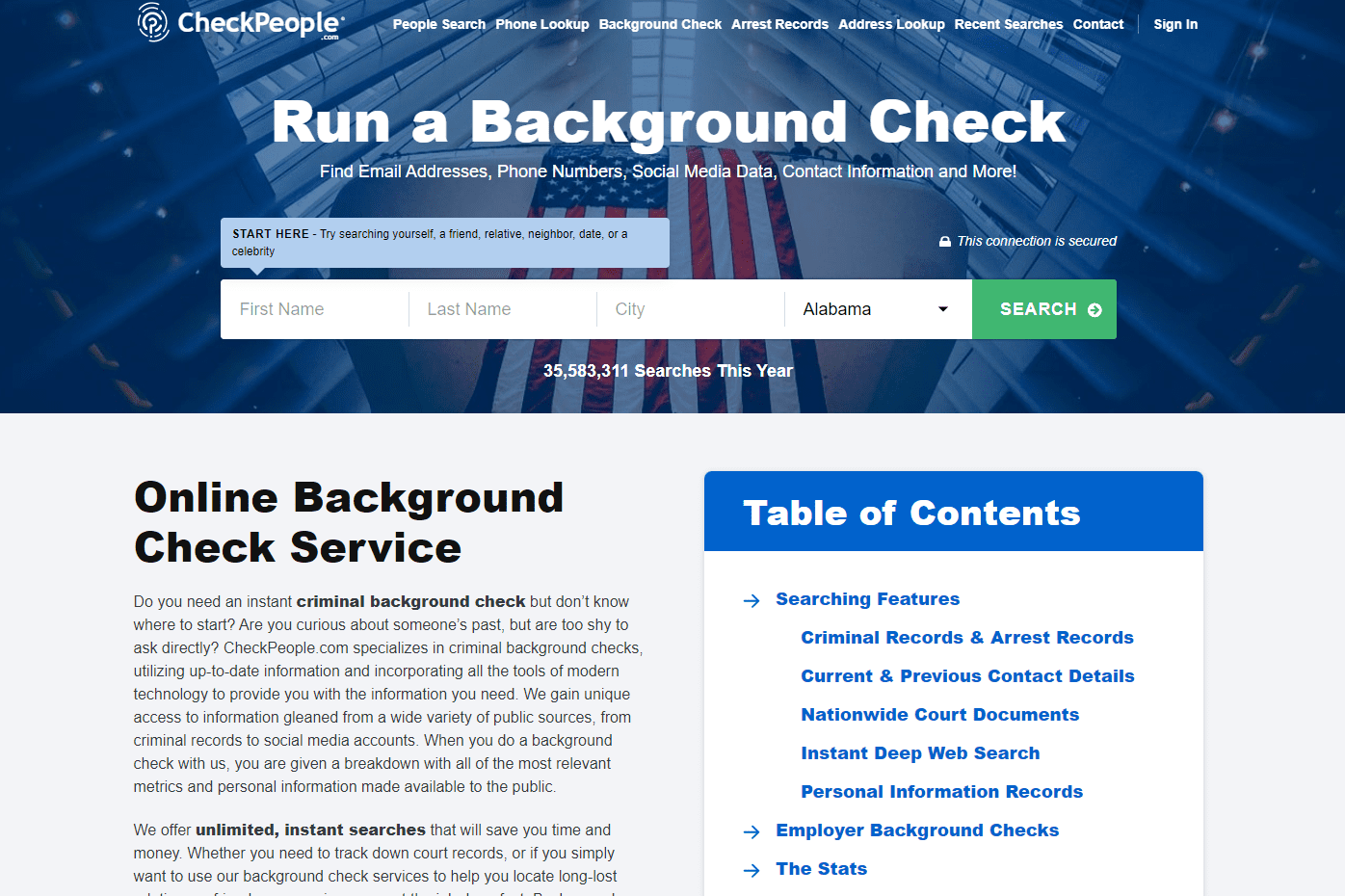 Our step-by-step instructions for the CheckPeople opt out process can help you navigate an opt out request while protecting your own personal information from theft or loss.
As more people use the web to share details of their lives, criminals are having a field day with your data. Collecting personal info from unsuspecting individuals is easier than ever, thanks to the proliferation of data brokers like CheckPeople.
Are you concerned about your personal records falling into the wrong hands? Do you want to take control of your digital privacy? If the answer to those questions is "yes,", our CheckPeople opt out guide is the best way to get started.
Follow along as we explore what CheckPeople is, how your information got onto the web, how to submit an opt out request, and how to protect your data in the digital environment.
What is CheckPeople?
CheckPeople is a so-called "people search site" where individuals can conduct an instant background check on themselves or someone they meet. While other sites like CheckPeople provide similar tools, CheckPeople is more focused on criminal background checks, including displaying court records and mugshots.
According to the CheckPeople website:
"CheckPeople was founded by a team with over 20 years experience in running internet businesses. We wanted to form an intuitive, easy- to- use service that allows people to conduct background searches affordably and in a format that is simple to use and understand. We believe that everyone has the right to find public records quickly so that we all can make more informed choices."
CheckPeople is not without its limitations, however. The website states that it is not a consumer reporting agency under the Fair Credit Reporting Act (FCRA) guidelines, nor can it be used by prospective employers to do a background check on an applicant.
What Information Does CheckPeople Display?
When using CheckPeople, a basic report is generated that shows the following:
Full name
Other names used
Age
Past addresses
Names of family members
Phone number
With a CheckPeople subscription, more detailed information is displayed, including:
Full address history, including previous addresses
Criminal records
Arrest records/arrest history
Social media reports
Contact information
Financial information
Unfortunately, these details are hidden behind a paywall. Other people lookup tools offer some of this information for free without a subscription.
One of the unique services CheckPeople provides is its reverse phone lookup tool. With it, someone can type in a phone number and discover who owns it, where they live, and what records are attached to it. Again, this information is only available by paying a subscription fee.
What are Data Brokers?
The term "data broker" is defined as:
"…any entity that collects publicly-available information, then shares or sells that data on a third-party website. There are many different types of data brokers, including some for legitimate purposes as well as for entertainment, shock value, or embarrassment of others."
Popular Data Broker Platforms
CheckPeople is only one of dozens of similar people search sites. Other popular sites include:
Glad I Know
Instant Checkmate
Intelius
Epsilon
SpyFly
Anywho
Radaris
PeopleWhiz
Each people search tool is different and may offer different personal details. Background check sites typically provide basic contact information like phone numbers, addresses, and names of family members. Some of these may also include information pulled from social media accounts, online dating accounts, and more.
How Did My Information Get on CheckPeople?
Data brokers like CheckPeople collect information from three primary sources:
Other Data Broker Sites
CheckPeople may share or purchase information from other data brokers, including credit reporting agencies, consumer background check sites, and more.
Public Records
The biggest source of information is found in public records collected and maintained by government agencies. If you have any civil records, including divorce records, arrest records, criminal records, or licenses issued by a state or federal organization, chances are this information is freely available from public records databases.
Third-Party Information Sources
CheckPeople uses automated tools to scour the web for information. Some of this sensitive information is found on social media activity, comments and profiles in public forums, on personal or professional websites, and industry or consumer news outlets.
Threats to Your Online Reputation
Sites like CheckPeople not only put you at risk for identity theft but can also threaten the strength of your online reputation.
Suppose someone were to pose as you by using your personal information to create a false identity. In that case, they can apply for loans, attempt to commit financial fraud, spoof you on dating sites, or engage in other nefarious activities. Any of these can damage your digital reputation — one of your most valuable assets in the online environment.
People you meet can also access your information, including criminal records, divorce records, civil claims, etc. These records may negatively influence your perception and result in lost opportunities.
When you opt out of CheckPeople and remove your personal information from sites like it, you control the digital narrative attached to your name and likeness. This is an important step of managing your online reputation.
The CheckPeople Opt Out Page
Hidden deep within CheckPeople's privacy page is a link to the CheckPeople opt out page. It can be accessed by clicking https://checkpeople.com/do-not-sell-info.
One of the most common questions on this page is, "how long does it take to remove record from the CheckPeople site?" According to the CheckPeople opt out form, it can take 5-7 business days for your record removal request to be completed.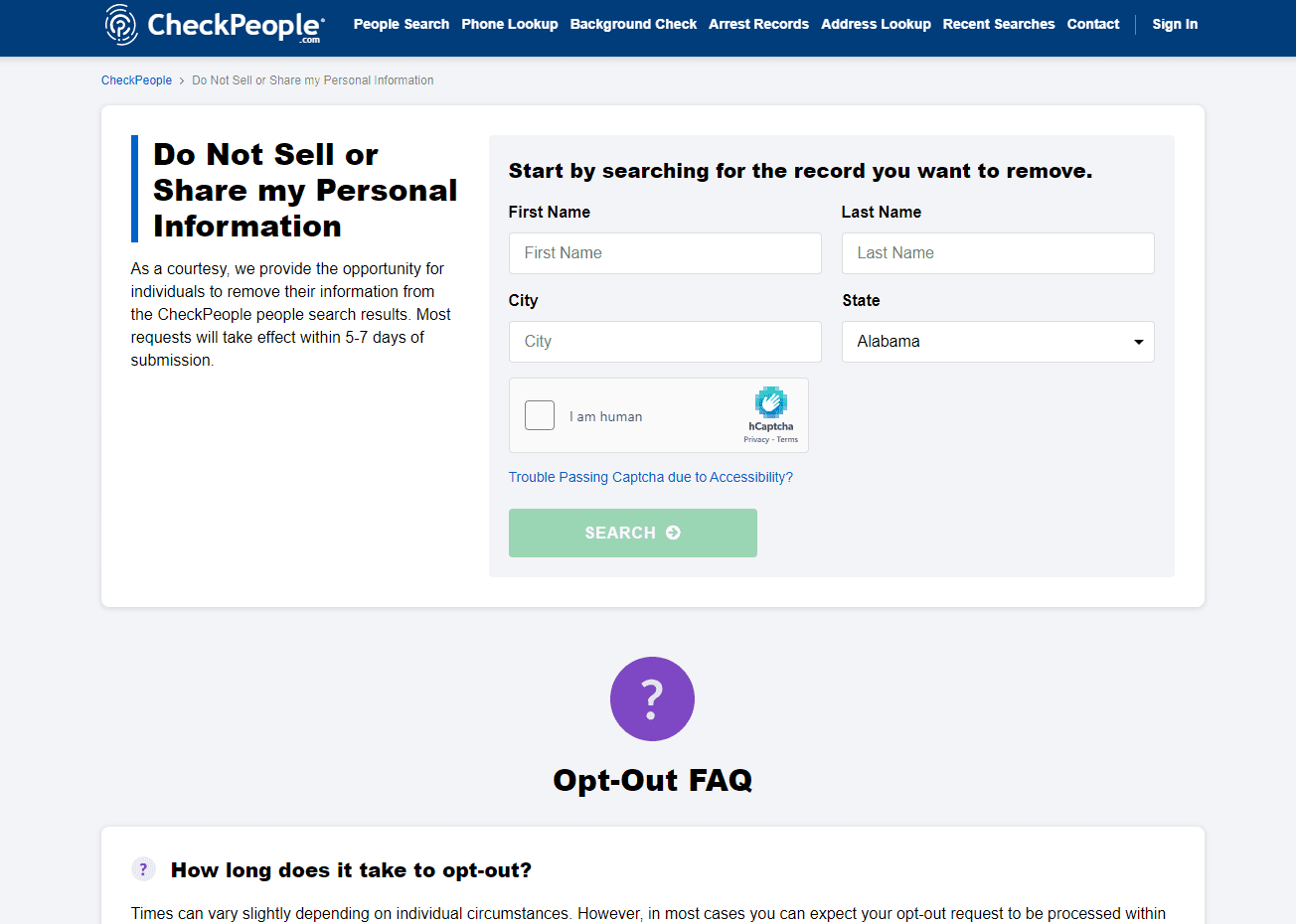 Making a CheckPeople Opt out Request
To opt out of CheckPeople, our complete guide gives you step-by-step instructions.
First, navigate to the CheckPeople opt out page (linked in the section above).
Next, start by searching for the record you want to remove by completing the form. Fill out the Captcha form. Then, click the search button.
You will be taken to a form to confirm your opt out request. Enter your information, then click the button marked "Submit Request."
You will receive an email verifying your request. Follow the instructions in the email to complete the opt-out process.
If you prefer to submit a removal request without using the online opt-out form, you can email the CheckPeople company at [email protected] or send an opt out request by mail to:
CheckPeople, LLC
111 N. Orange Ave., Suite 800
Orlando, Florida 32801
UNITED STATES
How to Protect Your Personal Information Online
When you remove yourself from CheckPeople and similar people lookup sites, you're taking a big step toward digital privacy. Still, there are several other actions you can take to protect yourself and your loved ones from identity theft (or worse):
Make an opt out request on any data brokers hosting your personal information.
Limit what you share on social media accounts, such as vacation plans, names of pets, or details that a criminal could use to steal your identity.
Use a Virtual Private Network (VPN) to obscure your information online.
Stop sharing your email address and phone numbers with retailers at point-of-sale terminals. Retailers often sell your personal information to other sites, including data brokers.
Tighten your privacy settings on all online accounts you use, including online dating accounts, banking apps, social media, and enthusiast forums.
Data breaches are becoming more common, and it is the result of what happens when someone posts personal information online to be collected by criminals. Take the steps now to eliminate your private data from online search results and you'll be positioned to protect your privacy.
CheckPeople Removal By InternetReputation
Limiting the impact and visibility of personal info on the web is key to protecting yourself and your family.
With identity theft on the rise, protecting your personal info is more important than ever. Opting out of data brokers like CheckPeople and similar websites is one way of securing your privacy in the digital age.
Unfortunately, opting out can be a time-consuming and frustrating process. We can help.
Our customized ORM campaigns utilize the latest in SEO and digital technology to give you control over your online presence. We work tirelessly to provide you ownership of your online presence while preventing harmful personal data from hurting you in Google search.
With the right plan for managing your online reputation, you can defend your online privacy from sites like CheckPeople and take control of the digital narrative surrounding your name or business name.
Call an InternetReputation data removal specialist today at 941-259-4554 or contact us online to learn more.
Permalink