StateRecords Opt Out: Remove Your Info from Staterecords.org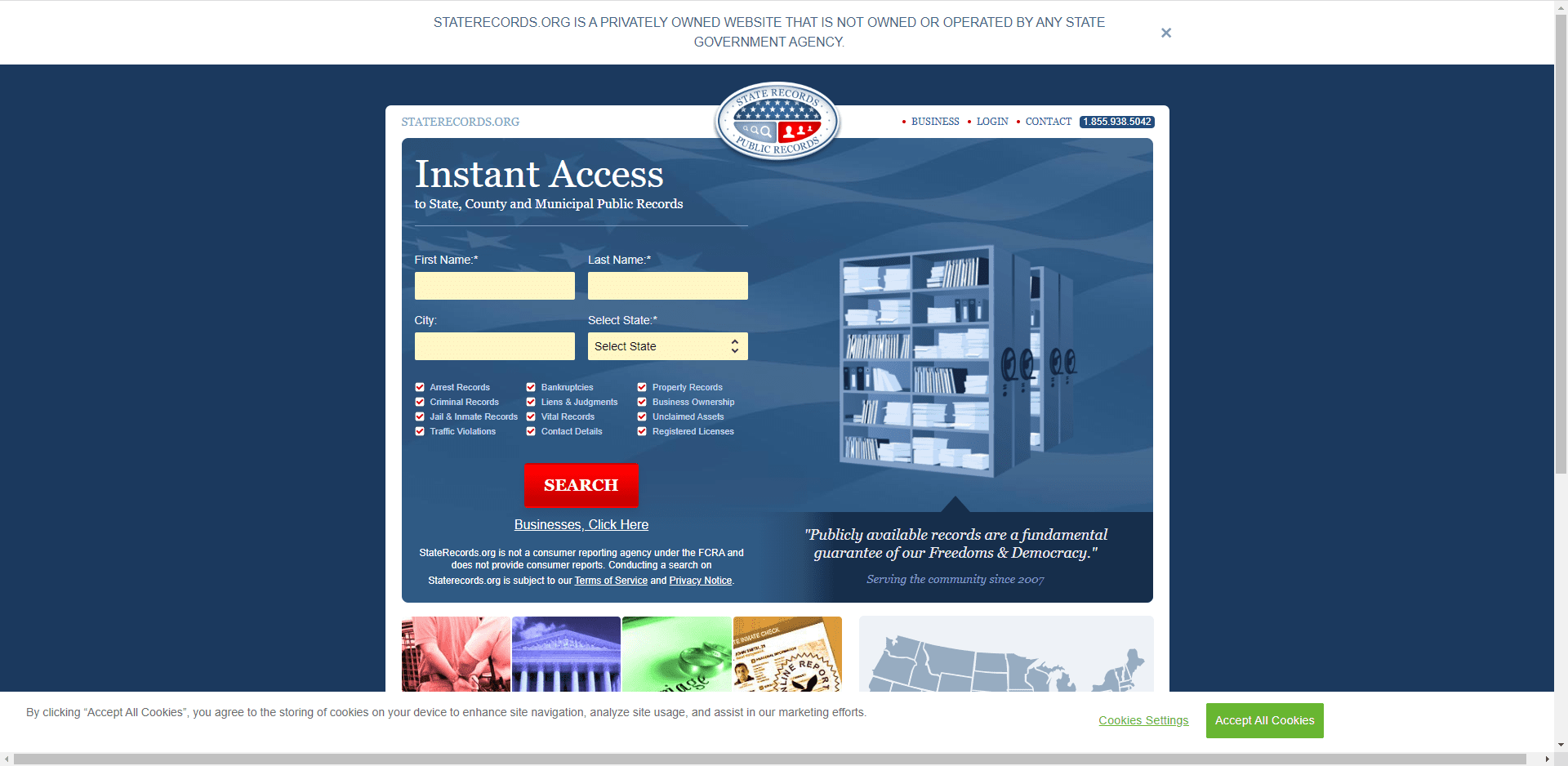 Our StateRecords opt-out guide helps you quickly take control of personal information found in online searches.
Did you know that with a quick search, anyone can obtain your records online?
If this is alarming to you, it should be.
Identity theft is on the rise. People often don't know what to do to keep their personal records out of the hands of criminals.
Thankfully, there's a solution: opt out of data collection.
In our guide to the opt-out process for StateRecords.org, we'll guide you every step of the way through the opt-out service provided by this popular website.
There's no time to waste — let's get started!
What is StateRecords.org?
StateRecords.org is a public records database that provides access to millions of records across the United States. The website was established in 2009 with the goal of making it easier for individuals to find and view public records such as criminal records, arrest records, court records, and more.
StateRecords.org is committed to providing accurate and up-to-date information while also protecting the privacy of individuals. The website offers a simple search interface that allows users to quickly find the records they are looking for, and also provides helpful guides and resources to assist users in navigating the public records system.
Whether you are conducting a background check, researching family history, or simply curious about publically-available records, StateRecords.org is a valuable resource for anyone seeking access to records collected by government agencies.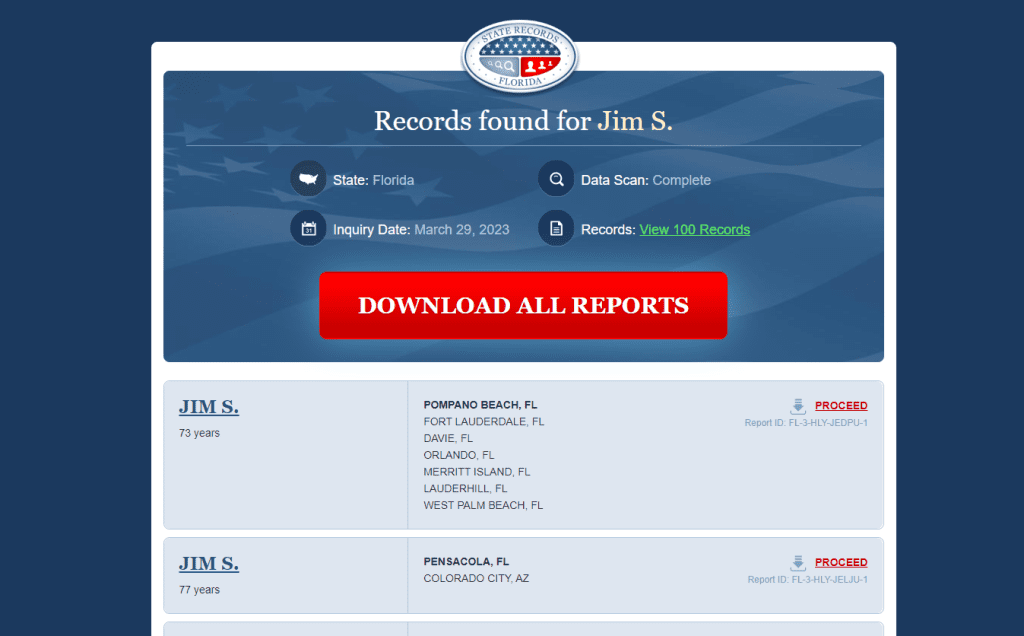 Opting Out of StateRecords: Step-by-Step Guide
When you're ready to make an opt-out request with StateRecords, our step-by-step guide will provide all the information you need to make the process as easy as possible.
From the StateRecords.org homepage, scroll down to the navigation footer and click the link marked "Exercise My Privacy Rights."

You will be taken directly to the Opt-Out page. Alternatively, you can paste the URL https://staterecords.org/optout into your browser.

On the opt-out form, type in your first and last name (full name), select your state and city, then click the button marked "Submit." Make sure you fill each box for accuracy.

You will be redirected to a list of search results. Select the state records that relate to you and check the box labeled "Select Record."

Once you've selected the appropriate record, click the button marked "Remove Data."

You will have to submit your email address and an optional comment. Don't forget to check the Captcha box. Finally, click the blue button marked "Submit."

Check your email. You will need to click the link in the email from State Records to verify your request.
StateRecords will notify you when your removal request is completed. Whether you choose to submit your request on opt-out Tuesday or another time, your public data will disappear from search in a matter of days.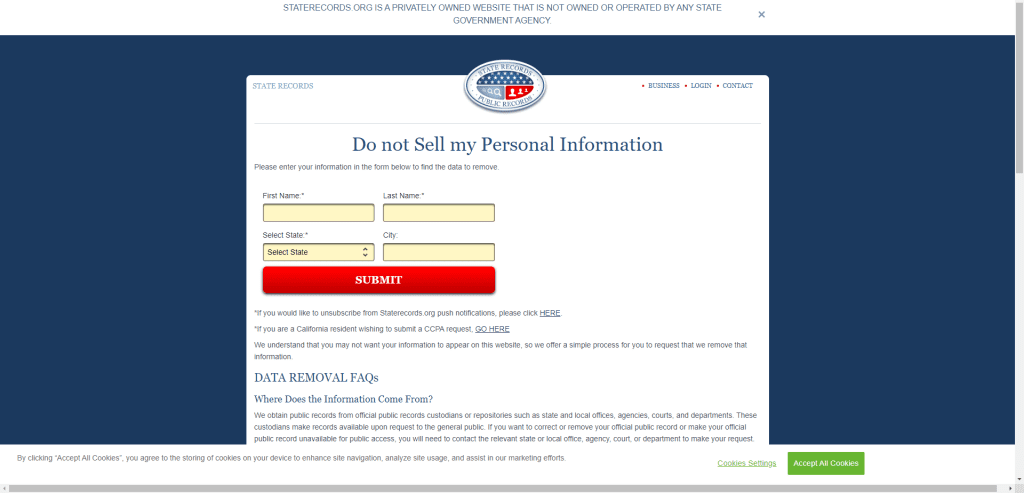 Contacting the StateRecords Data Management Department
If you prefer to opt out from StateRecords by mail or fax, you can contact StateRecords instead of using the online form. Two options exist:
By fax at (617) 507-0410 (fax is for opt-out requests only)
By mail at:
Data Management Department
StateRecords.org
PO Box 990043
Boston, MA 02199
Be sure to include your full name, email address, and additional information to verify your identity when making an opt-out request by phone or mail. Without this information, your request may not be processed.
As with the automated online request, it may take several days for your request to be processed. Eventually, your personal info will no longer appear in search results on the StateRecords website.
How Did Data Brokers Get My State Records?
StateRecords.org is known as a data broker. Data brokers are companies that collect and share information, often for a fee. The data collected by a website comes from two primary sources:
Public Records
If you've ever applied for a license, got married, was arrested, or had a court case, the information collected during your encounter is likely now a part of the public record.
Public records are collected on the local, state, and federal levels. Most state records must be shared with anyone; these records are considered part of the public interest. For a complete record, you used to have to visit your county clerk's office; today, most state records are available online.
Other Data Resources
Information brokers like State Records often purchase or trade data with other companies. Sites like StateRecords.org are numbered in the hundreds and include background check services, data collection agencies, family search tools, and so-called "people finder" sites.
If your data is located on one of the sites, chances are it is on others. You may have to track down each site and opt out of each one to remove your record.
Tips for Protecting Your Personal Information Online
Making an opt-out request on sites like Staterecords.org is a fast and easy way to begin protecting your digital information. For additional information on how you can take direct control of your privacy, here are valuable tips:
Use strong and unique passwords: Use a different password for each online account and create strong passwords that are difficult to guess. Use a combination of uppercase and lowercase letters, numbers, and symbols.

Enable two-factor authentication: Two-factor authentication adds an extra layer of security to your online accounts. It requires a second form of authentication, such as a code sent to your phone, to log into your account.

Be careful when sharing personal information: Be cautious about what personal information you share online, especially on social media. Avoid sharing sensitive information like your home address, phone number, or Social Security number.

Use privacy settings: Make sure to adjust your privacy settings on social media and other online accounts. Limit the amount of personal information that is visible to the public.

Avoid phishing scams: Be wary of emails or messages that ask for your personal information, even if they appear to be from a legitimate source. Avoid clicking on links or downloading attachments from unknown senders.

Keep your software up-to-date: Make sure to install updates and security patches for your operating system, web browser, and other software on a regular basis. This will help protect your computer and personal information from security threats.

Use a virtual private network (VPN): A VPN encrypts your internet traffic and hides your IP address, making it more difficult for others to track your online activity and access your personal information.

Be cautious on public Wi-Fi: Avoid using public Wi-Fi to access sensitive information like your bank account or email. If you must use public Wi-Fi, use a VPN to encrypt your traffic.

Monitor your credit report: Check your credit report regularly to make sure there are no unauthorized accounts or suspicious activity.

Use reputable websites and services: When making purchases or sharing personal information online, make sure to use reputable websites and services that have a strong reputation for security and privacy.
Finally, if you find the process of submitting a removal request to data brokers to be too time-consuming or confusing, content removal companies like InternetReputation can help. A record removal service saves you time and frustration. These companies will search your record for you on dozens of data broker sites, then complete the removal request on your behalf.
StateRecords Removal by InternetReputation
Personal information, including your credit report, legal documents, and other personally-identifying details are readily available on the web.
And because the web is so unpredictable, managing your reputation can be an effective way to keep that info under wraps and out of sight.
Unfortunately, opting out of data collection sites like StateRecords.org can be a time-consuming and frustrating process. We can help. We'll handle the process to opt out of this and many other data broker sites for you, allowing you to focus on maintaining your digital reputation.
Our customized ORM campaigns utilize the latest in SEO and digital technology to give you control over your online presence.
With the right plan for managing your online reputation, you can defend your online privacy from sites like State Records while controlling your online reputation and public perceptions.
Contact an InternetReputation data removal specialist today at 941-259-4554 to learn more.
Permalink