How Online Reputation Management Services Protect Your Brand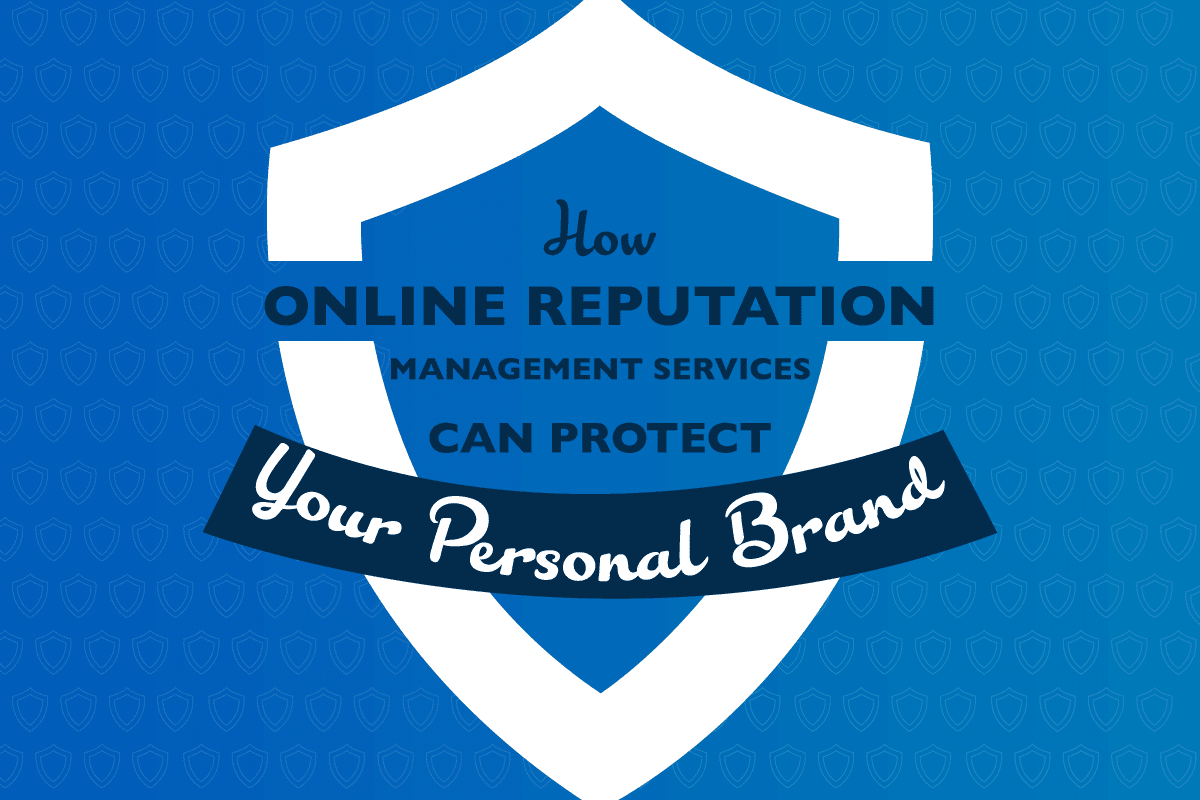 What is reputation management and what can it do for your online footprint? Learn how online reputation management services protect your brand and position you for long-term success. 
Having a robust online reputation management (ORM) strategy can be a great way to protect your personal brand and get a bad reputation pointed in the right direction.
But what is reputation management, and how can it help you be your best on the web?
Here's a closer look at what reputation management is, what goes into a professional ORM campaign and why a custom online reputation management services plan may be exactly what you need to defend and define your image online.
What is online reputation management?
Online reputation management (ORM) is any collective action you take to repair, build and protect your reputation on the web.
Managing your online image can include anything from removing personal info and negative items from search results to creating and posting positive brand content, responding to online reviews, claiming online business profiles and building your own website.
Whether it's using free reputation management tools or professional online reputation management services, a smart and proactive ORM strategy can have numerous advantages for your personal brand and small business.
These include:
The opportunity to remove or suppress negative articles hurting your brand on

SERPs

(search engine results pages)

Better visibility in

local search results

, including "near me" and city-based search queries

More control over your online review presence

Ensuring you're better prepared for online threats and crises when they pop up

The chance to monitor and steer conversations of your brand on social media

Building a brand that connects with consumers and sharpens your competitive edge

More opportunities for driving traffic to your website and turning visitors into paying customers 
An effective online brand or business reputation management plan allows you to put your best foot forward on the web, creating a digital footprint that protects your name and small business from online attack while putting you in the best position for success.
What are online reputation management services?
Online reputation management services are any digital tools, strategies or techniques ORM experts provide to help eliminate threats to your local brand and give you more control over your online image.
Finding the right combination of professional ORM services for your individual and or online business presence is essential to building trust, managing online reviews, advancing your career and unlocking opportunities. 
Some of the more common and effective online reputation management services at the heart of individual and small business ORM:
Comprehensive online presence evaluation
The best ORM campaigns usually start with a deep dive into your brand's digital presence, analyzing how you look across local search results, online review sites and popular business directories to determine the best way to move forward.
Negative content removal
Often a slanderous review, article, comment, image or social thread can be removed from the web, eliminating a harmful and potentially costly online threat from showing up in search and doing more damage to your digital reputation. 
Search engine suppression
When a negative news article or social post can't be removed, the best remedy is often search engine suppression, a powerful way to push bad items out of search results and get the process of online reputation repair kicked into full gear.
Positive content creation and curation
Creating positive assets that reflect your values and highlight your best features is essential to any ORM strategy and key to growing your brand footprint across the web. 
Content optimization
Online reputation management services typically involve optimizing existing brand and business assets to strengthen your position in search.
Advanced knowledge and use of SEO best practices ensure published content ranks no matter what Google throws your way.
Review management
Robust review management can be a critical part of business reputation services, allowing local businesses and professionals the opportunity to collect, manage and respond to online reviews and more effectively steer control the brand conversation. 
Autosuggest & related search repair
A good ORM plan always accounts for Google's autofill and related search features, which often point customers to search suggestions that could be reflecting poorly on your business. 
Digital monitoring & maintenance
Ongoing maintenance of your online image helps supplement your ORM strategy by ensuring your brand stays consistent, relevant and competitive, even as search algorithms change or new items and crises threaten your online reputation. 
Of course, the exact combination of services you'll need to repair your online image depends largely on your unique digital presence, including the strength and reach of your digital image, the quality of your review presence, how you look in search results and your ability to stand out from the crowd.
Consulting with a reputation management specialist beforehand can help ensure your ORM plan is tailored to fit your specific online goals.
How can online reputation management services help protect my brand?
The right online reputation management services put you in charge of your digital presence, giving you the tools to build a firewall around your online brand, protect yourself from attack and create an image people want to do business with. 
A professional, customized ORM campaign:
Maps out your digital footprint
Customizing the best online reputation repair strategy for your brand means knowing how far your individual or business reach across the web. 
By highlighting each mention of your digital footprint, your ORM services team can determine which techniques will be most effective for managing threats and improving your online brand presence, ensuring you're prepared to be your best on the internet.
With the right online analysis tool, you can identify:
All posts, reviews, articles and social comments hurting your brand

Any/all instance of your sensitive personal info located on the web

All neutral & positive mentions of your brand, including across social accounts, business directories, news feeds and more

How you look on local search results pages and online review sites

Your total brand visibility, reach and authority online

Where your brand is working for and against you
This initial brand presence evaluation provides the "big picture" needed to understand how you're perceived online—and how you can build a strategy that achieves your personal and professional goals. 
Eliminates negative items from search
Whether you're competing for a new job, looking for quality workers or trying to reach new customers, a negative search result can create a bad first impression that stands between you and success.
More than 77% of employers use search engines to research job applicants during the hiring process.
Over 57% of hiring managers will drop you from consideration after finding negative content online.
86% of college admissions officers use Google to vet potential candidates.
94% of customers will avoid your local business after finding bad reviews in search.
From bad news articles and blogs to unflattering social media threads and online review sites, negative items pose a serious risk your brand, shredding your credibility, eroding trust and making it hard to build the personal and professional relationships you need to thrive. 
Using cutting-edge content removal and suppression techniques, the best online reputation management services pros work to eliminate such threats from search and develop your image on a stronger digital foundation. The right ORM team identifies the best and fastest approach not just to remove bad results from search, but to make sure those items won't impact your presence, popularity or purpose in the years ahead.
Fills out your online resume
Positive content creation is an important element of any online branding strategy.
Regardless of what you do or the digital headaches you're facing, optimized, brand-centered content curation allows you to showcase your best features throughout the web, building an online resume that verifies your credentials, hedges your brand against threats and paves the way toward a brighter future. 
Effective content services populate the web and SERPS (search results pages) with original, valuable content, providing anyone from hiring managers and business partners to job candidates and prospective customers instant info on who you are and what you offer. 
For professionals: whether your goal is to advance your career or start an all-new one, a good brand content strategy gives you the platform needed to promote your experience and make a stellar impression on the people that matter most, ensuring your application gets kicked up to the top of the pile.
For small businesses: content development offers an invaluable opportunity to expand your brand visibility, reach and authority online—an essential channel for marketing your products to an all-new audience and carving out a larger presence on local search pages.
Whatever your reason, content creation solutions provide a powerful supplement to content removal—as well as a critical online reputation management service.
Ultimately, proactive content marketing puts the power of storytelling in your hands, giving you more control over your online narrative and how people see and engage with your brand on the web.
Powers up your existing assets
Have a website? Maintain an active social presence? Write a weekly blog?
No matter what comprises your current web presence, online reputation management services can make those assets even better, providing the digital jet fuel they need to blast up Google rankings and put first-page control into your hands.
A skilled ORM services team utilizes advanced SEO techniques and best practices to power up your website, boost your blog and get your socials to the top of search, ensuring you're in the personal branding driver's seat.
Through the latest in search engine optimization, link-building and content enhancement methods, ORM professionals help turn a loose collection of digital assets into a stronger, more cohesive online footprint, solidifying your presence and impact online.
Combined with negative content removal and an effective content marketing strategy, content optimization is one of the best ways to take ownership of your own online real estate, including what shows up on Google first page SERPs. 
And with a more consistent and durable online image, your brand has the improved resiliency to fend off future attacks and make the positive impressions you need to succeed. 
Improves your review presence
Are you a small business owner? 
If so, consider this:
97% of customers

read your reviews when researching your company

Prospects read an average of

10 reviews

before they trust your business   

Businesses ranking between 1 and 3 in Google search results average

9 nine more total reviews

than those between 7 and 10
What's more: 
Reviews have an undeniable impact on your reputation and your bottom line. 
Fortunately, online reputation management services can help put your local review presence into perspective, providing the customized review management solution you need to manage reviews and polish up your image on local search pages.
By giving you the power to collect, analyze, respond to and promote small business reviews in real-time, your professional ORM strategy gives you the power to optimize your online reviews, improve your reputation and engage with local customers truly meaningful ways. 
Fixes bad auto-predict and related search
Google's auto-predict feature can be a great tool for shaving seconds off the online search process.
But when it comes to personal branding, just one negative autofill is all it takes to create a bad impression and put a dent in your online image.
Fortunately, ORM services like Google Autosuggest Repair can provide a powerful resource for correcting bad Google autofills pointing searchers toward unwanted results.
And with fewer negative autofill texts showing up during queries of your name, the less you need to worry about people finding harmful links, articles and social feeds hurting your personal brand.
Additionally, related search repair services can help eliminate undesired options from searches of your name, removing even more malicious items from the web and giving you more control over your personal brand narrative.
Keeps a watchful eye on your brand
The web changes at breakneck speed, making online reputation management services like ongoing brand monitoring and maintenance essential to any long-term ORM strategy.
Round-the-clock monitoring is what ensures you're ahead of the game in an ever-changing digital landscape, supplying the real-time alerts you need to cope with new threats and adapt your reputation management approach. 
ORM maintenance solutions provide the support and on-the-spot tweaks your brand needs to remain resilient and robust, no matter when search algorithms change or new risks appear on the horizon.
In short, it's digital monitoring and maintenance that ensure your brand is healthy, engaging, and working to your benefit well after ORM repair has been completed.
We are your online reputation management services leader
At Internet Reputation™, we believe your personal brand is worth protecting. That's why we work tirelessly to provide the professional online reputation management services, tools and support you need to put your best foot forward on the web.
Want to get started? Schedule your free consultation with a Reputation Management Specialist today by calling 941-259-4554.
Get the latest on #ORMservices and managing your online rep on our Facebook and Twitter. 
Permalink