Your Crime Was Caught on Camera, and Your Reputation May Never Recover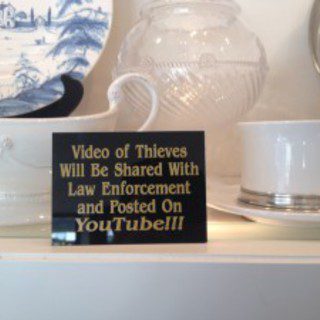 Did you make a mistake you can't seem to overcome? Was your crime caught on video and broadcast across the web? Your reputation may never recover unless you take control and start repairing your online image today. 
English researchers working in 2006 suggested that thieves could break into several popular models of cars in just 3 seconds, and in most cases, they didn't need to cause lasting damage. No broken glass, no drilled metal and no scratches were required. Just a few seconds with lock-picking tools, and crooks had access to the interior of the car. Starting the engine would, presumably, take only a few seconds more.
Stats like this can make the Sherlock Holmes inside all of us cringe just a little bit. After all, if crimes are over in a flash, how can we ever hope to catch the crooks in the act? On the surface of things, cameras seem like an ideal solution, as they can snap the moment at which someone chooses to cross the line between upstanding citizen and notorious criminal.
But sometimes, innocent people are caught up in photos of supposed crimes, and when that happens, the reputation damage can be extreme.
Crime on Tape? Your Reputation May Never Recover
When your alleged crime gets caught on tape, it often seems like your reputation may never recover…
When crimes take place, police departments have access to hundreds of thousands of potential witnesses, as long as they have access to a camera. For example, it's common for police departments to release grainy photographs in the aftermath of a riot. Calls for help have recently come from Bellingham, Washington, and Huntington Beach, California, when crowds got rowdy and both people and property were damaged.
In both cases, the authorities have been quick to point out that the people photographed are simply wanted for questioning, and that they very well could be innocent of any crime at all.
However, in both cases, there are some photos that seem innocent to me. Is the man on his cell phone in Huntington Beach doing anything other than walking? Is the smiling man in Bellingham grinning because he walked away unscathed and is heading home, not because he just got done looting? I'm willing to give people the benefit of the doubt, but some aren't so charitable. Some viewers assume that people who appear in photos like this are automatically guilty and they should be punished.
If you want nauseating proof of this point of view, take a gander at the comments section at the bottom of both of these stories and count the number of times the words "punks" and "thugs" appear. It seems that many people are willing to convict based on the mere appearance of a photo.
Sometimes the harm goes above and beyond mere verbal thrashing. A man in England was wrongly accused of participating in a riot in 2011, for example, when his photograph appeared in a newspaper account with the implication that he was somehow responsible for crimes committed. In reality, the man was helping other victims of the riot to get home safely, but the photos were a little ambiguous, and the paper chose to declare him guilty on the basis of the photos alone. The man later won a settlement, but the damage to his reputation might last.
Similarly, some people skirt the help of police departments altogether, and they take to social media for a stint of basic shaming. For example, when a former NFL star discovered that his home had been the site of a raucous party that left behind thousands of dollars in damage, he collected video of the party and posted all of that information online, with no faces obscured. He was angry, and he wanted justice, and shaming the kids seemed like a great idea.
But I wonder if some of those kids were really guilty. Isn't it possible that some of them didn't realize that they were participating in a B&E? Isn't it possible that some stayed for 5 minutes, felt horrified, and then ran home? Pictures don't contain this kind of nuance.
Instead, all of the children were slapped with the label of vandal, and their parents have a lot of work to do to clean up the mess.
Eyes Everywhere
It might seem unlikely that you'll ever get caught up in a scandal like this. After all, few people choose to riot, steal or otherwise behave badly. But, there are cameras literally everywhere, and if you're in the wrong place at the wrong time, a compromising photo could be in your future. That risk grows with each passing year, due to the remarkable prevalence of cameras in modern life. Consider this:
USA Today suggests that cities and towns in 24 states have access to traffic cameras.
A home security system involving cameras, motion detectors and thermal controls costs about $1,500, according to The Boston Globe, and this affordability is making the devices almost ubiquitous.
Statistic Brain reports that there are 2.2 million ATM machines in use in the United States, and each of these hunks of metal holds a camera that's always in use.
Modern stores might soon employ cameras in their mannequins, according to Digital Trends, and this technology may allow officials to watch shoppers at eye level.
During an average morning commute and java stop, you may have passed through 10 or more cameras, all recording your every move. And, the commuters taking the journey with you may have been carrying sophisticated cameras, too, buried inside their cell phones, tablets and laptop computers. Maybe something you said, or something you did, is right now working against you. It's enough to make anyone paranoid – and make it seem like your reputation may never recover…
Staying Smart and Safe
It's hard to provide adequate self-protection from a camera-ready state. As long as cameras are there to snap images, the threat will always be there. But there are some commonsense things you can do to stay safe.
If you've been at the scene of a crime for any reason, look over the media coverage as soon as possible and visit the local authorities to clear your name. As soon as you've been exonerated, ask for the media outlets to remove your photograph or provide a disclaimer that you're not accused of any crime.
Getting out in front of the story now is the best way to ensure that the damage won't multiply with time. Then, go on the offensive. Write about your participation on your blog, create a press release about how you helped other victims and share your story in bits and bytes on Twitter. Get aggressive about the narrative, and you may see negative references to any kind of criminal act move farther and farther down in search results for your name.
And, of course, we can always help you with any and all of these steps.
Does It Seem Like Your Reputation May Never Recover?
Have a bad video or news article circulating online?
We can help.
As leaders in online removals, search engine suppression and 24/7 monitoring, we provide the tools and technology to repair your online reputation and build a positive digital image.
Ready to take control of your personal brand? Call 941-259-4554 or visit us online to get started today!
Permalink