How Important is Effective Hospital Reputation Management?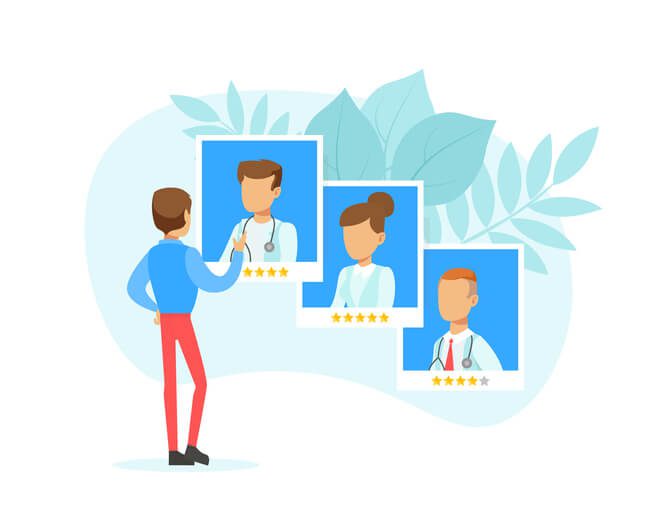 Throughout history, hospitals have largely relied on word of mouth for reputation management. But today, competition is thicker than ever. And people are far more proactive about their healthcare than in decades past.

To remain relevant and competitive in an ever-tightening market, hospitals need an effective online hospital reputation management strategy.

But… why?

Well, did you know…

Hospitals rank behind only restaurants and hotels when it comes to online reviews? This means people want to know what other patients are saying.

What's more: people make decisions about your hospital based on those reviews. And if you're not managing your online reputation, patients are likely going somewhere else for care.

In other words, failing to have a hospital reputation management strategy is costing your hospital money.

Why is Your Hospital's Reputation Important?
Chances are good that your patients have other options when seeking healthcare. And while you may be the nearest hospital for emergencies, services like elective surgeries and ongoing treatment are likely available elsewhere.

So, if your hospital isn't meeting expectations, patients are likely leaving negative reviews. And when that happens, they're more likely to choose other options for care.

The more negative reviews out there about your hospital, the more credibility these reviews have. Over time, these negative reviews affect much more than your ability to attract patients. They affect your hospital in all these ways and more.

Poor employee morale.
Inability to attract top physicians and medical care providers.
High turnover rates.
Loss of confidence of patients.
Lack of confidence from the community.

Employees don't want to associate with a hospital that has a bad reputation. Whether deserved or not, the negative associations diminish job satisfaction and make good employees eager to seek greener pastures.

Over time, these negative reviews become an albatross for the hospital that only serves to perpetuate them.

Plus, everyone wants to visit the hospital with the best reputation, outcomes, experiences, and patient relations. It's not only about attracting more patients, but also the professionals you need to outperform the competition.

What Does it Take to Build a Positive
Hospital Reputation Management

Strategy?

Many people believe that hospital reputation management is simply about managing negative reviews online. But while review management is certainly part of the process, it's only part of the story.

In fact, there are many elements that make up an effective reputation management strategy for hospitals. And whether you hire an ORM agency or do it yourself, you play an important role in the process.

Developing Your
Hospital Reputation Management

Strategy

When it comes to reputation management strategy, the first step is creating a positive online presence. And doing so means building a user-friendly hospital website.

Website
You need to create a website that is the ultimate resource for healthcare news, information, and advice in your community. You want it to be the first place patients go to learn about their health.
Blog
Do you have a blog? If not, it's time to start one. You need to fill your blog with relevant, factual, and actionable information people can turn to. You want your blog to be a showcase for healthy living, disease management, and much more.
Content
You must provide a steady stream of positive, informative content for your blog. By doing so, you're controlling the narrative and putting your hospital in the best light possible.
Social Media
Once your blog is up and running, you need to develop an impressive social media presence. You need to be widely available on multiple platforms including Twitter, Facebook, Instagram, LinkedIn, and more. Plus, you need to interact with your followers. This includes sharing blog posts and responding to concerns as quickly as possible.
Reviews
Respond to negative views about your hospital. Show prospective patients you care and get to the bottom of problems to avoid them in the future. Whether the initial reviewer changes these reviews or not, people reading the reviews will see you're making an effort. It matters.
Requesting Feedback
The other side of this is that you want feedback from your patients. In fact, you need it. Good or bad, there is a lot you can learn from patient feedback and reviews. And prospective patients can learn from them too. How you avoid negative reviews in the future can fuel brand growth and change the conversation completely.
Negative Review Removal
Sometimes, the strategy of addressing negative reviews directly does not result in the removal of these reviews. When this occurs, you may have to go to the review organization to request review removal. This is a process that takes time as each organization has different processes and requirements. However, it does work sometimes, making it worth the effort.

Exhausted yet? Keep in mind that this is in addition to all the other responsibilities you have when operating a hospital. This is why many facilities hire professional hospital reputation management teams to handle this important task.

The process of hospital reputation management is time-consuming and tiring. It is even more so when you have to add a learning curve for things like:

Writing quality content.
Managing and maintaining websites.
Creating and building a blog.
Generating social media content and sharing regularly.
Responding to social media mentions, callouts, complaints, etc.
Coming up with an editorial and content schedule.
Compelling content ideation.
Identifying hospital review websites.
Finding negative reviews about your hospital.
Negative review response.
Review management.
Negative review removal.

Not only will bringing in the professionals take these responsibilities off your plate. It also helps to reduce the learning curve so that you see real results quickly for your hospital.

What can a hospital ORM company do for my organization?

Allowing a qualified hospital reputation management company to manage your reputation does one important thing. It frees up time and allows you to deal with what's most important: improving patient experiences.

That is what you do best. And without the worry of managing your reputation, you can put your resources into more proactive pursuits, including:

Improving staff training.
Addressing complaints.
Solving billing problems.
Building employee morale.
Attracting talented physicians and nurses.
Strengthening your company culture.

People take pride in working for an organization that has a good reputation. It really is as simple as that. As we've said before, controlling the narrative about your hospital online is only a small, but important, part of the hospital reputation management process. The work you do, though, to build a better brand for your hospital is the other half of that battle. One you can't afford to overlook or ignore.

InternetReputation.com understands how easy it is for the wrong information to dominate the story of your hospital. That's why our mission is to help you correct the online narrative. We do this by generating positive content, removing negative results, and building a winning reputation strategy. And when you have a stronger reputation, your physicians, practitioners, patients and community will feel it.

We focus on robust reputation strategies that change the conversation and put your hospital in the online spotlight.

Want to learn more? Contact our Hospital Reputation Experts today for your free consultation.
Permalink