Internet Reputation: Top Online Business Reputation Services Provider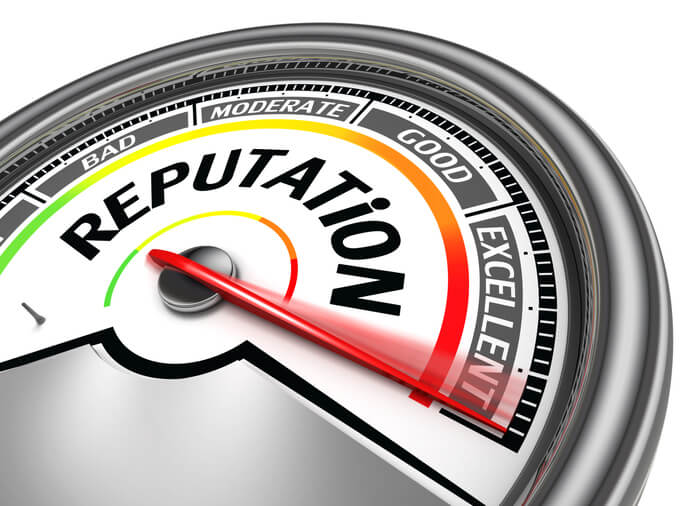 We work with the top online business reputation services provider on the web!
We believe your reputation is your most valuable asset. That's why we protect your name and standing with the care and attention you deserve.
We also protect your reputation through a multi-layered approach. This involves proven online business reputation techniques that achieve unbeatable results. We guarantee complete satisfaction and answer all questions as quickly as possible.
Looking for online business reputation support? Call us now for your complimentary no-obligation analysis.
A #1 Rated Reputation Management Process
Ebiznewswire, Digital Exits, and Newsweek.com recently rated our firm #1 in the reputation management sector. This is due to our proven ORM process, which achieves amazing results for clients around the world.
Our process involves four key areas. These are research and analysis, development, publishing & promotion, and retargeting.
1. Research and analysis
Every reputation campaign begins with thorough research and analysis. It starts with a series of search result removal measures. We follow this with tailored protection and suppression plans, diagnostics, scoring, gap analysis, and more.
Once in place, we build a strategy to carve out and maintain a positive online presence and reputation score. This allows you to repair, improve, or grow your digital footprint.
Additionally, we build a fully customized reputation management schedule. When followed correctly, this helps optimize your search results while pursuing your long-term goals.
What's more: extra analysis and research help us identify industry-specific trends critical to your reputation management strategy. Having a Reputation Defender is more important than ever. You might also want to read about Reputation Defender complaints before you proceed with hiring a firm like this.
…and that's all before we get to the second stage:
2. Development
Development is the process of building web properties. This includes brainstorming, presentation, and content planning. We pair these with outreach to bloggers, journalists, and other high-authority individuals.
3. Publishing & promotion
Publishing and promotion then put your campaign into motion. We use owned, earned, and paid promotions to transform your business reputation for the better and for good.
We also routinely employ a crucial fourth step, known as:
4. Retargeting
Retargeting involves careful results monitoring to see what works. With this insight in hand, we adapt internal programs run to better fit your needs. Over time, this ensures greater inertia and improves search results.
Why choose us for your

online business reputation

 needs?
We deliver industry-leading reputation management solutions that provide unmatched results. We help you manage your online business reputation and realize your full online potential.
Don't believe us? Check out a few testimonials from satisfied clients across the country. A reputation defender in 2021 is more important than ever.
"Splendid services"
"We don't have time to monitor our online reputation, but they do. They do that splendidly. I found out early that delegating tasks to those best at handling them is the way to succeed.
We have definitely found the right place to watch over our reputation for us. We get alerts whenever anything is out of line." -Darrell
"A spike in sales"
"The people I work with at this firm are all highly educated and professional yet very down to earth. I truly do look forward to our regular sessions. Because of COVID-19, most of our meetings are done online.
But just looking at them makes me feel good about their campaign that raised our return on investment tremendously." -D
"Great at what they do"
"Over the past several months, we've developed a pleasurable relationship with this company. This goes for our marketing, search engine optimization, and paid online advertising campaigns. Their dedication to not only increasing our online visibility but also driving the right demographic to our site is evident in all aspects of our website analytics.
We truly appreciate their attention to detail." -Stacey
"Highly valuable service"
"We are realistic enough to realize that negative search results are going to crop up now and then… But taking advantage of their ability to suppress them has proven to be a valuable service for us.
We would much rather our potential customers see our site or our commendations before a nasty post in a gossipy blog when they search for us online." -Esmeralda
"Superb customer service"
"The communication between their team and my business throughout the months that we've worked together has been great. By far the best decision I've ever made. That kind of customer service makes all the difference to me.
It was a pleasurable experience working with them." -Kennedy
"Consistent results"
"The incredible team is easy to work with, and they produce consistent results. There is always great and fast communication that is not only transparent but honest.
They tell you it's a process that doesn't happen overnight, and they deliver what they promise." -Rachel
"I'm pleased"
"My boss can be a little bit of a hothead. He had taken to addressing less than complimentary reviews by responding angrily. Knowing that this company works professionally to resolve these occasional occurrences made much more sense. I convinced him to contract them to do so. It's been working seamlessly for us ever since." -Pamela
"Great ideas"
"Brilliant, strategic, and real problem solvers are just some of the words I would use to describe their team. We've partnered with them on advertising and search engine optimization programs before. They're the best company to do this kind of business with." -Stanley
"Friendly, ambitious, and energetic"
"The people we worked with are friendly, ambitious, and energetic. The team worked hand-in-hand with me and my staff to not only upgrade our website but to also boost our business efforts. I recommend these professionals to anyone that is looking to enhance their online reputation." -Rene
"Effective service"
"Since the beginning, the team has been very knowledgeable and professional. They go the extra mile to get the job done. They're efficient, effective, and fun to work with. We now have far better business results after partnering up with these amazing people." -Tony
Here's what to know about

online business reputation

 management
Like anyone doing business on the web, your brand deserves a great reputation.
And while reputation management costs vary, they can also be surprisingly affordable. In fact, ORM services provide outstanding value for the money, particularly when your reputation is at stake.
If people search on Google, Bing, social media, and elsewhere online for YOUR business and find negative content, reputation management should be in your future.
Our online business reputation team is ready to help
Our analysts, software gurus, and legal professionals are ready to work for you. We work closely with brands to deliver customized business reputation management solutions.
Your online brand reputation is key to your success. The same is true of business managers, entrepreneurs, private individuals, A-list celebrities, and more.
As online business reputation specialists, we know you can't avoid existing concerns about your brand. In fact, doing so could be ruinous for you and your company.
It's important to trust proven, dedicated professionals your online business reputation management needs. Unlike some other reputation management companies, we have a proven track record and tons of positive reviews.
That's because the best online reputation management firms maintain an arsenal of technology, tools, and processes. And these resources are hard to find anywhere else.
In fact, PR and marketing firms partner with us every day for online business reputation services that deliver results for their clients.
So, why not go with the best online business reputation services firm?
Our experienced reputation pros use the latest technology and processes to build world-class online business reputations. We tailor each campaign around your needs and get measurable results fast.
Ever ask yourself:
What can an online reputation management company do for me?
How bad can it be to have a negative online reputation?
How can social media affect my company's reputation?
Why are online reviews so important to my business?
If so, we can provide the answers you need now.
Start with a free analysis of your current online business reputation. Call us today to schedule your free consultation.
Permalink