Have You Seen Your Online Reputation?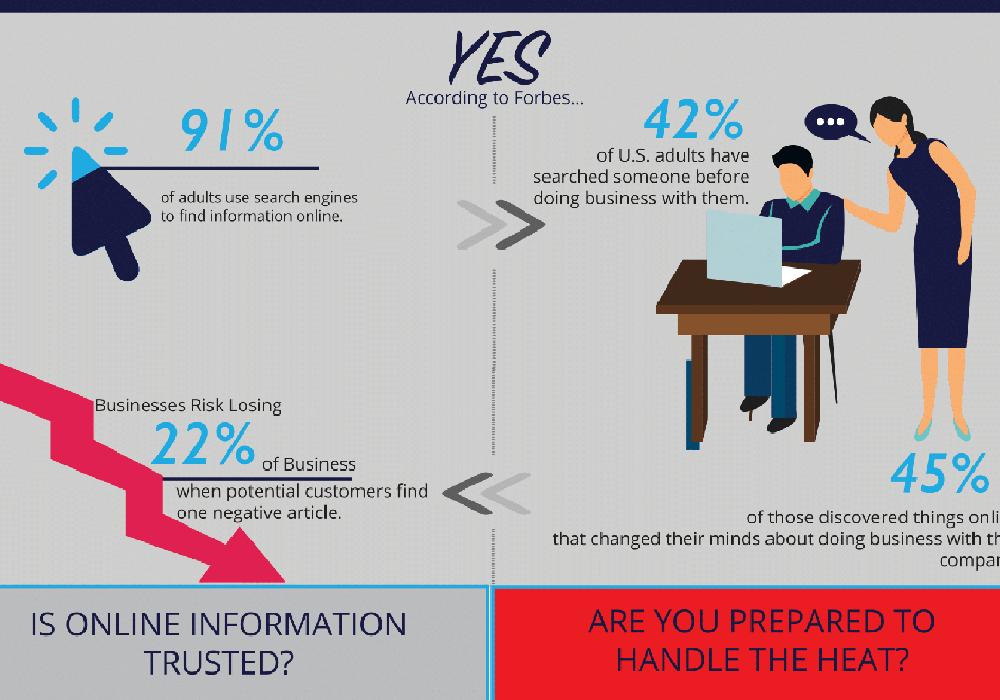 Have you seen your online reputation? If so, are you prepared to defend it?
Have You Seen Your Online Reputation?
In the digital age, knowing how your brand looks on the web is more important than ever.
From review sites and news platforms to search results and viral videos, each mention of your name or brand comprises and impacts your online reputation. Understanding that digital makeup and having a brand strategy to manage it is essential to protecting your identity, promoting your value and pulling in the customers essential to your success.
Does the Internet Influence Purchase Decisions?
Relatives, hiring managers and customers use search results to research and understand your brand. Not only that, but what they see shapes how much trust they put in your business, influencing purchasing decisions, trust and your level of industry authority and credibility.
Maintaining a positive presence across review sites and social media is key to winning respect and building the brand authority you need to thrive. It's also essential to earning trust, strengthening your brand and maximizing customer reach across the web.
Defending Your Online Reputation: Do's and Don'ts
Once you've seen your online reputation (also called digital reputation), it's critical to build a reputation management strategy that defends and defines your best attributes. Knowing the do's and don'ts of online reputation management ensures you have the tools to control the online conversation – and to do so without creating unnecessary crises or making online problems worse.
With tools like social media management, review management, online profile building, and promotional content creation in your brand management arsenal, you too can carve out the digital footprint that dominates local search results and positions your business for long-term success.
Have an Online Crisis?
We can help. As leaders in individual and business reputation management, we provide the proven digital brand management solutions you need to remove negative information, manage online crises and create the online presence you need to succeed.
Your reputation can't wait! Speak with a Reputation Specialist today at 941-259-4554!
Permalink