Keeping Up With Your Rep: Kim Kardashian and Reputation Management for Celebrities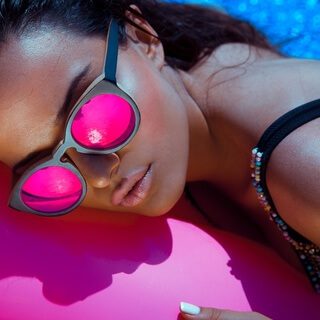 Living in the public eye? Reputation management for celebrities can provide the protection you need to manage crises and thrive on the web.
The life of a celebrity means being in the public eye. It's living in a fishbowl: your every move is scrutinized, and you become the subject of gossip that is beyond your control.
Doesn't all that attention come with the territory? Isn't it the price celebrities pay for a privileged lifestyle? What right do they have to gripe about it?
The truth is that celebrities are more vulnerable to false or exaggerated stories than the rest of us. They are brands, and bad publicity can ruin a good reputation. And that can mean taking a direct hit to the pocketbook. Because of this, Reputation Management for Celebrities is a critical component to any prominent person's everyday life.
Celebrity Pitfalls
No one doubts there are benefits that come with being a celebrity. And the benefits may even outweigh the negatives. But for celebrities, fame usually means the loss of privacy. For movie stars it even means being hounded by photographers whose job is nothing less than taking intrusive, unflattering pictures.
With fame there is usually fortune, but as the late rapper Notorious B.I.G. observed, "Mo' money, mo' problems." Some major celebrities have had serious tax problems that nearly cost them everything. The list includes the former Duchess of York, Sarah Ferguson; singer-songwriter Willie Nelson; rapper Jay-Z; and Oscar-winning actor Nicholas Cage.
The pressures of fame and fortune have led many celebrities into downward spirals of self-destructive behavior, or have made existing emotional problems worse. Some have paid the ultimate price, like actors Heath Ledger and Philip Seymour-Hoffman, and singer Amy Winehouse.
It brings to mind that old saying: the grass is always greener on the other side of the fence.
Keeping Up with the Kardashians
And then there are the Kardashians.
The Kardashian family is one of the most remarkable success stories in recent memory. Since its 2007 debut, Keeping Up with the Kardashians has propelled them to international stardom and kept them there, in spite of publicity that might have ruined other stars' reputations.
The Kardashians were already rich. But with the ongoing success of their reality TV show, they brokered a deal worth an estimated eighty-five million dollars when it was up for renewal in 2015. That alone brought them more scrutiny than before, but they'd already endured a lot of analysis. Some critics have derided their show as depicting the antics of a self-absorbed, privileged family, famous for being famous.
Forbes.com, the website of the august business magazine, calls the entire Kardashian phenomenon "utterly absurd, but objectively entertaining."
Plenty to Talk About
Millions of TV viewers have a higher opinion of the show, and follow every move the Kardashians make, on screen and off. The Kardashians have given their fans plenty to talk about, from Bruce-turned-Caitlyn Jenner's sex reassignment to Kim Kardashian's nude selfies. And don't forget her uncensored sex tape, made before the launch of the show.
Maintaining their chosen lifestyle, while protecting their public image, is a delicate balancing act.
"Believe it or not, Kim is pretty darn good at reputation management," writes blogger Shanelle Mullin. Currently, Kim Kardashian has more than forty million followers on Twitter, and sixty million more on Instagram. She carefully tracks all mentions of her and her family in the media, especially online, and addresses those that need addressing.
"On Twitter, we see her humor and authentic personality," Mullin says. "On TV, we see her strong family ties. Her life is an open book and she's making the best of it with killer reputation management skills."
Kim Kardashian: An Expert in Reputation Management for Celebrities
How does she do it? Mullin says that celebrity or not, we can all learn a few things from Kim Kardashian about Online Reputation Management.
Monitor Your Reputation
It is essential to know what is being said about you online. Before you can manage your online reputation, you have to know what it is. There is software that can automate the monitoring process. "Kim is an expert at monitoring her reputation," Mullin says.
Don't Ignore the Bad Stuff
Negative comments are bound to appear, and it's tempting to ignore it or even respond in kind. That would be a mistake.
Promote the Good Stuff
When something goes right, don't hesitate to strut your stuff. Tweet about it, post it to Facebook, make a YouTube video – whatever you can do to spread the word.
Maintain Your Reputation
Once you've established a positive online reputation, it's important to maintain it. The idea is to improve and grow. "Kim put someone she truly trusts in charge of her day-to-day reputation management," Mullin writes. "Her mom, Kris Jenner, is the woman behind Kim's reputation."
Have a Vision
Day-by-day reputation management responsibilities might be handled by your staff, but you need to have a vision of where you want to be a year from now, and even five years from now.
Kim Kardashian and the rest of her family know better than most that being a celebrity means the eyes of the world are on you. The least little mistake can mean unwanted, reputation-damaging headlines.
InternetReputation.com is a leading provider of reputation management for celebrities, and can guide you through any online reputation crisis.
Permalink