How Bad Is It? A DIY Reputation Grading System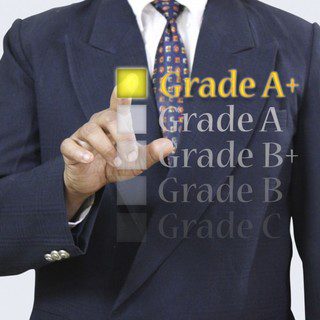 Is your reputation teetering on collapse? Get the latest on DIY reputation tools to grade your reputation and rebuild your image before it's too late.
Just how bad is your internet reputation? That's a question that might keep you up at night. And the answer to that question is vital. After all, if you don't know how bad things are now, you might not have an action plan you can use to measure your recovery efforts.
We're here to help.
How to Grade Your Online Image? A DIY Reputation Approach
This is a quick and effective tool you can use to measure the depths of your online reputation management issue. And if you use this same tool months down the line, you can prove to yourself (or to your boss) that you're making progress in fixing the issue and getting back on track.
So let's get started.
Step One: Run a Google Search for Your Name
Yes, there are tons of search engines out there. But Google remains the top dog, in terms of searches performed on a daily basis. The word "Google" has even become a verb (you can see it for yourself on this dictionary website).
So while you could use other search engines to assess the damage, it's best to stick with the biggest and best tool available to you. And that means focusing on Google.
So as your very first step, open up the browser and type your name in the box. No cheating, either. If your reputation damage stems from an arrest or a lawsuit, put your legal name in that box (not your nickname). We're trying to get the real dirt on your real problem, so cheating just isn't wise.
Then, grab a piece of scrap paper and a calculator. We're about to do a little scoring. You'll start with 100 points (a perfect score).
Step Two: Count the Photos in the Carousel
Many reputation attacks stem from a visual. Mugshots, snapchat photos and social media posts all come with photographic evidence. And every time a photo is attached to your name, Google will put that photo in its library of images. When people run searches, those images float to the top of search results in something experts call a "carousel."
For every photo of you that you see in that carousel on the first page of search results, subtract 10 points.
You don't need to click through the carousel or go to the next page of search results. Just count the images you see on that first page, in the carousel. And deduct 10 points for each and every one. No cheating!
Step Three: Count the Videos on Page 1
Did your attackers make videos about you and your reputation problem? If your issue became newsworthy in some way, you probably have a news snippet floating around somewhere. And if your issue came from something that happened in real time, and was caught on camera, you might have video footage of it out there somewhere, too.
For every video you see on Page 1 of Google search results, deduct 20 points. I know it's a huge hit, but videos are really sticky and clickable. They do a great deal of damage. Every one that you see has the potential to harm you.
Step Four: Count All Negative Articles, Blog Entries and Other Text on Page 1
Most of your attacks are likely to come in the form of text entries. Blogs, news articles, press releases and other wordy links are easy to create, and they're easy to duplicate. So chances are you'll have plenty of these hitting your online reputation regularly.
There's good news, however.
Research suggests that few people look past the first page of Google search results. That means things that don't show up on that first page really shouldn't matter to you at all. Even if it's there, you don't need to worry about it.
But every link for an article you see on that first page should be counted. And each link will cost you 5 points.
Tracking Your DIY Online Reputation Score
Still have that scratch paper handy? Good. Write down your total DIY reputation score for future reference. And repeat this test, with the same steps done in the same manner, at least once per week. In time, you'll have a complete score of your reputation—and your success!
And if you're not seeing any movement on that online reputation score, don't worry. We can help. Contact us to find out more about the reputation management services we offer .
Permalink