Cyberbullying Not Limited to Schoolchildren: A Worsening Issue in Online Reputation Management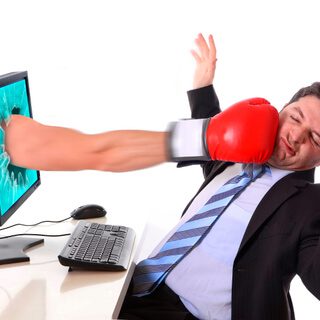 If there is one thing that the Internet has taught us, it's that the ability to archive oodles of data means that every digital footprint carries remnants of both the good and the bad. For the more unfortunate online reputations, there are antagonists who show their enthusiasm for cyberbullying by creating and promoting negative content to harass others.
Now, the term cyberbullying tends to carry a connotation of school-aged children and teenagers. The reality now, however, is that cyberbullying is something that can take place within all age groups. In fact, the suffering that cyberbullying causes for young people could very easily transition into adulthood with dooming content lingering on the web that could hinder their ability to find work, relationships and more at a time when they are trying to pave their own way in the world.
What's even worse? Despite the fact that many people now realize the importance of online reputations, is that the trend of cyberbullying is continuing to worsen. Studies have shown that cyberbullying has increased over the years; and now, the Internet is responding in unprecedented ways. Some forums on the Internet have become a safe haven for this type of behavior simply by allowing it without any specific endorsement.
For some others, however, it's all about business.
Many websites are now designed to facilitate cyberbullying, some of which are more successful than others. JuicyCampus is one such example of a more short-term cyberbullying project. JuicyCampus was launched in 2007, and quickly became a forum for college students to spread rumors and share nasty opinions about their classmates. And just like that, JuicyCampus had gained thousands of active users from over fifty colleges practically overnight.
As it grew, and eventually fell, the site's two-year run caused a high level of controversy, including one incident at Loyola Marymount University where a student used the website to post threats against fellow students and teachers. In 2009, the site ended up shutting down due to an inability to turn a profit.
That's When Cyberbullying Became More Specific
There have been plenty of similar websites that have followed the path of JuicyCampus, some of which have taken it a step further in both profitability as well as shamelessness. Sites such as ShesaHomewrecker.com and more are much less subtle when it comes to the type of content they want posted on their websites. And these topic-specific sites seem to be gaining momentum in the world of cyberbullying, which only increases their potential to damage online reputations.
If only we would better learn from the figures of our past, then perhaps we'd be a little more conscious of the damage caused by cyberbullying. Monica Lewinsky is one figure that has recently emerged to speak out against bullying on the Internet. The public unveiling of Lewinsky's affair with former President Bill Clinton yielded instant consequences for the White House intern, who dealt with an abundance of online shaming for decades following the incident. Last year, Lewinsky held a TED Talk where she recounted her enduring cyberbullying experience:
"Overnight, I went from being a completely private figure to a publicly humiliated one worldwide. Granted, it was before social media, but people could still comment online, email stories, and, of course, email cruel jokes. I was branded as a tramp, tart, slut, whore, bimbo, and, of course, 'that woman'. It was easy to forget that 'that woman' was dimensional, had a soul, and was once unbroken."
Lewinsky's outspokenness on the topic has made her a beacon of hope for victims of cyberbullying, most of which will have a much easier time suppressing the negative content posted about them. Since Lewinsky's incident was shared both on small forums as well as major news outlets, the authority and abundance of negative material in her name left a nasty footprint that was hard to overcome. Yet, with the empathy and support of thousands of fellow victims, Lewinsky has found a way to emerge from the hot seat as an inspiration to those looking to do the same.
While cyberbullying continues to persist and grow, solutions have seemed to follow. For many, choosing a trustworthy online reputation management service is a reasonable means of averting cyberbullying in a manner that can save lots of time, money and strife. InternetReputation.com offers reputation repair and monitoring services that will help you overcome cyberbullying and take back control of your online image.
Sources:
https://www.theguardian.com/technology/2016/apr/16/monica-lewinsky-shame-sticks-like-tar-jon-ronson?CMP=share_btn_tw
http://cyberbullying.org/summary-of-our-cyberbullying-research/
http://www.people.com/article/monica-lewinsky-stands-up-to-cyberbullying-cannes
http://laist.com/2007/12/09/lmu_carlos_huerta.php
Permalink