How to Respond to a Bad Restaurant Review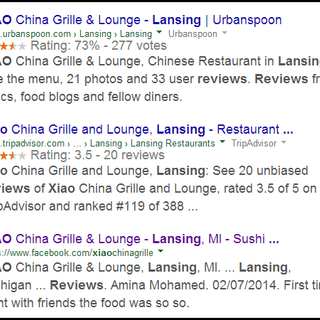 Is one bad review hurting your local diner? Learn how to respond to a negative restaurant review and turn things around today.
Union Street Guest House in New York recently made news by handling an attack on their reputation in all the wrong ways. They tried fining members of a wedding party $500 per negative review. Of course, their story has now gone viral, and they've done more damage to their reputation than a single review ever could.
This story only highlights the importance of understanding how to respond to such attacks in the right way. This is especially true when the review shows up on a social media site like Facebook, Twitter, and Google+, since you might be tempted to respond poorly, in the heat of the moment.
Take a deep breath. Your response can be difficult to take back.
Where Reviews Show Up
Most people don't even travel directly to the review site to see reviews. They show up in Google. This is actually good news for you, since you can do something about Google results.
Note that Facebook reviews are now showing up, but unlike Yelp, Urbanspoon, or TripAdvisor reviews they do not show up with star ratings. This can be helpful in a way, since many people scan the star ratings without looking at anything else.
Twitter reviews still do not show up anywhere at all in the search results. Someone would have to be searching or watching Twitter directly in order to find that negative Tweet.
This means that there's an SEO element to reviews that's worth considering. Traditional SEO is heavily focused on getting a single website to rank. In reputation management SEO, however, what we want is for multiple pages to rank so that they push reviews out of the first page results. This won't help if someone searches "Your Restaurant, Reviews," but it definitely has an impact when people simply search for "Your Type of Food, City," or when they search for you by name, simply because they never see the bad reviews.
This means proactively creating a wall of positive information through press releases and blog posts so that it's harder for negativity to rise to the top.
How To Respond to a Bad Restaurant Review
SEO aside, response is still vital.
But responding on the site itself as your first reaction is the wrong way to go about it. The best response is to attempt to contact the customer directly. If you have a real name and a location on the social site then you should be able to correlate that to your customer records. Listen carefully to what the customer has to say, and then find out what you can do to rectify the situation. Once you've solved the problem, ask the customer to remove the bad review.
Do this as quickly as possible. Complaints tend to attract more complaints, until you're sitting in the middle of a hornet's nest.
If the customer is unwilling to remove the review, ask if he or she will update the review with your response instead, and perhaps add a few more stars. If he or she will not do that then, and only then, should you respond to the review on the site. Show that you are on top of it and mention what you have done to make amends.
How to Stay on Top of Bad Restaurant Reviews
The online world moves fast. You may only do your social media once a week. This can become a real problem, since it can put 7 days between you and any thoughtful response. By then it may be too late.
That's why it's important not only to know how to respond to a negative restaurant review, but also to have a review monitoring system in place. We offer a monitoring service that watches social channels and popular review sites. We send out e-mail alerts when something happens, so that our business owners really do get the chance to get on top of negative review events right away.
You can't afford anything less. Customer complaints aren't hidden in a private phone call any longer. They're out there for the whole world to see, and they can tank your restaurant or your hotel if you don't handle them fast and handle them well.
Permalink