Trimming the Tree? Try Decorating Your Online Reputation Instead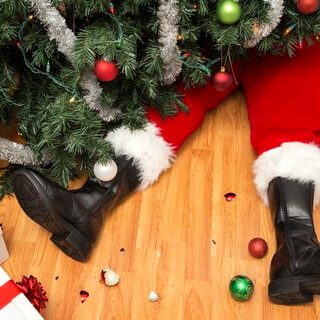 As you tackle your holiday to-do list, consider adding "decorating your online reputation" to the top.
By now you may already be swept away in the hubbub of holiday cheer, even if you don't happen to be a fan of the Yuletide season. With the all-consuming din of holiday parties, Christmas specials and Secret Santa mishaps going on all around us, it's perfectly understandable how anyone could get absorbed, even lost, within X-MAS MADNESS, and how other important tasks, such as managing your online reputation, can easily become neglected, ignored and even forgotten along the way.
Our thoughts may be centered on trimming the tree, hanging up lights and finding just the right gift, but it's important to not lose sight of what can have a continuous, sometimes tremendous, impact on our lives the whole year 'round. Neglecting threats to your online image can have immeasurable consequences for your career, your relationships and your life well past the New Year.
Don't let your online image be the victim of the Holi-daze (wow, that's terrible!). As you decorate that wire-framed office tree, don't forget to throw some X-mas magic at your image and start decorating your online reputation.
Periodically Search Your Name
One good habit you should continue throughout the holiday season (aside from buying your gifts early) is to perform periodic searches of your name in Google, Bing and Yahoo. Every few days or so, put your name in the search bar and see what happens. If something negative or potentially harmful pops up, it may be time to take action.
You can make this easier by having Google do the work for you. Set up a Google Alert for your name. Anytime new information shows up about you anywhere on the Web, be it naughty or nice, you'll be among the first to know.
Secure Your Brand
Regardless of whether you plan to build a website or start a blog, it's important to establish control over the conversation. Essential to this is the purchase of your personal URL, which effectively removes a potentially dangerous weapon of attack from the arsenal of anyone intent on damaging your online reputation.
This action is both easy and affordable, as most domain registrars charge as little as seven dollars per year for control over a domain name. This simple, low-cost behavior provides you a solid foundation upon which to build a stronger online reputation (and presents minimal intrusion into your gift-buying budget).
Purchasing your domain is like buying a gift for yourself; one that will keep on giving for months, perhaps even years to come.
Sleigh Your Social Media Presence
Mastering your social media presence may be one the best things you can do to safeguard your online reputation during the ever-so-hectic holidays.
Social media platforms tend to get top billing in search engine results, leaving any negative or harmful items easily available and open to interpretation by anyone searching your name.
Whether you Tweet every hour, or share an article or picture on Facebook from time to time, reigning in social media negativity is key to avoiding an attack on your online reputation. Taking a few moments to analyze your recent social media history, nullify questionable posts and reevaluate how, what and where you post will not only get you in good with Santa, but save your online reputation irreparable harm in the long run.
"Your company or prospective employer may not actively follow or monitor your online presence," say the folks at PassportCareer.com. "However, negative comments on Twitter, Google+, Facebook or other sites will make their way back to someone at your company."
In other words, be careful with what you share after that seemingly harmless office party. Chances are, someone at work will be viewing it on Monday.
Shameless Self-Promotion
That's right. Promote yourself!
We're not talking about an all-out online marketing campaign here, just a concerted effort to plug the different aspects of your online presence from time to time. Dropping a link to your latest blog post on your Facebook feed, say, or updating your LinkedIn profile to reflect your new job position or work accomplishment, can be a powerful way to cross-link the different components that make up your online image.
Whether it's a social media update or building out a new personal website, self-promotion is the name of the game. "You need to actively promote yourself through all of your channels," says Path2Hired CEO Matt Brady. "Successful (personal) brands must be promoted and into the minds of the target audience."
Active and positive online self-promotion can help to ensure that you – your best you – is the centerpiece of your own holiday dinner.
Professional Online Reputation Help
Taking steps on your own to protect and promote a strong online reputation, one that will survive throughout the tumult of the holiday season, is essential. Sometimes, however, things go astray. The tree catches fire, your gifts are all wrong, and your preparation is all for naught, leaving you searching for solutions in an unforgiving online landscape.
This is where we come in. InternetReputation.com professionals are standing by today to start decorating your online reputation and achieve and experience that sense of festive X-mas cheer through the holidays and beyond!
Ho Ho Ho!
Permalink