Six Ways To Protect Your Children Online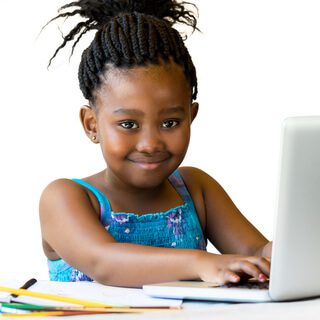 In an unpredictable digital environment, is it possible to protect your children from online harm?
Are you worried about what your kids are exposed to online? You're not alone.
A recent survey by the Pew Research Center found that over a third of parents worry about their child's technology and Internet use. And those with children over the age of five are far more likely to have issues with their child's use of technology than those with younger children.
Threats are everywhere online, and access to the Internet can be had from virtually anywhere. As a parent, you face considerable challenges when it comes to controlling what your kids are faced with whenever they pick up a tablet, log onto a PC or pick an app on someone's smartphone.
Fortunately, you have ways to limit what your kids are exposed to, as well as to prepare your children for the road ahead.
Follow these 6 steps to ensure safe, productive web usage and protect your children online:
6 Ways to Protect Your Children Online
1) Adjust Settings and Filters
The best defense begins at home, as this is where you ultimately have the most control. Making an inventory of every item in your home that connects to the Internet, including PCs, tablets, phones, gaming systems and so on, is a good way to begin marshaling what your children can and can't do online within the boundaries of your own property.
Device Security
As a parent, you have options when it comes to parental control over your devices. Phones and tablets tend to provide moms and dads ways to limit and even halt online activity.
There are also a number of apps (Bark, TeenSafe, Google's Family Link) you can use to monitor and control what your kids do online.
Operating System Control
Whatever operating system you use (Chrome, Mac, Windows, etc.), it likely comes with a comprehensive set of parental control options. As long as your system is updated, you should have access to a no-cost way to control what your kids find online.
Browser Protection
Though often easily circumvented by older, more web-savvy children, browsers (Safari, Firefox, Chrome, Explorer) provide a layer of protection when it comes to restricting younger kids' website access on your device(s). Look through your browser's settings to understand which restrictions are available to you and your family.
2) Set Explicit Boundaries/Rules
Setting boundaries for Internet usage is important early on, as these can help establish and engrain principled Web behaviors that will serve your children well in the future.
Such guidelines apply to all age groups, and should include:
Active adult supervision of all device usage within the home.
Proper use of parental controls and filters (see Step 1).
The creation of Internet usage "rules," which should be discussed and clarified with your children.
Encouraging your kids to alert you of any online item that makes them feel unsafe or uncomfortable.
Educating your children on using caution with online interaction, such as exercising care with those they don't know.
Regular checks of your kids' browsing history.
3) Report Cyber-Bullying and Harassment
A recent study found that 65% of 8-to-14-year-olds "have been involved in a cyber-bullying incident" in one form or another.
When coupled with the Web's growing presence in kids' lives, this statistic underlines the need for parents to place extra emphasis on reporting such behavior to an adult as soon as possible.
Cyber-bullying and harassment are growing epidemics, making it important to discuss such topics and their consequences with your children at an early age.
4) Monitor Social Media Activity
Social media sites dominate the online landscape and our children's lives. It is estimated that over 60% of teens between the ages of 13-17 own at least one social media profile, and that many within that demographic spend more than two hours daily on social media.
Recent numbers also highlight social media's growing influence among an even younger audience. According to a recent survey, "39% of kids get a social media account at 11.4 years, (while) 11% got a social media account when they were younger than 10."
There is little doubt as to the need for monitoring your children's social media activity. Though it may seem intrusive, it's important to know of the interactions your children are engaging in on social media; an online environment where content and interaction are rarely filtered or regulated.
5) Explain the Need to Safeguard Personal Info
Personal information is precious, though it's quickly and easily spread online.
But why?>Unfortunately, many don't recognize the value of monitoring personal data, or the potential for its misuse. This seems to be particularly true among younger populations.
Almost half of teens have little to no worry about misuse of their personal information online, while a majority tend not to regard posting the personal info and pictures on their social media profiles as an unsafe practice.
These statistics should highlight the importance of protecting one's personal info online and demonstrate the need to educate your children on the importance of managing their personal information.
Sometimes, in spite of all we say, the ground rules we establish or the example we set, kids will be kids. Negative or questionable items make their way online and can have real-life consequences for your children.
In some cases, they can impact your own online image.
Should something pop up online that presents a serious or long-term threat to your children, yourself and your family, we recommend consulting a Reputation Management professional as soon as possible.
A reputation expert can both identify the items posing harm to you and your kids and design a comprehensive strategy to defend, define and protect your children online.
Sources:
https://staysafeonline.org/stay-safe-online/for-parents/raising-digital-citizens
(1) http://www.pewinternet.org/2016/01/07/how-parents-talk-to-teens-about-acceptable-online-behavior/
https://internetsafety101.org/agebasedguidlines
(2) http://www.kidslivesafe.com/child-safety/online-predators-and-cyberbullying-statistics)
(3) https://www.aacap.org/AACAP/Families_and_Youth/Facts_for_Families/FFF-Guide/Children-and-Social-Networking-100.aspx
(https://techcrunch.com/2016/05/19/the-average-age-for-a-child-getting-their-first-smartphone-is-now-10-3-years/)
https://www.commonsensemedia.org/blog/everything-you-need-to-know-about-parental-controls
https://www.google.com/safetycenter/families/start/
Permalink