Photo Power! How Great Images Can Improve Your Online Reputation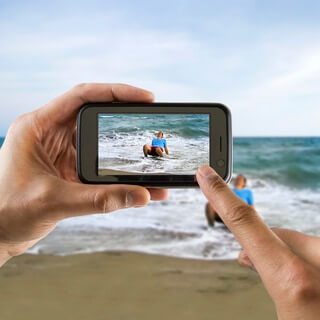 Great photos posted in just the right spot can do wonders to improve your online reputation. Read on to learn more.
When we talk about reputation management, we often talk about keywords. We encourage you to think about the specific words people are using when they talk about you, and we work with you to come up with blog posts, social posts and press releases that put a different spin on those same words.But there's another thing we'll encourage you to do, as your ORM provider. We'll ask you to either take some photos or pull some photos down from stock photo sites.
So, how can a photo help improve your online reputation?
How Good Pictures Help Improve Your Online Reputation
1. We can put your keywords into the photo's coding.
Every time we load a photograph on a website, we put a little tiny bit of coding in with that photo. Those codes help Google and other search engines understand what the photo is about, so that image will be delivered in response to specific searches users might run.
Guess what we can put into the code? Yup, your keywords. And that could help you to fight back against nasty images that are associated with your reputation attack.
2. Your posts will get more attention.
It's a well-known fact that blog posts that have images perform better than blog posts that do not have images. For example, an analysis by Buzz Sumo found that blog posts with images that appear once every 100 words or so got double the amount of shares, when compared to articles with fewer images.
More shares typically means more eyeballs, more readers and more influence. So if you want your posts to do well, you simply must add images. Consider that a mandate.
3. We can use your photos on social sites (and get more attention).
When your blog posts have images embedded in them, we can use those same images as teasers on social media sites like Facebook and Twitter. And when we put images with those posts, they also (not surprisingly) tend to do a little better.
Social Media Examiner suggests that photos are worth a million likes. And each like works like a vote for the content. It means that someone saw it and had enough interest in it to push it along. Every push could do your reputation a world of good.
4. We can put a new spin on an old problem.
Photos that you take could help you to demonstrate, in real time, that you just aren't the person you used to be. And that could give you a real reputation boost.
For example, your original problem may have started years ago, when you were younger and a lot less mature. You made mistakes as a young person, and all of the photos that surround the issue show you looking young and inexperienced.
A new photo shoot, showing you looking smart and hip and professional, could demonstrate just how much you have changed and grown and learned. And those photos could influence people in ways that words could never touch.
5. We can tap into sites that don't specialize in words.
As a full-service ORM company, we want to utilize every single tool we have available in order to attack your reputation management problem. And that means we'll probably want to use Instagram, Pinterest and other non-word-based social media sites. We can't do that if we don't have great images.
Where do you Get Good Shots for Photo Reputation Management?
The average smartphone has an above-average camera. But you'll need to do more than take a simple selfie. If you'd like to demonstrate your life in real time, in a professional way, you'll need a helper. Set yourself up in a spot with great natural light, and make sure the shot is in focus. If you need a few more ideas, click here.
And if self-photography isn't your thing, there are plenty of stock photography sites that you can tap into. Just make sure you're using them appropriately, which means you're not trying to pass a model off as yourself and that you're not using the photos without giving the proper cred to the snapper. A few great ideas for stock photo sites are gathered up right here.
Getting Started
So now that you know why you should be using photos, and now that you know where to get them, what are you waiting for? Go ahead and start collecting those snaps. And if you need extra help with anything at all, just contact us. We're here for all of your reputation management needs.
Permalink