Four Reasons Why Your Kid Needs a Stronger Online IQ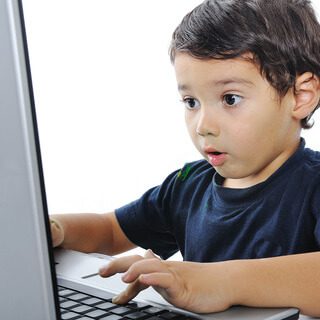 What's your kid's online IQ? Get the latest on digital smarts and how a little knowledge can go a long way to protecting your children on the web.
It may be impossible to overstate the influence the Internet has had on the world: a fundamental shift in how we communicate with each other. Virtually everyone, from eight to eighty, uses it in one form or another.
But the younger you are, the more you use it. About ninety percent of American teenagers are active on social media, and have been since they were about ten years old. "Most children," concluded researchers at the San Diego County District Attorney's office, "know more about the Internet than adults do."
That doesn't mean they know what they're doing. And because of that, it is imperative that children and teenagers realize that using the Internet exposes them to dangers they could never anticipate. They are also starting to build an online reputation that will be with them for years – making a strong online IQ more important than ever.
Online Activity
More than forty-five million young people between ten and seventeen are on the Internet and most of them use smartphones. Chances are they'll be exposed to things they do not fully understand.
40% of teenagers have seen social media pictures of their peers, either drunk or on drugs
One of every five children have been sexually solicited online
Nearly 34% of children have been cyberbullied
More than half of college students who were asked admitted to sexting as teenagers
In view of all this, it's critical that parents have an idea of what their kids are doing online – what social media sites they participate in, and how much time they spend doing it.
Empowering a Stronger Online IQ
Supervise
Supervision doesn't mean micromanaging your child's online life. "It's really about managing that time," says pediatrician John Rodarte, "and making sure that there's still family time and family contact."
By the time their children are nine years old, most parents have talked to them about online safety. Experts say it's a conversation that should not be put off. Even if all your child is doing is online research for a school project, the very nature of the Web, with its multitude of interconnected sites and misleading hyperlinks, can lead to unexpected places.
And yet, only 52% of parents "moderately" supervise their kids online, while 20% of parents don't supervise at all. Digital Learning Specialist Kerry Gallagher says this is a big mistake: when parents take a lax attitude toward monitoring kids' online activities, they are slow to find out when there is a problem.
Even people who work in IT, she says, aren't as savvy as their kids when it comes to the latest app, website, or online game. "Sometimes it isn't until their child is hooked on a video game or social media platform that they initiate any discourse about healthy technology use." At that point, the discussions they have with their kids are probably going to be unpleasant.
Sexting and Cyberbullying
"Everything we post on the Internet, and everything posted about us by others, contributes to our overall reputation," said Cynthia Lieberman, co-founder the Internet safety group Cyberwise. "When positive, it's great, but when not, it can be disastrous."
One potential disaster is sexting: teens sending and receiving sexually explicit images, often of themselves. "It appears to be widespread," said psychology professor Elizabeth Englander. "It's engaged in by many kids who are functioning well and not having problems and it's not very unusual or rare."
Once an explicit photo is sent, there is no way of knowing who has seen it, saved it, tagged it, or shared it. But the consequences can go beyond that: in some states, sexting can lead to felony prosecution.
Experts say that sexting can also lead to cyberbullying – using the Internet to target others with threats or harassment. Studies suggest that as many as one of every four teenagers have been cyberbullied at some point.
Because it can be embarrassing, teenagers often find it difficult to seek help. The consequences can be tragic; in the worst cases, cyberbullying has led to suicide.
There Is Help
Above all, let your children know that you are there for them. It's essential that they know they can talk to you, no matter what. They might make a mistake online – but everyone makes mistakes, even grownups. Keep reminding them of this, because admitting mistakes is never easy.
Children and teenagers don't fully appreciate the hazards of the online world. They need your help to understand that everything they do or say on the Internet will be there forever; without meaning to, they can end up sharing more information than they should.
Too much sharing can have far-reaching consequences. The best way to maintain a good online reputation, and empower your children with a better online IQ (while still enjoying everything that the Internet has to offer) is to have good reputation management skills.
Sources
http://www.dailymail.co.uk/news/article-2552658/More-half-children-use-social-media-age-10-Facebook-popular-site-youngsters-join.html
http://www.sdcda.org/preventing/protecting-children-online/facts-for-parents.html
http://puresight.com/Pedophiles/Online-Predators/online-predators-statistics.html
http://www.covenanteyes.com/2012/01/03/7-dangers-of-the-internet-for-kids/
http://www.sdcda.org/preventing/protecting-children-online/facts-for-parents.html
http://www.cnn.com/2014/11/18/living/teens-sexting-what-parents-can-do/
https://www.internetmatters.org/issues/online-reputation/
http://www.sdcda.org/preventing/protecting-children-online/facts-for-parents.html
http://www.cnn.com/2014/11/18/living/teens-sexting-what-parents-can-do/
https://www.psychologytoday.com/blog/teen-angst/201207/the-dangers-teen-sexting
Permalink