How Much Does Yelp Review Cleanup Really Help?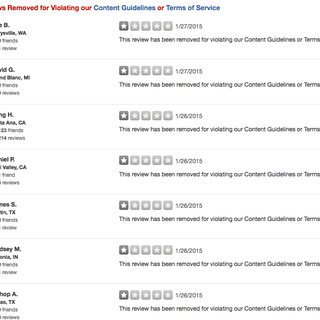 Have a negative presence on Yelp? Here's how the right Yelp review cleanup strategy can turn a bad reputation into a winning business strategy online.
If you have $7 in your pocket, you can buy a beer, a magazine or a cheap pair of flip-flops. Or you could get in a fight over a $7 tip and buy yourself all kinds of reputation management problems.
Just ask the folks at F&R Auto Sales. As a Boston.com article tells it, the employees there got into an argument over a $7 tip with a pizza delivery man, and they posted film of that argument on YouTube. They displayed some not-so-professional behavior in that video, and it's possible they thought they were being witty or amusing.
Others disagreed.
Within minutes, the Internet was aflame, and not in a good way. Coverage by CNN.com suggests that the backlash was so bad that the dealership had to call in police reinforcements, and the reporter in the CNN piece spends quite a bit of time reading terrible reviews the company had faced on Yelp.
Typically, at this point, we'd tell you all about how you could use the Yelp terms of service to get fraudulent reviews removed, so you could boost your reputation and move past an attack.
But this story is interesting. That's because the company did remove reviews. And we wanted to see if that helped the company's reputation score.
Why Yelp Review Cleanup?
The Yelp terms of service expressly prohibit people from writing reviews based on things they've seen in the news. People can't read an inflammatory article about your business online and then zip over to Yelp to bash you. That's just not how the service is designed to work.
That means you can counter an attack by simply contacting Yelp when you see these reviews, and if the experts there see evidence that suggest that the review is based on something like a news article, they'll remove the review.
When I looked at F&R reviews today, there were a whopping 7,689 reviews that were removed for violating the terms of service, and the vast majority of those reviews were written within the last few weeks. That means, presumably, that most of these reviews were in response to the news coverage.
These people read about the pizza issue, got mad and wrote a review. Yelp deleted the review. In theory, this should help the company's reputation a great deal.
Not a Cure-All
But simply removing a review that violates the terms of service can't fix a damning reputation problem.
For example, this company is still dealing with a one-star rating on Yelp based on reviews the site has deemed authentic. Of all the recommended reviews of the company, none are glowing.
Similarly, the company is dealing with a C- rating from the Better Business Bureau, mainly due to issues involving problems with the product or services provided.
And all of this news coverage about the video? It's a disaster, from a reputation management perspective. Searches for this company's name bring back many, many references to the treatment employees unleashed on a man delivering pizza.
A Complete Approach
That's why we advocate more than cleanup. When clients come to us with reputation management problems, we do more than take content away. We teach our clients how to generate new content, by blogging, by soliciting reviews and by writing on social media sites. We help them to develop a firewall of great content, so even big attacks can pale in comparison. That's the only way to recover from a disaster like this. Just removing content won't cut it.
Want to learn more about Yelp review cleanup? Click here for more information about the plans we offer small business owners.
Permalink