How Long Yelp Reputation Recovery Really Takes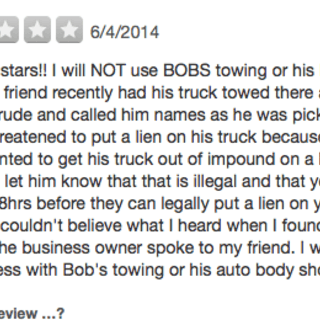 How's your Yelp reputation?
More than 26,000 reviews hit Yelp on every single minute of every single day, according to research from DMR. And if you've ever glanced at the site, you know that many reviewers aren't typing up love notes. They're writing scathing letter bombs that are destroying small business reputations every day.
Have you been hit? If you have, you probably want a fix that's both comprehensive and immediate. Unfortunately, Yelp doesn't work that way. If your Yelp page is in tatters, a comprehensive reputation recovery program will involve many different steps, and all of these steps will take time to complete. Here's a quick run-down of the typical steps we advise clients to take in response to a Yelp reputation attack, along with some notes about time-frames for reputation recovery.
While your situation might be unique and you might get through these steps either faster or slower, this should give you a ballpark idea of how long your recovery will take to achieve. Let's get started.
Recovering Your Yelp Reputation: Step-By-Step
Step 1: Flag questionable Yelp reviews.
In the fall of 2014, the internet world was all a-twitter about a California court decision involving Yelp. In essence, the court ruled that Yelp could (should it choose to do so) manipulate reviews as a form of advertising. Many bloggers, including those at Venture Beat, thought that meant an attack could be fought with money. Pay enough, and all of the bad stuff could just disappear. This is a charge that Yelp executives vehemently deny.
All the money in the world won't make a bad review disappear, they say, so getting out your wallet isn't a good way to respond to negative comments and amend your Yelp reputation. Instead, you'll need to walk through each comment on your page, making note of those that violate Yelp content guidelines. Posts like this might contain:
– Threats – Hate speech – Words about your politics or your gender or race – Personal information about who you are and where you live
Posts must also involve specific transitions completed by the person writing the review. This means posts written on behalf of someone else are also in violation. Here's one example of a review that is written on behalf of someone else.
Notice that this writer hasn't worked with this company. Technically, it's in violation of the guidelines. When you spot posts like this, you'll fill out this form to bring them to the attention of Yelp. And heads up: You'll need to fill out this form for each and every post that violates the rules. There are no shortcuts.
Estimated time frame to complete this task: 1-2 weeks.
Step 2: Respond to Yelp comments you can't flag.
Some reviews are nasty but totally Yelp acceptable. That means you can't flag them for deletion. You'll need to find another way to handle them.
Overall, it's not a bad thing to have a few negative comments on your page. After all, bloggers like those at G2Crowd say that negative reviews tend to get clicked on 200 percent to 300 percent more than positive reviews, and those negative reviews are associated with high conversion rates. To translate this from marketing speech: People like to read negative reviews. And when they do, they tend to buy products or services from company targeted by the review. The comments doesn't kill the impulse to spend with that company.
But you won't want to leave negative Yelp reviews just sitting out there, dragging down your reputation scores. You'll want to have a hand in that negative review, so you can share your side of the story.
Here's an example. This nasty review has been sitting on this Yelp page since February of 2015.
Would you go to this restaurant after reading this review? Of course not. You'd believe the writer. You really have no choice. But look at this review, and the response from the business owner that follows.
Notice how courteous and professional this response is, and take note of the detailed information about the products and services this business mentions. The reviewer's notes are still there, but with this response, this looks like a straightforward case of misunderstanding between two people, not an argument in which the customer is right and the business is wrong. This is a great way to amend a Yelp reputation.
Any negative comment on your page needs a response just like this. And those responses must be detailed and courteous. You can't whip them all out in a few minutes. You'll need to look carefully at the comments and respond in kind. This writing can take awhile.
Estimated time frame to complete this task: 2-3 weeks.
Step 3: Seek out your fans.
Social media sites like Facebook once made it easy for you to spot and connect with your fans. It's a little harder to do that now.
For example, InformationWeek suggests that organic reach on Facebook went down about 49 percent after the algorithm shifted. That means fewer people might connect with you, and if they don't connect, Facebook might "unlike" them from your page, too. But, chances are, you have some die-hards out there that like every Facebook post you write. They might re-Tweet everything you said. They're your stalkers.
Do you know who they are? What they look like? When they typically come in? You'll need to find out. Their help makes the next step possible.
Estimated time frame to complete this task: 2-3 weeks.
Step 4: Train your staff on reputation recovery techniques.
This is the big time-suck step. In order to handle your Yelp reputation problem, you'll need to train the people who interact with your customers on a daily basis. Do they know:
That your company is on Yelp?
That you need good reviews?
Who your good customers are?
Why good reviews are important?
How to ask good customers to check you on Yelp?
You'll need to train every person that touches your clients on all of these questions. They'll need to get each step handled just right. And when you're done training, you'll need to walk the floor and make sure all of your plans are perfected and put into action, ASAP.
Estimated time frame to complete this task: 3-4 weeks.
The final analysis: Reputation recovery takes time
If your Yelp page is truly abysmal, it could take you up to 12 weeks to fix the problem completely and repair your online reputation. That may seem like a lot, but you don't have to do it alone. We can help. Contact us. We'd love to get started.
Permalink